With summer in full swing gardens are becoming prolific with zucchini and all sorts of other fresh bounty. When I was growing up, my parents always had a garden and squash was one of the biggest crops we harvested. I remember my mom making zucchini bread often. Sweet and tender quick bread that used lots and lots of vegetable oil and not nearly enough of the zucchini she was trying to get through.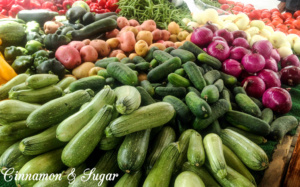 I came across the following recipe in the magazine Cook's Illustrated and was very intrigued. They used 1-1/2 POUNDS of zucchini and only 1/4 cup of vegetable oil! I adapted and changed the recipe to suit my family then waited for my family's comments. My husband said it sounded weird before trying and then helped himself to another slice. Before tasting, my granddaughter said she'd rather have one of my sourdough rolls but after having a bite of the zucchini bread put the sourdough roll back and took a big piece of the veggie bread. My step-daughter took one bite and said "YUM! But this is pretty unhealthy, right?" ….I've made this recipe three times within the last 2 weeks…I think this healthy version of zucchini bread is definitely a keeper!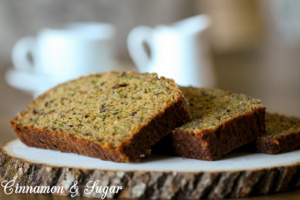 Walnut Zucchini Bread
The secret to making this zucchini bread moist without all the oil is to squeeze as much liquid from the zucchini as possible. Don't skip that step otherwise you'll end up with a gummy mess.
Ingredients
1-1/2 pounds zucchini, shredded (4 – 4-1/2 cups PACKED shredded)
1-1/4 cups (8.75 ounces) packed light brown sugar
1/4 cup canola oil
2 eggs, room temperature
2 teaspoons vanilla extract
1-1/2 cups (7.5 ounces) all-purpose flour
1/2 cup (2.7 ounces) white whole wheat flour
1-1/2 teaspoons salt, divided
1 teaspoon baking powder
1 teaspoon baking soda
1 tablespoon ground cinnamon
1/4 teaspoon ground cloves
1/2 teaspoon ground ginger
1/2 cup chopped walnuts (optional)
1 tablespoon coarse sparkling sugar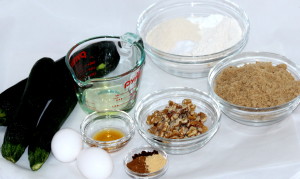 Instructions
Preheat oven to 325 degrees.
Grease a 9″ x 5″ loaf pan.
Toss shredded zucchini with 1/2 teaspoon salt and set aside for at least 10 minutes while you gather remaining ingredients.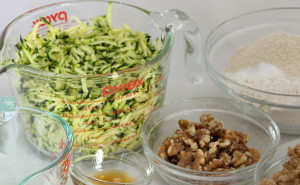 Once zucchini has rested, place shreds in the middle of a clean kitchen towel. Gather the ends together and tightly twist to extract as much liquid as possible. You want to extract at least a minimum of 1/2 cup liquid from the zucchini. Discard the liquid.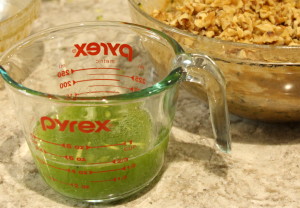 Whisk brown sugar, eggs, oil, and vanilla together in a medium-sized bowl.
Add the zucchini to the sugar mixture.
Whisk the both flours, cinnamon, cloves, ginger, baking powder, baking soda and remaining 1 teaspoon of salt together in a large bowl.
Gently stir the zucchini mixture into the flour mixture.
Mix until thoroughly incorporated but be careful to not overmix.
Stir in the walnuts.
Pour the batter into the greased pan and sprinkle with the coarse sparkling sugar.
Bake 60 to 70 minutes, or until a wooden skewer inserted into the middle comes out with a few crumbs attached. Just make sure the crumbs are moist but not gooey or wet.
Remove bread from the oven and allow to cool in pan for 30 minutes.
Remove bread from the pan and cool completely before slicing…if you can wait that long!
Tip
Shredding the zucchini with a food processor shred attachment makes quick work of the squash. Otherwise, use the large holes on a box grater.