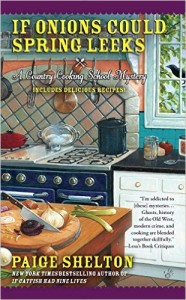 Fresh summer veggies always brings back memories of growing up with a garden in our backyard and my parents teaching us how to grow, harvest and cook nature's bounty. I miss not having the space to recreate that experience with my granddaughters but I am fortunate that there are several wonderful farmers' markets in my area.
I had the wonderful opportunity to read IF ONIONS COULD SPRING LEEKS by Paige Shelton before the book's release date of August 4th. When I saw Paige's Onion, Corn and Tomato Salad recipe I knew I wanted to make it and use the bag full of produce I had purchased at the farmers' market. Sweet crunchy corn, peppery bites of purple & green onions, juicy vine-ripened red tomatoes, tangy limes and earthy green cilantro when combined together in this salad could very well steal the spotlight from your main dish!
IF ONIONS COULD SPRING LEEKS (such a clever title!) is the fifth book in the Country Cooking School Mystery series but can be read as a stand alone book. It is the story of Betts and her grandmother, Missouri Anna Winston aka Gram, who together run a cooking school in Broken Rope, Missouri. Tourists flock to the town for the summer season keeping the two women extra busy in addition to teaching their class how to cook various vegetable dishes. But when Betts finds one of her co-volunteers murdered, she is plunged into trying to find out who the culprit is. The problem is there were too many people who disliked the unpleasant man, including his five ex-wives. Betts and Gram also have a huge secret they have to hide from their friends and family…they can see and talk to ghosts. Murdered ghosts, mostly from the wild-west past of Broken Rope, seek Betts out. Betts is pulled into trying to solve the murder of a star-crossed lover from 1888 and soon finds herself the target of a someone intent on harming her as well.
I will admit upfront that I typically don't read paranormal books (I think I was scared off by bad nightmares after having to watch too many horror poltergeist movies by my ex in my way-younger-years and I thought they would all be too terrifying). However, this is not a scary book…which is true for all cozy mysteries. Paige is a gifted writer and makes her characters come to life and it didn't take long for me to start caring about the tragedy that befell the star-crossed lovers and wondering how Betts was going to solve such an old crime. I also enjoyed how the author used the ghosts to pull the reader into a different time so I felt like I was seeing and experiencing what it could have been like in the 1800's while creatively bringing them into our current time. In addition to a great story artfully told, Paige has included several delicious recipes keeping within the theme of the title. I look forward to reading the rest of the books in the Country Cooking School Mystery series!
Congratulations to Paige on the release of her book and a special thanks for allowing me to share her delicious Onion, Corn and Tomato Salad recipe!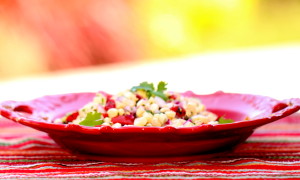 Onion, Corn, and Tomato Salad
Ingredients
33 ounces whole-kernel corn, either thawed or fresh
2 large tomatoes, diced
1 large sweet onion (white or purple), cut into thin strips
4 green onions, chopped
1 bunch cilantro minced
Juice of 2 limes
1/3 cup rice vinegar
salt, to taste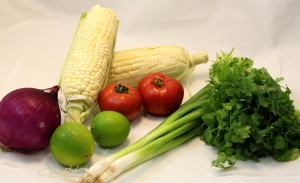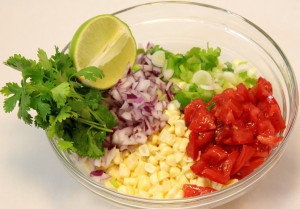 Instructions
Mix all of the ingredients together, adding the vinegar and salt last.
Cover and chill for an hour.
Serve.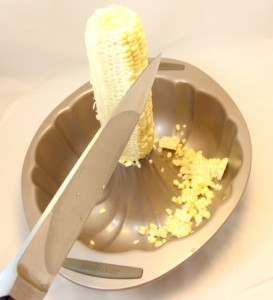 Tips
Place one end of your fresh corn into the hole of a bundt cake pan before slicing off the kernels. The cake pan will catch the kernels and keep them from flying all over the kitchen.
This salad keeps well refrigerated for a couple of days.
Make this salad into a hearty no cook, hot weather meal by add one 15-ounce can of black beans, drained and rinsed, one 7-ounce can Ortega diced green chiles, 2 cups diced cooked chicken breast (rotisserie or from the deli), 1/2 cup shredded pepper jack or cheddar cheese and 1 diced avocado. Omit the vinegar but you can add additional lime juice to taste.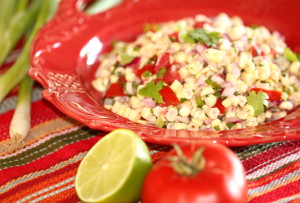 Disclosure: I received this book as a gift from the author but all thoughts and views are my own.