I seem to have a theme going on these last few weeks…lots of my recipes are focused around fresh veggies that are in season during the mid to late summer months. I am always drawn to juicy vine-ripened tomatoes with a sweetness that makes my mouth water. One of my favorite summer dinners is a quick marinated and grilled chicken breast topped with tomatoes and fresh basil in a garlicky balsamic sauce. Easy yet the flavors work together in such a way that belies its simplicity. So pick a few tomatoes, either from your garden or the local farmers' market, fire up your grill and enjoy eating the best summer has to offer with my grilled chicken with bruschetta sauce!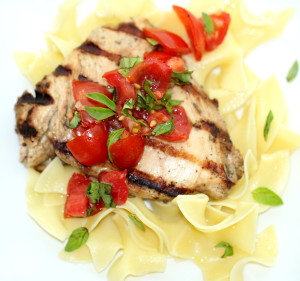 Grilled Chicken with Bruschetta Sauce
Ingredients
Chicken
3 tablespoons orange juice (not concentrated)
2 tablespoons balsamic vinegar
1 tablespoon olive oil
2 teaspoon whole grain Dijon mustard
1/2 teaspoon dried oregano
1/2 teaspoon dried rosemary
1/2 teaspoon dried thyme leaves
1 clove fresh garlic
1 teaspoon salt
1/2 teaspoon whole peppercorns
4 (6 – 8 ounce) boneless, skinless chicken breasts cut in half so there are 8 pieces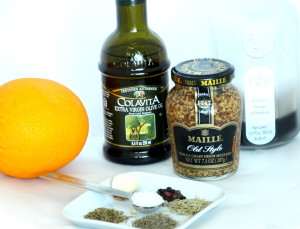 Bruschetta Sauce
2 cups chopped tomatoes (about 2 medium or 1 medium and 1 pint Cherry tomatoes)
1/2 cup fresh basil, sliced chiffonade*
1 tablespoon orange juice concentrate, thawed
2 cloves fresh garlic, minced
1 tablespoon balsamic vinegar
2 teaspoons olive oil
1/2 – 1 teaspoon salt
1/4 teaspoon fresh ground pepper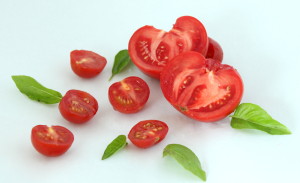 Instructions
Chicken
Pound the 8 pieces of chicken breasts to 1/3-inch or 1/2-inch thickness. The important thing is that they are all approximately the same thickness. Place into a heavy duty gallon-sized ziplock bag and set aside.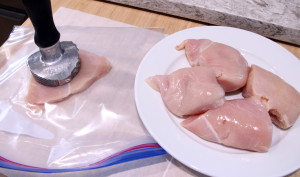 Combine the orange juice, balsamic vinegar, Dijon mustard, olive oil and salt together and set aside.
Combine the oregano, rosemary, thyme, garlic and peppercorns together and crush until a coarse paste forms. I like using my mortar and pestle for this, but a spice grinder or a mallet will get the job done.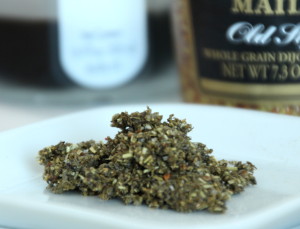 Stir the herb mix into the balsamic vinegar mixture and pour over the chicken pieces.
Carefully seal the bag and place in the refrigerator.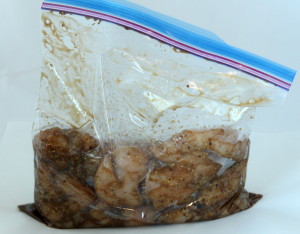 Allow to marinate at least 2 hours and up to 8 hours.
Bruschetta Sauce
In a glass bowl, mix the the tomatoes, orange juice concentrate, fresh garlic, balsamic vinegar, olive oil, pepper and 1/2 teaspoon of salt together.
Taste and add additional salt as needed.
Gently stir in the chiffonade basil and allow the sauce to rest in the refrigerator at least an hour before serving.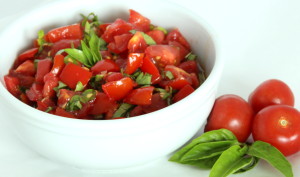 The sauce can be made the day before.
Procedure
Remove the chicken from the marinade and allow the meat to rest at room temperature 20 minutes. Discard the marinade.
Preheat a bbq grill or a grill pan on medium-high heat and coat the grates with non-stick cooking spray.
Place the chicken pieces on the grill and cook 2 to 3 minutes on each side, until the internal temperature reaches 160 degrees.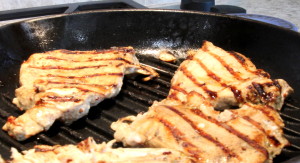 Once chicken has finished cooking, place on a platter and tent with foil. Allow the chicken to rest 5 minutes.
Serve the chicken with the bruschetta sauce on top of egg noodles or steamed rice and garnish with additional basil if desired.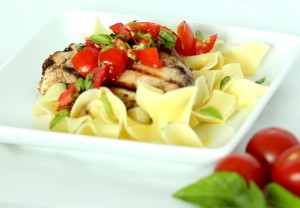 Tips
I place 1 piece of chicken in a heavy duty gallon-sized bag before pounding to keep the juices contained. I don't recommend using the same bag to marinate the meat in since there could be small holes or tears in the plastic after pounding.
If you have fresh herbs on hand you can use those in the marinade instead of the dried herbs. Just increase the amount to 1-1/2 teaspoons of fresh vs. 1/2 teaspoon dried.
The bruschetta sauce makes a wonderful appetizer when served with crunchy toasted baguette slices! Rub slices of baguette bread with fresh garlic cloves before toasting to boost flavor.
*Chiffonade means "little ribbons" in French. Stack several basil leaves on top of each other and roll them into a tight circle (cigar shape). Using a very sharp knife, cut thin strips across the roll. Slicing basil this way cuts down on the amount of bruising done to the herb.