Two weeks ago my granddaughters adopted a rescue puppy and named her Piper.  She's a cute little thing and immediately wiggled her way into our hearts!  Naturally, as chief baker and spoiler in our family, I needed to make some homemade treats for my new grand-puppy.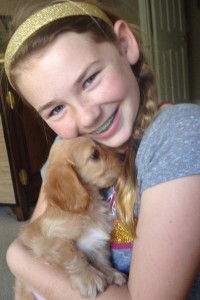 I immediately thought about two authors I met last fall, at a writer's conference in Long Beach, who write the Pampered Pets Mystery series.  Mary Lee Woods and Anita Carter write under the pen name Sparkle Abbey (the name of their two pets put together). I had an enjoyable time chatting with these lovely ladies over lunch one day and their book series intrigued me.  When I returned home from the conference I downloaded the first book in their series, DESPERATE HOUSEDOGS, and even though we didn't have a pet in our family at the time, made note that they included a dog treat recipe in their book.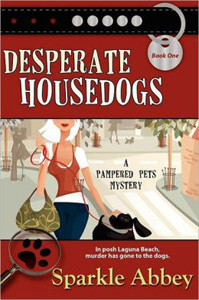 The story centers around Carolina (Caro) Lamont, a former psychologist turned pet therapist.  She is a Texas transplant living in Laguna Beach where dogs outnumber children and are just as pampered.  One of Caro's clients is murdered right after she helps him with his two German Shepherds and even though she is cleared as a suspect, her best friend is arrested.  I thought this was a fun read, especially since the setting is a location close to where I live. Sparkle Abbey made the places and people come alive.  I also liked the information provided about different breeds of dogs and their behaviors…I was educated while being entertained. There were several laugh out loud moments and the feud that goes on between Caro and her cousin, Melinda, (who owns upscale doggie boutique, Bow Wow) adds another layer of intrigue. Sparkle writes the odd number books with Caro as the protagonist and Abbey writes the even number from Mel's point of view.  I've read a couple other books in this series (all just as fun!) and will definitely be reading the rest. And besides, who can resist such clever titles?  Get Fluffy, Fifty Shades of Greyhound, Girl with the Dachshund Tattoo to name a few!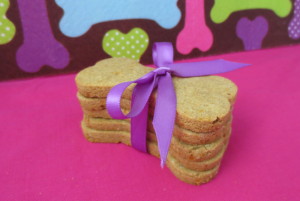 Favorite Treats for Desperate Housedogs
Caro's Good Dog Treats
From the Pampered Pet mystery, Desperate Housedogs, by Sparkle Abbey
(Permission obtained from the authors to share this recipe)
First, preheat your oven to 350 degrees Fahrenheit
In a big bowl, combine all the ingredients with just enough water (I used 3-1/2 tablespoons) to make it the consistency of cookie dough.
1/2 cup creamy unsalted peanut butter
1 cup oat flour
1 cup brown rice flour (Caro uses organic)
1 egg
1 tablespoon honey
1/2 cup finely grated carrot (Dogbert, Caro's dog, loves carrots)
Optional: You can also add cooked bacon, a bit of grated cheese, or other ingredients for flavor, but don't add too much or it will mess with the consistency of the dough, and cause your treats to fall apart.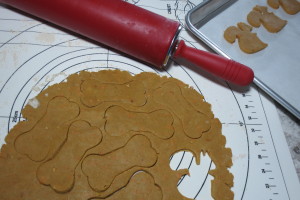 Once you've got your treat dough all stirred up, put it between pieces of parchment paper** and roll it out to about 1/4 inch thickness. Then cut the dough with a cookie cutter. You can use whatever shape strikes your fancy. Caro often uses dog bone shapes of different sizes. Next, put them on a regular cookie sheet, lined with parchment paper, and bake them between fifteen and twenty minutes or until they are golden retriever brown.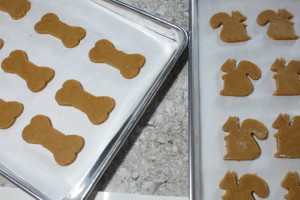 Let them cool on a wire rack and then put them in an airtight container. You can store these Favorite Treats for Desperate Housedogs about a week (or you can freeze them for later use) but keep an eye on them. There are no preservatives, so watch for spoilage.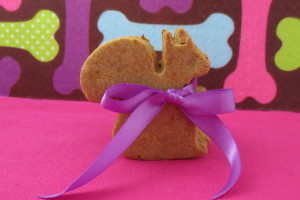 This makes a couple of dozen treats so there's plenty to go around. Please share them with your dog.
Tips:
If you wish, pulverize old-fashioned oats in your food processor to make the oat flour. Just don't use the sugary instant oatmeal.
Use the food processor (no need to rinse out after processing oats) to

finely

chop your carrots. I forgot to buy a "big" carrot for grating and all I had was baby snack carrots on hand. 2-1/2 ounces made 1/2 cup of finely chopped carrots.
**I found it was easy to roll the dough out on a brown rice floured surface instead of using the parchment paper. Don't use regular flour otherwise the treats won't be gluten-free.
Here's an updated photo of Piper at 6-months-old: