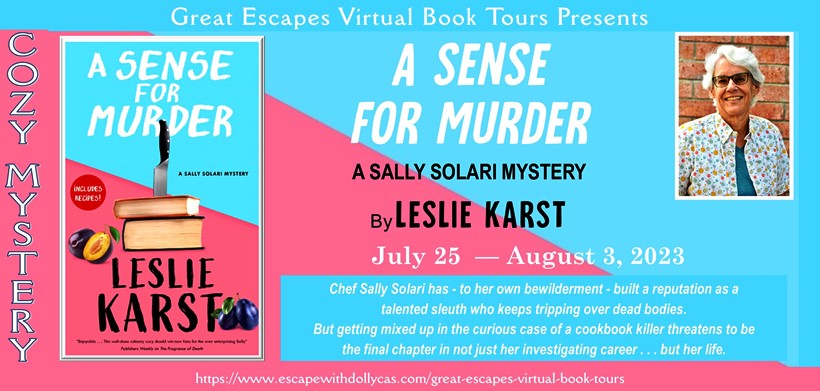 I'm delighted to be participating in the Great Escapes Virtual Book Tour presenting A SENSE FOR MURDER, the sixth book in the Sally Solari Mysteries by Leslie Karst. This newest release tackles current day social issues while weaving in a complex mystery that keeps protagonist chef Sally Solari on her toes and the reader engaged! Sally has a solid personality that readers can relate to. She's empathetic and has a caring relationship with her family, her friends, her employees, and her community. I applaud Ms. Karst for bringing the issue of homelessness to the forefront and showing how Sally gets involved with a fundraiser to benefit a charity that assists those less fortunate. The author's vivid descriptive writing brings each scene and each character alive. I felt like I was right there, experiencing the festive atmosphere, tasting the delectable dishes, and shivering with anticipation over the chance to bid on a signed boxset of Mastering the Art of French Cooking by Julia Child. I think I was just as distraught as Sally when the dining room manager was found murdered and the irreplaceable books stolen.
Ms. Karst is known for her logical approach to crafting Sally's investigation into the murder. She's methodical, yet flexible enough to adjust to the twists and turns that pop up. Sally, as owner of her restaurant, Gauguin, doesn't shirk her responsibilities. Instead, she conscientiously juggles her job with her investigation, making it a more realistic read. And given that the murder happened during the fundraising dinner, there are a lot of suspects to sift through. It was a delight following along with Sally as she uncovered secrets and clues needed to solve the case. I didn't figure out the culprit until the final clue fell into place for Sally.
As a fun side note, the author, Leslie Karst, is also a trained chef and brings her expertise to the story. Sally, being an owner of a restaurant, is frequently cooking, so be prepared to drool over the mouthwatering dishes mentioned on the pages. Fortunately for the home cook, there are several recipes included at the back of the book. I couldn't wait to try out her recipe for Risotto with Chanterelles and Peas. While risotto is labor intensive, Ms. Karst offers some tips for prepping ahead of time, then finishing the dish ten minutes before dinner. I just love risotto and found the combination of mushrooms and peas to be delicious. My husband is a meat eater, so I tossed in some heated ham chunks into his bowl which made him happy. I, on the other hand, was completely satisfied with the risotto as written and will be making this again soon!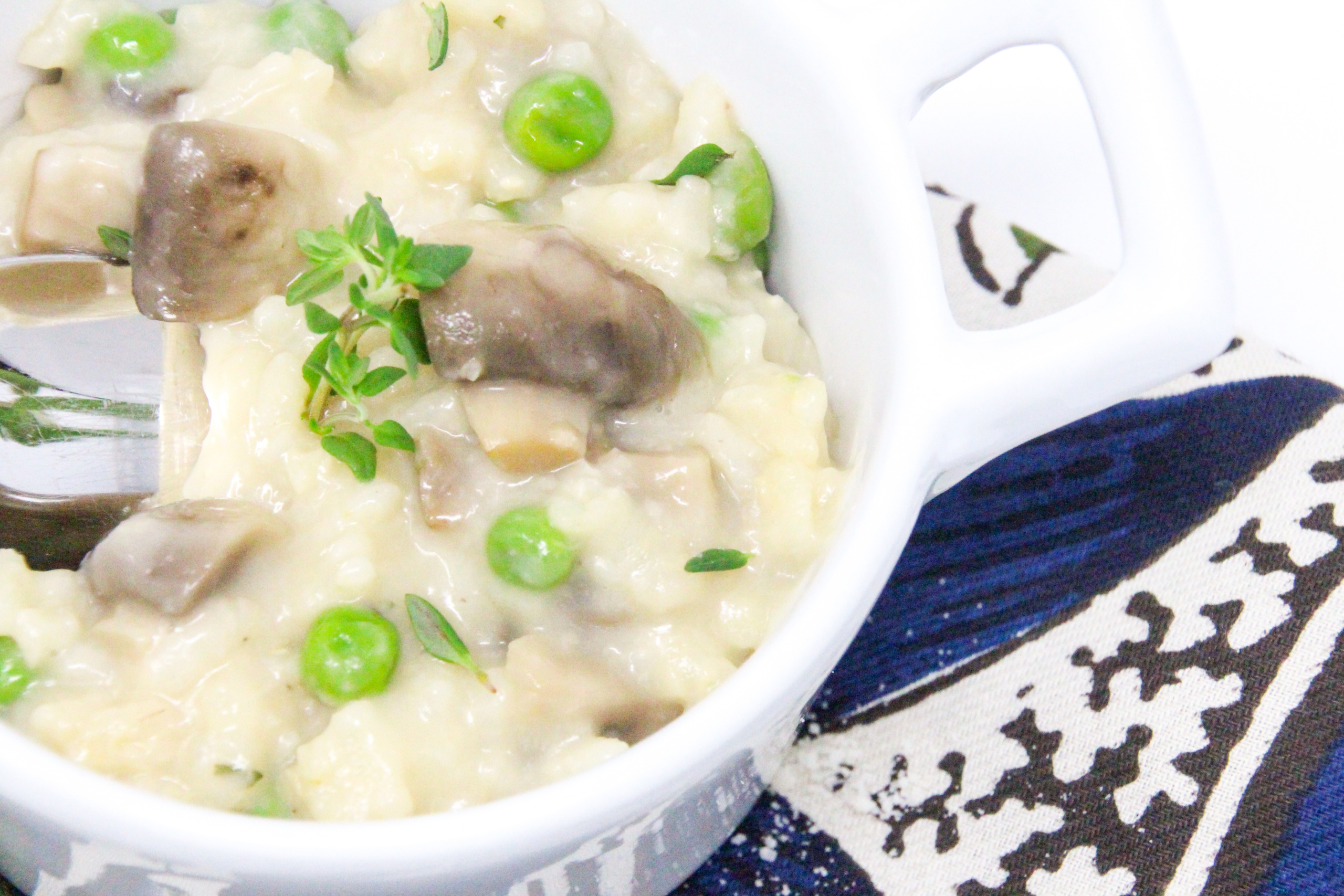 Amazon Synopsis
It's the height of the tourist season in Santa Cruz, California, and Sally Solari has her hands full, both juggling crowds of hungry diners at her French-Polynesian restaurant Gauguin, as well as appeasing her father, who's distressed at the number of homeless people camped out in front of Solari's, the family's Italian seafood restaurant out on the historic fisherman's wharf.
Nevertheless, when Sally gets the opportunity to volunteer at a farm-to-table dinner taking place at the hip new restaurant and culinary bookshop Pages and Plums, she seizes the chance. Not only is it a fundraiser for an organization aiding the homeless and seniors, but up for auction at the event is a signed boxset of Mastering the Art of French Cooking by Sally's hero, the renowned chef Julia Child.
But then the Pages and Plums dining room manager turns up dead – the locked cabinet containing the precious books now empty – and the irrepressible Sally once again finds herself up to her neck in a criminal investigation. She may have a sense for murder, but can Sally outwit a devious killer with a taste for French cooking before the villain makes mincemeat of her, too?

A special thanks to Leslie Karst for providing one winner with a signed hardback copy of A SENSE FOR MURDER plus a  Sally Solari tote bag and bookmarks with recipes! Contest is limited to U.S. residents only and ends August 3, 2023 at 11:59 pm EST. Please use the Rafflecopter box located below to enter. Contest is administered by Great Escapes Virtual Book Tour and the winner will be announced on this page and notified by email (so check your spam folder!)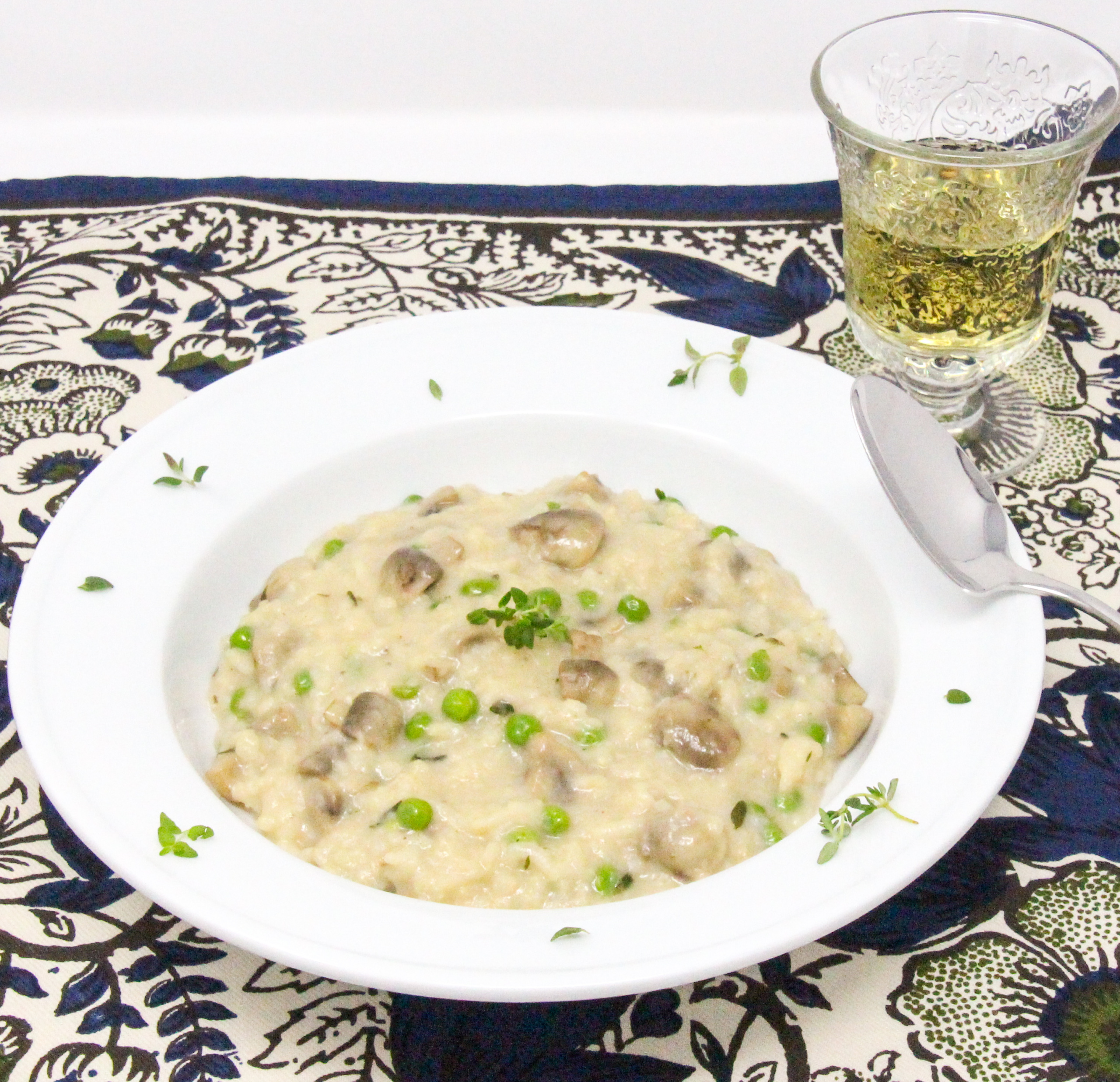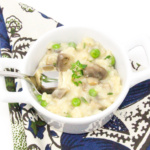 Risotto with Chanterelles and Peas
Risotto, though fairly labor-intensive, is actually a great dish for a restaurant--dinner party--as most of the preparation can be done in advance, leaving only the last few minutes of cooking until right before service.
This is the recipe Kamila used for the vegetarian main at the Pages and Plums benefit dinner, but chicken stock works equally well. And if you can't find fresh chanterelle mushrooms, feel free to substitute another kind, such as crimini, or even canned mushrooms.
Serves 4 - 6
Ingredients
5 - 6

cups

vegetable or chicken stock (unsalted)

2

tablespoons

extra-virgin olive oil

1

small

onion, finely chopped

1/2 - 3/4

pound

chanterelle (or other fresh) mushrooms, coarsely chopped (or 2 4-oz. cans sliced mushrooms)

4

cloves

garlic, minced

3

teaspoons

fresh thyme or sage, chopped

1-1/2

cups

Arborio rice

1/2

cup

dry white wine or white vermouth

1

cup

peas (fresh, or frozen and thawed)

Salt and black pepper

1

cup

finely grated Parmesan and/or Pecorino Romano cheese

Chopped chives or parsley, for garnish
Instructions
If using canned mushrooms, drain them and add the mushroom liquid to your stock. Heat the stock in a saucepan and keep it at a simmer as you prepare the risotto.

In a large, non-stick skillet, heat the oil over medium heat until it simmers, then add the onions and cook, stirring occasionally until they start to soften, about two minutes. Add the garlic, thyme or sage, and mushrooms, and continue to cook until the mushrooms have softened (if fresh), or until they start to brown at the edges (if canned).

Turn the heat up to medium-high, then add the rice and stir well, so all the grains are coated with the oil in the pan. As soon as the rice starts to crackle, pour in the wine and continue to cook, stirring often, until the wine has all been absorbed. Ladle in enough simmering stock to just cover the rice, and keep stirring until the stock is absorbed. Continue to add one or two ladlefuls of stock, stirring until absorbed, then adding more stock. Once the rice is par-cooked, i.e., it still has quite a bit of bite to it (which should be after about 10 minutes), you can turn off the heat and let the risotto sit until ready to finish cooking right before service.

About ten minutes before you want to eat, add the peas to the risotto, then reheat the stock and the rice. Taste for seasoning, and add salt and black pepper as desired. Continue to ladle in stock and stir the risotto until absorbed, repeating the process until the risotto is done: the rice should be cooked all the way through, but still slightly al dente.

Stir in the cheese and one final ladleful of stock, then remove from heat and serve immediately, garnished with chives or parsley.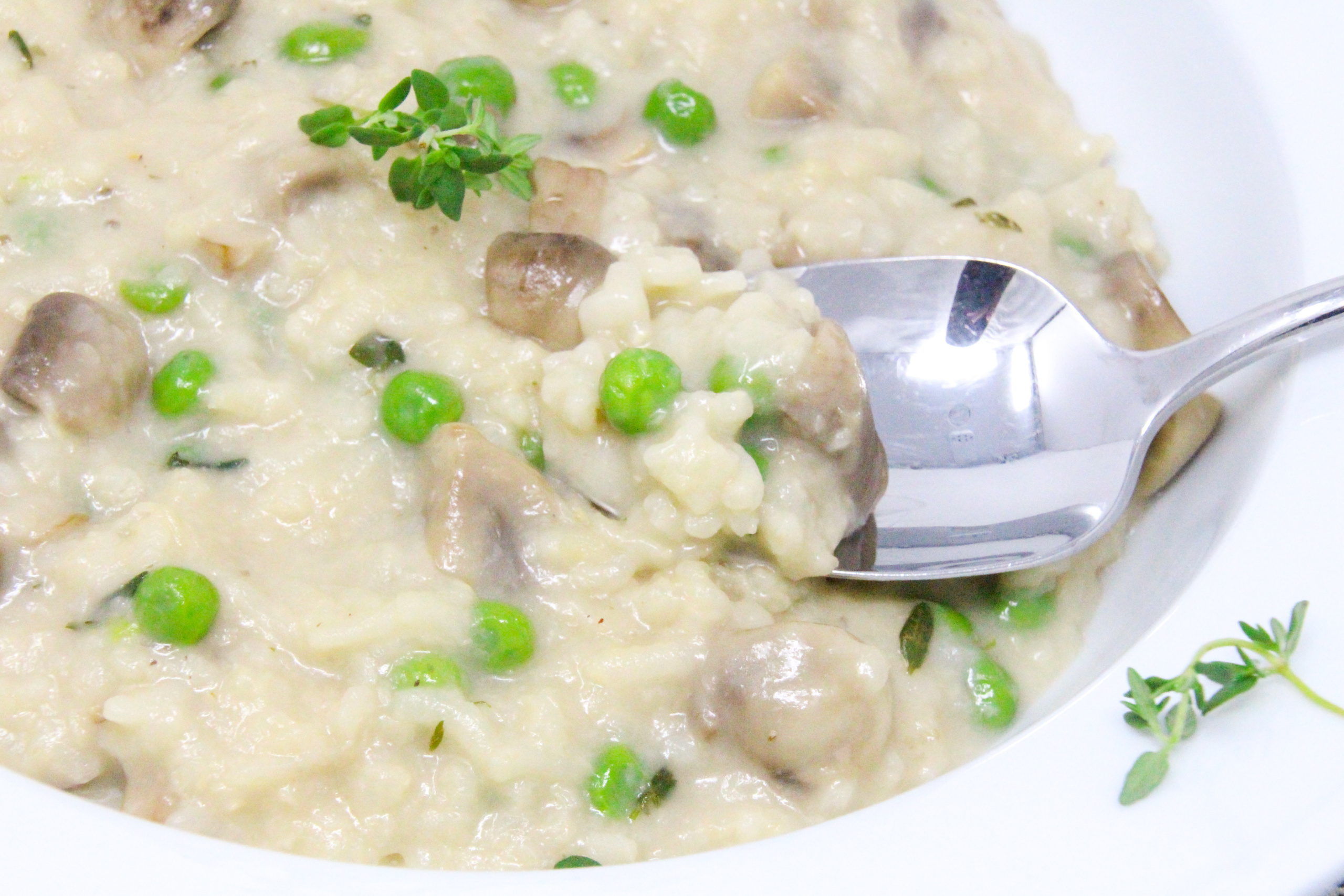 Pin to Pinterest: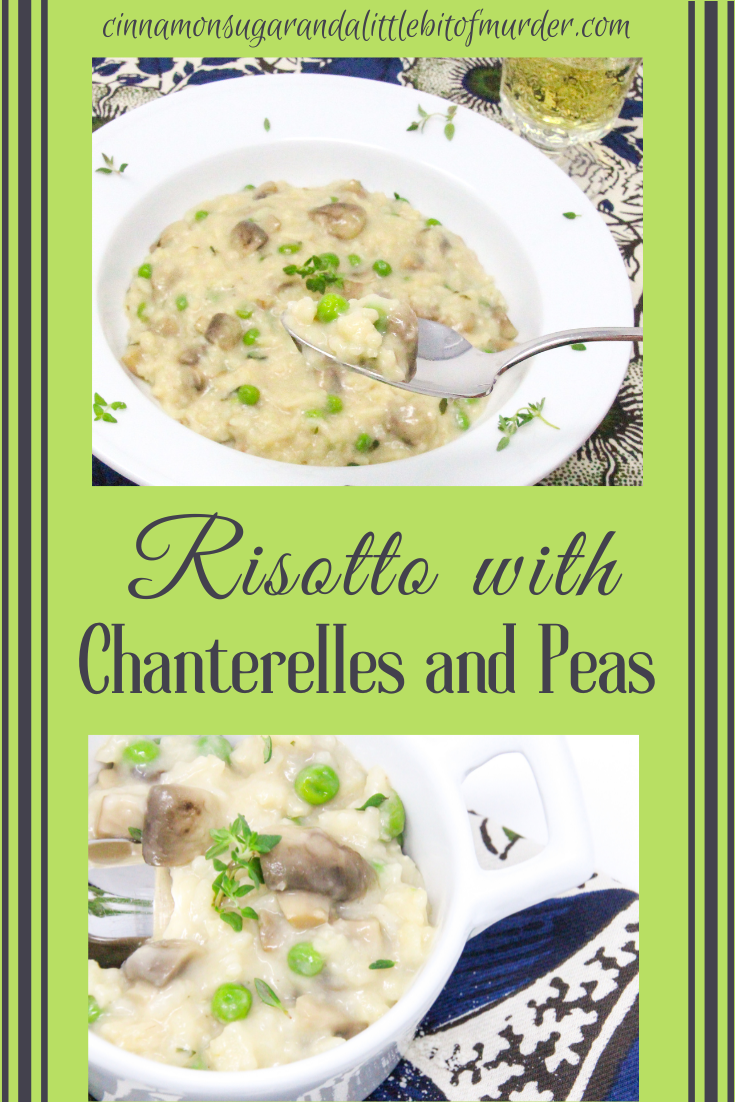 TOUR PARTICIPANTS
July 25 – Celticlady's Reviews – SPOTLIGHT
July 25 – Christy's Cozy Corners – AUTHOR GUEST POST
July 26 – Novels Alive – REVIEW – SPOTLIGHT
July 26 – Elizabeth McKenna – Author – SPOTLIGHT
July 27 – The Mystery of Writing – CHARACTER INTERVIEW
July 27 – Brooke Blogs – SPOTLIGHT
July 28 – fundinmental – SPOTLIGHT
July 28 – Ascroft, eh? – AUTHOR GUEST POST
July 29 – Maureen's Musings – SPOTLIGHT
July 29 – Escape With Dollycas Into A Good Book – SPOTLIGHT
July 30 – FUONLYKNEW – SPOTLIGHT
July 31 – Literary Gold – AUTHOR INTERVIEW
August 1 – Cozy Up With Kathy – AUTHOR INTERVIEW
August 1 – Carstairs Considers – REVIEW
August 2 – Cinnamon, Sugar, and a Little Bit of Murder – REVIEW, RECIPE
August 2 – Sapphyria's Book Reviews – SPOTLIGHT
August 3 – #BRVL Book Review Virginia Lee – SPOTLIGHT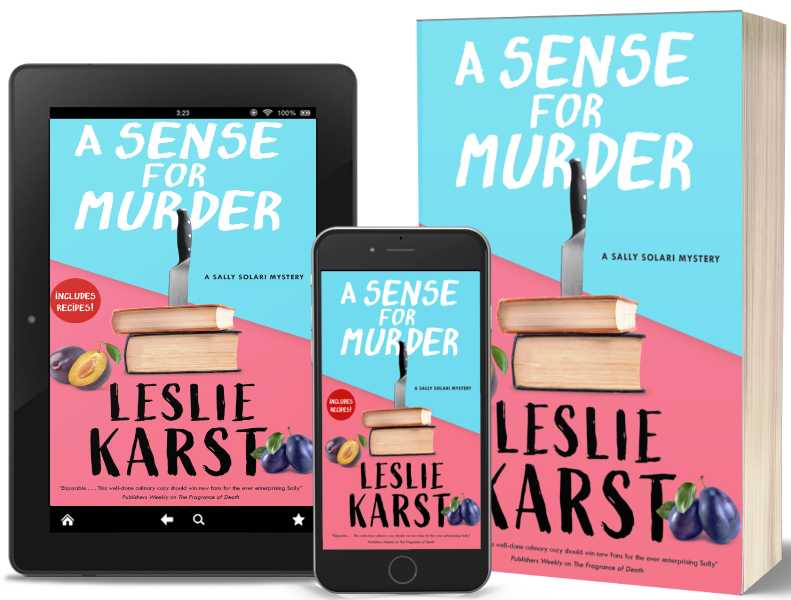 I was provided with an advance copy. All thoughts and opinions are my own.