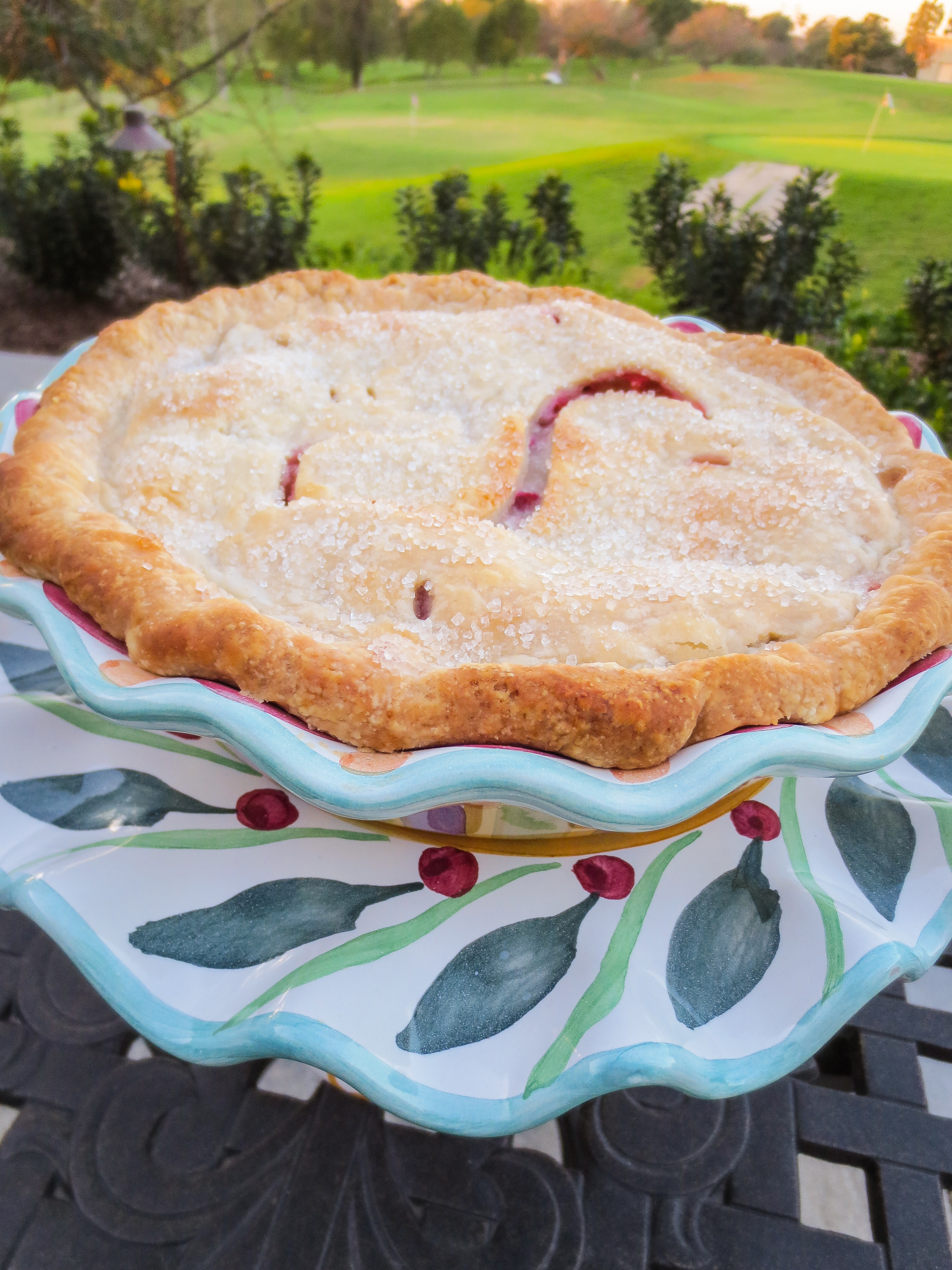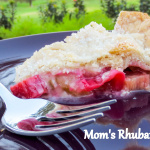 Mom's Famous Rhubarb Pie
Ingredients
4

cups

chopped rhubarb (frozen is okay, but don't defrost)

1-1/3

cups

granulated sugar

6

tablespoons

all-purpose flour

1/4

teaspoon

salt

1

tablespoon

butter

Double crust pastry pie dough

1

tablespoon

granulated sugar
Instructions
Preheat oven to 450 degrees (F).

Roll out pastry pie dough rounds to fit a 9" pie plate. Glass or ceramic dishes bake better than metal, but use what you already have.

Combine sugar, flour and salt. Whisk together until flour is incorporated into sugar then mix in the rhubarb, fresh or frozen.

Once the rhubarb is coated with sugar mixture, place on top of pie dough lined dish. Dot with butter or margarine if using. Cover rhubarb with remaining pie dough round and crimp edges. With a sharp knife, make decorative slits in top crust. Brush VERY lightly with a bit of water (1/4 – 1/2 teaspoon max) then sprinkle sugar over top.

Place pie on rack situated middle/lower part of oven. Bake for 15 minutes at 450 degrees then reduce oven temperature to 350 degrees. Rotate pie around and bake for an additional 40 to 45 minutes. If you used frozen rhubarb you will need to add an additional 10 minutes or so to the baking time. You will know it is done when the crust is golden brown and you can see the filling bubbling in the slits.
Ingredients for an extra large, deep dish pie:
6 cups rhubarb, 2 cups sugar, 1/2 cup flour, 1/2 teaspoon salt, 1-1/2 tablespoons butter. Bake at 450 degrees for 15 minutes, decrease temperature to 350 degrees and bake an additional 50 – 60 minutes or until filling is bubbling.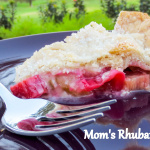 Easy-Peasy Pie Crust
Makes enough for a double pie crust.
Ingredients
2-1/2

cups

(12-1/2 ounces) all-purpose flour

2

tablespoons

(1 ounce) granulated sugar

1

teaspoon

salt

1-1/4

cup

vegetable shortening OR 3/4 cup vegetable shortening and 1/2 cup unsalted butter, all thoroughly chilled. (I use all shortening to keep it dairy-free and vegan.)

1/4

cup

vodka, chilled in the freezer

2-3

tablespoons

ice cold water
Instructions
Place flour, sugar and salt in a food process and pulse 5 times until combined. (Alternately, you can mix in a large bowl with a fork.)

Add shortening (cut into medium/small pieces) and butter if using (cut into small cubes) and pulse about 15 times. (Or use a pastry cutter and work shortening and butter in until it becomes small pea-sized.) Scrape down bowl and pulse 3 or 4 more times. Mix 2 tablespoons of ice cold water with the chilled vodka and sprinkle over the flour mixture. If you live in a very dry place or have central air or heat going, you may need to add the additional tablespoon of water. This dough can handle being more moist than traditional pie crust recipes.

Pulse just until the dough begins to stick together. It took me about 6 pulses. You don't want it to come together in a ball. Overworking the dough is what makes it tough. (Or use a fork to work the liquid into the dry ingredients.)

Transfer the dough onto a non-stick surface and divide dough in half. Compress each half into a ball and flatten, then wrap well with plastic wrap. Refrigerate for at least an hour and up to 3 days.
Rolling it out:
Remove one disk from the refrigerator and place on well-floured work surface. Flour the top of the dough along with your rolling pin. Roll the dough into a circle large enough to fit your pie plate with some overhang.

Carefully place the dough into your pie plate then press into the bottoms and sides. If the dough tears just compress it back together. If there's more than 1 inch of overhang, trim the excess.

If you are baking a single piecrust recipe, fold the top crust under to form a nice edge and flute or score with the back of a fork. Bake as your pie recipe directs.

For a double crust pie, place the dough lined pie plate back into the refrigerator while you work on the filling. Once the filling is completed, roll out your second disk of dough large enough to cover your pie plate. Fill the bottom crust with filling, top with the dough round, trim edges and flute. Proceed to bake according to your pie recipe.

This dough freezes well for 3 months. Just defrost in the refrigerator overnight then proceed with the directions.