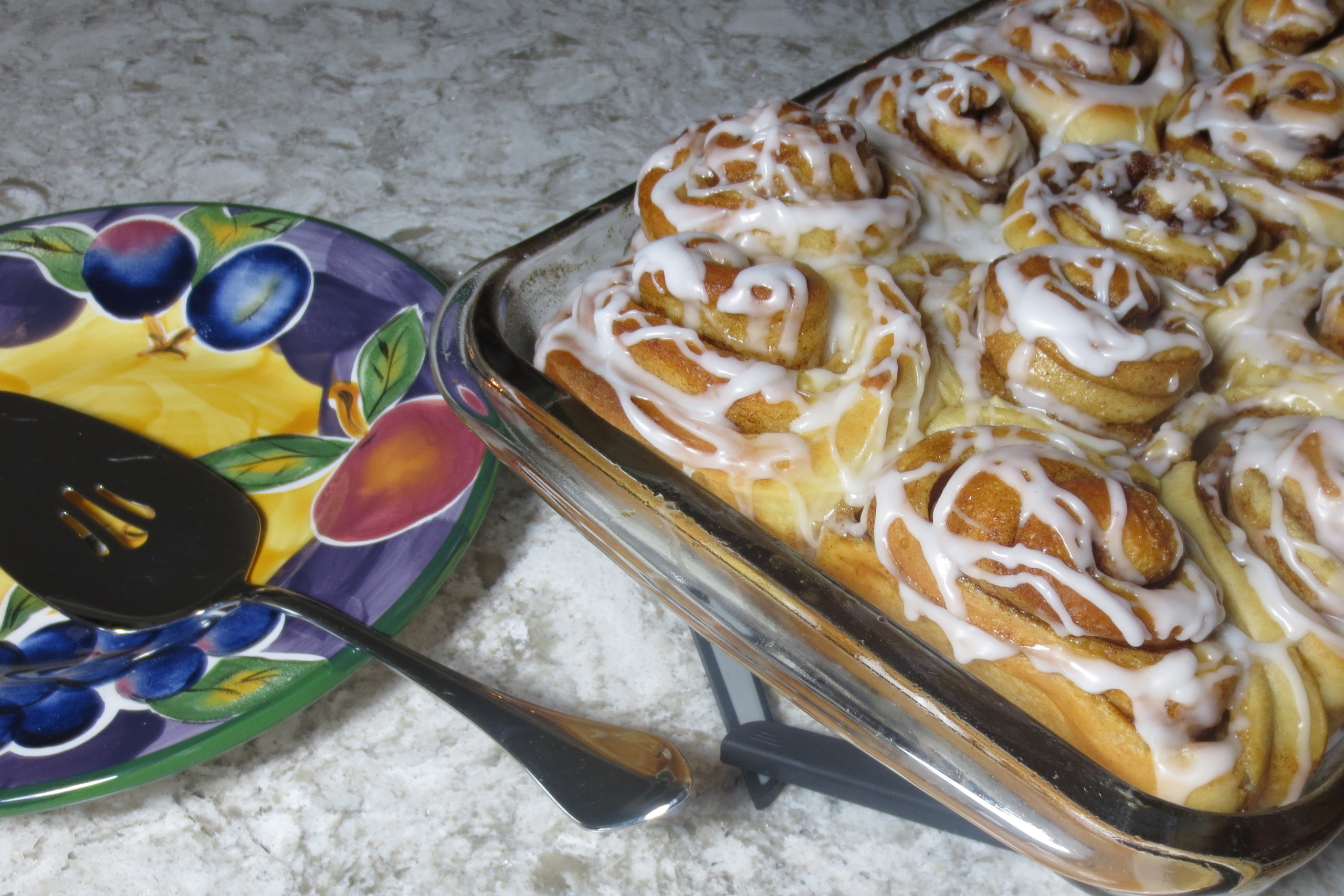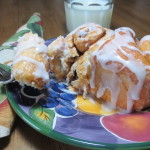 Overnight Cinnamon Rolls
Ingredients
Dough
3

large eggs

room temperature

2

ounces

sugar

approximately 1/4 cup

3

ounces

unsalted butter

melted, approximately 6 tablespoons **

6

ounces

milk

whole, 2%, almond or coconut, slightly warmed to 100 degrees in microwave (my microwave took 45 seconds on high)

20

ounces

all-purpose flour

approximately 4 cups, plus additional for rolling out dough

1

teaspoon

cinnamon

1

package instant dry yeast

approximately 2 1/4 teaspoons

1-1/4

teaspoons

salt

kosher or sea salt (reduce to 1 teaspoon if using salted butter or margarine)

Vegetable oil or cooking spray
Filling
5

ounces

light brown sugar

approximately 3/4 cup packed

4

ounces

granulated sugar

approximately 1/2 cup

1

tablespoon

ground cinnamon

If you want to be really decadent

add 3/4 cup cinnamon chips to the filling

You may also add 3/4 cup raisins and/or 1/2 cup chopped walnuts to the filling as well

Dash of salt

omit if using salted butter or margarine

1

ounce

unsalted butter

melted, approximately 2 tablespoons **
Icing
3 -4

tablespoons

water or milk

whole, 2%, almond or coconut

Dash of salt

8

ounces

powdered sugar

approximately 2 cups
Instructions
Using a bread machine: add the dough ingredients (starting with 3-3/4 cups flour instead of 4) to your bread machine's baking pan in the order recommended by your machine's manufacturer. Make a small well in the top of the flour and add the yeast. Start the dough cycle. Once the kneading cycle has started and the ingredients are well mixed, check the dough and add additional flour if too sticky.

While the dough is mixing, combine the sugars, cinnamon and salt in a medium bowl, along with any other additions if using. Reserve for later use.

Grease a 9 x 13-inch glass baking dish. Once the dough has risen sufficiently or the bread machine cycle has completed, place the dough on a lightly floured work surface. Roll into an approximate 24 x 16 inch rectangle. Spread with the melted butter and sprinkle the sugar and cinnamon mixture over the dough. Press the filling into the melted butter being careful to not tear the dough. Starting at the long edge, roll the dough into a tight cylinder. Pinch the seams to seal and place the roll seam down. Using your hands, try to shape the log into an even thickness. With a serrated knife or unflavored (clean!) dental floss, slice the cylinder into 1 1/2-inch rolls; I usually get about 14-16 rolls, but it varies with how thin I roll the dough to begin with. Place the cinnamon rolls cut side down in the greased baking dish. It's okay if the rolls are crowded together. Cover them with plastic wrap and store in the refrigerator overnight or up to 16 hours.

Remove the baking dish from the refrigerator and place in a cold oven. Fill a pan or heatproof dish with 2 cups boiling water and place on the rack below the rolls. Close the oven door and let the rolls rise until they are puffy; approximately 30 to 40 minutes. Remove the rolls and the pan of water from the oven. The hot water helps bring the dough to room temperature faster after being chilled in the refrigerator. If you're not in a hurry you can skip the hot water and let the rolls rise with the oven light on, but it could take 65 – 75 minutes.

Preheat the oven to 350 degrees.

When the oven is hot, return the rolls to the oven (middle rack is best) and bake until golden brown, approximately 25 minutes. I find myself checking after they have baked for 23 minutes. My new ovens seem to bake hotter…or maybe my old ovens baked slow? If you have an instant-read thermometer, they should reach 190 degrees at the center of the roll.

Once the rolls are done, move dish to a cooling rack (leave the rolls in the dish). Combine the powdered sugar and water or milk together. Mix with a spoon until smooth then drizzle over the warm rolls.