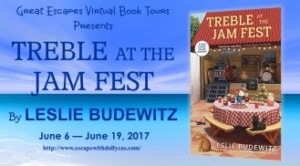 I was thrilled when I found out that the Food Lovers' Village Mystery series by Leslie Budewitz had found a new home with Midnight Ink! After what seemed like a long wait I finally had the chance to read TREBLE AT THE JAM FEST and it did not disappoint!
The protagonist, Erin Murphy, is the manager of her family's shop, Murphy's Mercantile, in Jewel Bay. The author paints a vivid picture of the town and the gorgeous location, so much that it makes me want to visit. She weaves in both scenery and the activities that this slice of Montana paradise has to offer so that the reader feels like they are participating, albeit vicariously, through Erin and her friends. Erin and the cast of characters who surround her seem like real people and it was a pleasure getting reacquainted with them. I love that they are moving forward, growing as individuals and as a community, making changes that aren't always easy. Leslie provides a list of the characters at the front of the book which is particularly helpful for readers who pick the series up in the middle (or start with TREBLE AT THE JAM FEST) instead of beginning at book one. But overall each book is easily read as a standalone.
I truly enjoy the creativity the author shows in developing festivals for the town. I especially liked the Jazz Festival theme used for this book since it's one of my favorite types of music to listen to while reading and enjoying a glass of wine. I just wish there could be a sound track to go with the print and e-book versions 🙂 The murder plot was complex with plenty of viable suspects and I was quite surprised by the ending. Erin feels compelled to get involved and solve the case because her boyfriend was the one to find the body. She also freely admits she's nosy and likes to snoop… which in itself is reason enough to get involved.
There are so many delectable recipes provided at the back of the book and I want to try them all. Rhubarb Custard Pie was a family favorite that the author's mother made and I'm honored that I am able to share her family recipe with you!! According to Leslie, while her mother was not a good cook she did bake well and her family loved this pie. Regular rhubarb pie was my husband's mother's specialty, but I hadn't heard of Rhubarb Custard Pie until now. I love the addition of the eggs which made it creamy and tempered the tartness of the rhubarb. The text I got from my granddaughter when she tasted the piece of pie I saved for her was, "It's SOOOOO good!!!" And that says it all!

A very special thank you to Midnight Ink for providing (2) – print copies of TREBLE AT THE JAM FEST for two lucky winners! This giveaway is administered by Great Escapes Virtual Book Tours and you can use the Rafflecopter box located below the recipe to enter. Contest ends June 19, 2017 and is limited to U.S. residents only. Winners will be announced on this page and on Great Escapes Virtual Book Tours site, as well as notified by email (so check your spam folder!)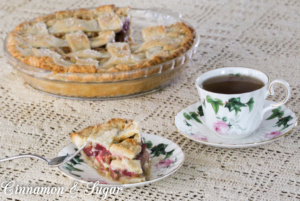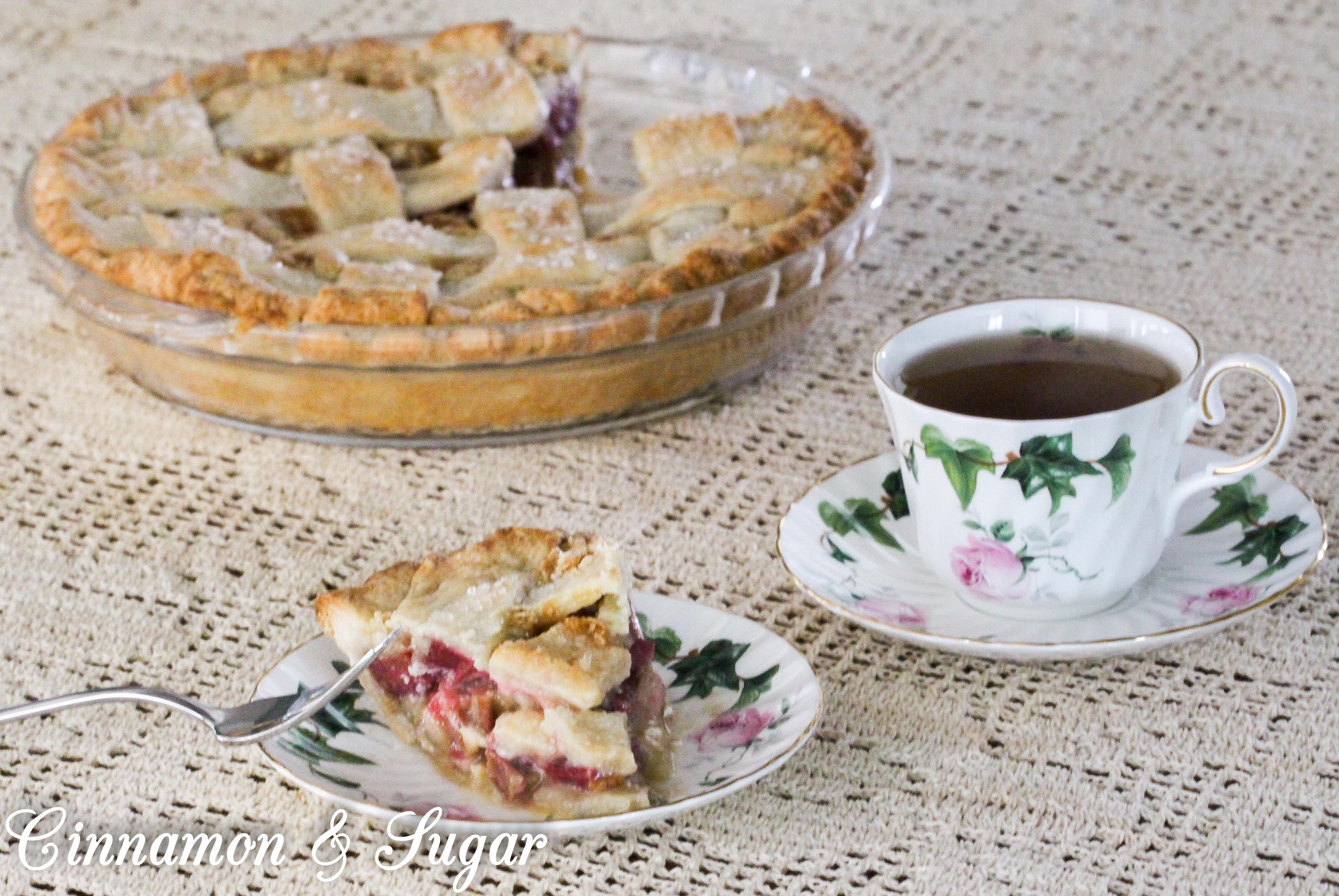 Ingredients
The Pie Dough

2-1/2 cups unbleached all-purpose flour
2 tablespoons sugar
1/2 teaspoon salt
1 cup (2 sticks) cold unsalted butter, cut into 1/4-inch cubes
6 tablespoons cold water (more, if you live in a dry climate)

The Filling

1-1/2 cups sugar
1/4 cup all-purpose flour
1/4 teaspoon ground nutmeg
Dash salt
3 eggs
4 cups rhubarb, cut into 1-inch slices
2 tablespoons butter, cut in pieces
Instructions
Pie Dough

To make the dough by hand

In a large bowl, stir together the flour, sugar and salt.
Using a pastry cutter or 2 knives, cut the butter into the flour mixture until the texture resembles coarse cornmeal, with butter pieces no larger than small peas.
Add the water and mix with a fork just until the dough pulls together.

To make with a food processor

Place the flour, sugar, and salt in the processor bowl.
Add the butter and pulse to blend, then mix on low speed until the texture resembles coarse cornmeal, with the butter pieces no larger than small peas.
Add the water and mix just until the dough pulls together, or "gathers".
Place dough on a sheet of waxed paper or a lightly floured cutting board, shape into a ball, and divide in half.
Flatten each ball into a disk. Flatten it with your hands or the rolling pin, then top with another piece of waxed paper and begin rolling, from the center. Turn the paper or cutting board so you can roll it out evenly, to about 12 inches in diameter and 1/8 inch thick.
Repeat with second disk.
Makes one 9-inch double crust or lattice top pie.

Filling

Preheat oven to 400 degrees (F).
Mix sugar, flour, nutmeg, and salt in a medium bowl.
Beat the eggs until smooth, and add sugar and flour mixture.
Stir in rhubarb.
Prepare the pie dough. Line a 9-inch pie plate with dough.
Fill with rhubarb mixture. Dot with butter.
Cover with top crust or lattice, and seal. If you're not using a lattice top, cut 6 - 8 one-inch slits to allow steam to escape.
Some bakers sprinkle white sugar on top.
Bake about 50 minutes, until golden. If crust browns too quickly, cover edges with strips of foil.
Cool completely before serving.

Tips

When measuring the flour for the filling, firmly scoop and level the flour instead of spooning and leveling.
I completely forgot to add the butter before putting the lattice crust on top of the filling... it was still good!
https://cinnamonsugarandalittlebitofmurder.com/rhubarb-custard-pie/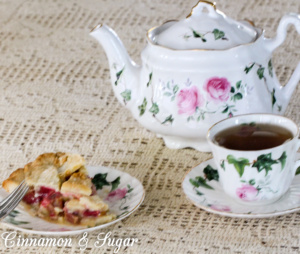 Pin to Pinterest: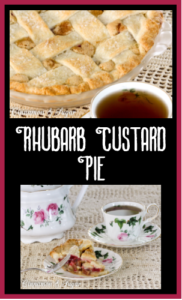 If you receive my blog post via email you will need to visit my website to view the video.
Tour Participants
June 6 – Laura's Interests – REVIEW
June 6 – Cinnamon, Sugar, and a Little Bit of Murder – REVIEW
June 6 – View from the Birdhouse – SPOTLIGHT
June 7 – Celticlady's Reviews – SPOTLIGHT
June 7 – A Cozy Experience – REVIEW
June 8 – I Wish I Lived in a Library – REVIEW
June 8 – Brooke Blogs – GUEST POST
June 9 – Reading Is My SuperPower – REVIEW
June 9 – Books,Dreams,Life – SPOTLIGHT
June 10 – Valerie's Musings – REVIEW
June 10 – Bookworm Cafe – SPOTLIGHT
June 11 – 3 Partners in Shopping, Nana, Mommy, &, Sissy, Too! – SPOTLIGHT
June 11 – A Holland Reads – SPOTLIGHT
June 12 – Author Annette Drake's blog – INTERVIEW
June 12 – StoreyBook Reviews – SPOTLIGHT
June 13 – Books Direct – GUEST POST
June 13 – Queen of All She Reads – SPOTLIGHT
June 14 – Melina's Book Blog – REVIEW
June 14 – Deal Sharing Aunt – INTERVIEW
June 15 – Classy Cheapskate – REVIEW
June 15 – Cassidy's Bookshelves – GUEST POST
June 16 – Varietats – REVIEW
June 16 – Teresa Trent Author Site – SPOTLIGHT
June 17 – Bibliophile Reviews – REVIEW
June 18 – A Blue Million Books – INTERVIEW
June 19 – Mystery Thrillers and Romantic Suspense Reviews – SPOTLIGHT
June 19 – My Journey Back – REVIEW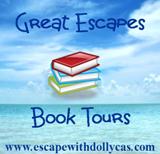 I was provided an advanced copy with the hopes I would review. All thoughts and opinions are my own.