I had the privilege of meeting author AND Certified Sommelier Nadine Nettmann at Left Coast Crime earlier this year. After hearing her talk about her debut novel, DECANTING A MURDER, I immediately went to the bookstore and bought it. It didn't take me long to devour the book, all the while wishing I had several of the lovely wines she mentions. I love how she starts each chapter with a "wine pairing" which adds enjoyment to the book… and a run to Total Wine and More to seek out her suggestions. I met up with Nadine again at the Malice Domestic conference in April (and then again just this last weekend in L.A. at CA Crime Writers Conference) and was excited to find out that she was releasing UNCORKING A LIE in May… which I downloaded to my Kindle just as soon as I possibly could. Congrats are also in order for Nadine – DECANTING A MURDER has been nominated for an Anthony Award!
Back when I was in my twenties, I had the opportunity to live in Napa for a couple of years (bliss!). Nadine definitely captures both the valley and Sonoma settings, bringing them to life and making the reader feel like they are right there with Katie, the protagonist. It's obvious the author has a passion for wine and the Napa region and she creatively applies that expertise, allowing Katie to use her wine deducing knowledge to unearth clues and figure out the murderer. There are a variety of suspects to keep the reader guessing while intriguing subplots round out the stories. Another interesting aspect is the way the author describes the characters using the characteristics of different wine varietals.
The protagonist, Katie, is struggling with a bad relationship with her father, after she failed to follow in his footsteps and flunked out of the police academy. She also has suffered a failed relationship and finds herself driven to pass the levels of sommelier testing, leaving no time for friends. The author provides some fascinating insight into the rigorous studying and training involved required to pass the exams. In fact, there is a 60% failure rate! It resonated with me when Katie muses that "maybe damage gives us all a little character," in regards to people and to grapes when developing wine. And I think that is excellent insight into human nature and the author does a beautiful job weaving it into her delightful books. The Sommelier Mystery series whets your palate with a read that has a lovely bouquet and a full-bodied finish!
While the book doesn't include recipes there is plenty of food mentioned. Katie enjoys some Madeleine cookies in the first book, so I developed a recipe for Lemon Glazed Madeleines. According to Nadine, the best wine to pair with these light, cake-like lemon cookies is bubbly Prosecco. If you don't imbibe, according to my granddaughter whose favorite flavor is lemon, milk is pretty good too… and I would suggest a hot cup of tea. No matter what beverage you pair with these cookies, they do make for a delectable treat!
Amazon Synsopsis – Decanting a Murder
Katie Stillwell focuses on two things in her life: work and practicing for Sommelier Certification with her blind tasting group. The exam was supposed to be the hardest part of her week, but that was before a body was found at an exclusive Napa Valley winery party.
When all the evidence points to Katie's best friend, the outspoken and independent Tessa, Katie drops everything to clear Tessa's name. Using her deductive wine skills, she tries to track down the real killer. But when repeated attempts are made on her life, Katie discovers that everyone's secrets must be uncovered–including her own.
Amazon Synopsis – Uncorking a Lie
It was the kind of invitation sommelier Katie Stillwell had only dreamed about: a dinner party at the Sonoma mansion of famed wine collector Paul Rafferty to celebrate a rare bottle. Everyone enjoys drinking the $19,000 wine, but Katie realizes it's not the vintage listed on the label.
When she confides in Mr. Rafferty, he asks her to investigate, and she soon discovers the deception goes beyond money—it includes an accidental death that might just be murder. As Katie falls deeper into the world of counterfeit wine, she learns everything is at stake… even her life.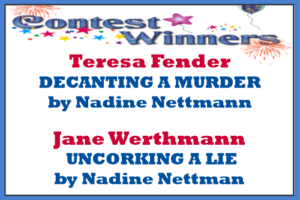 A huge thank you to Nadine Nettmann for providing a signed copy of DECANTING A MURDER and UNCORKING A LIE! I will pick two winners and award one book to each of them. Contest ends Thursday, June 15, 2017 at 11:59 pm PST and is limited to U.S. residents. Please use the Rafflecopter box located below the recipe to enter. The winner will be announced on this page and on Cinnamon & Sugar's Facebook page, as well as notified by email (so check your spam folder!)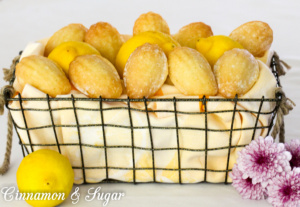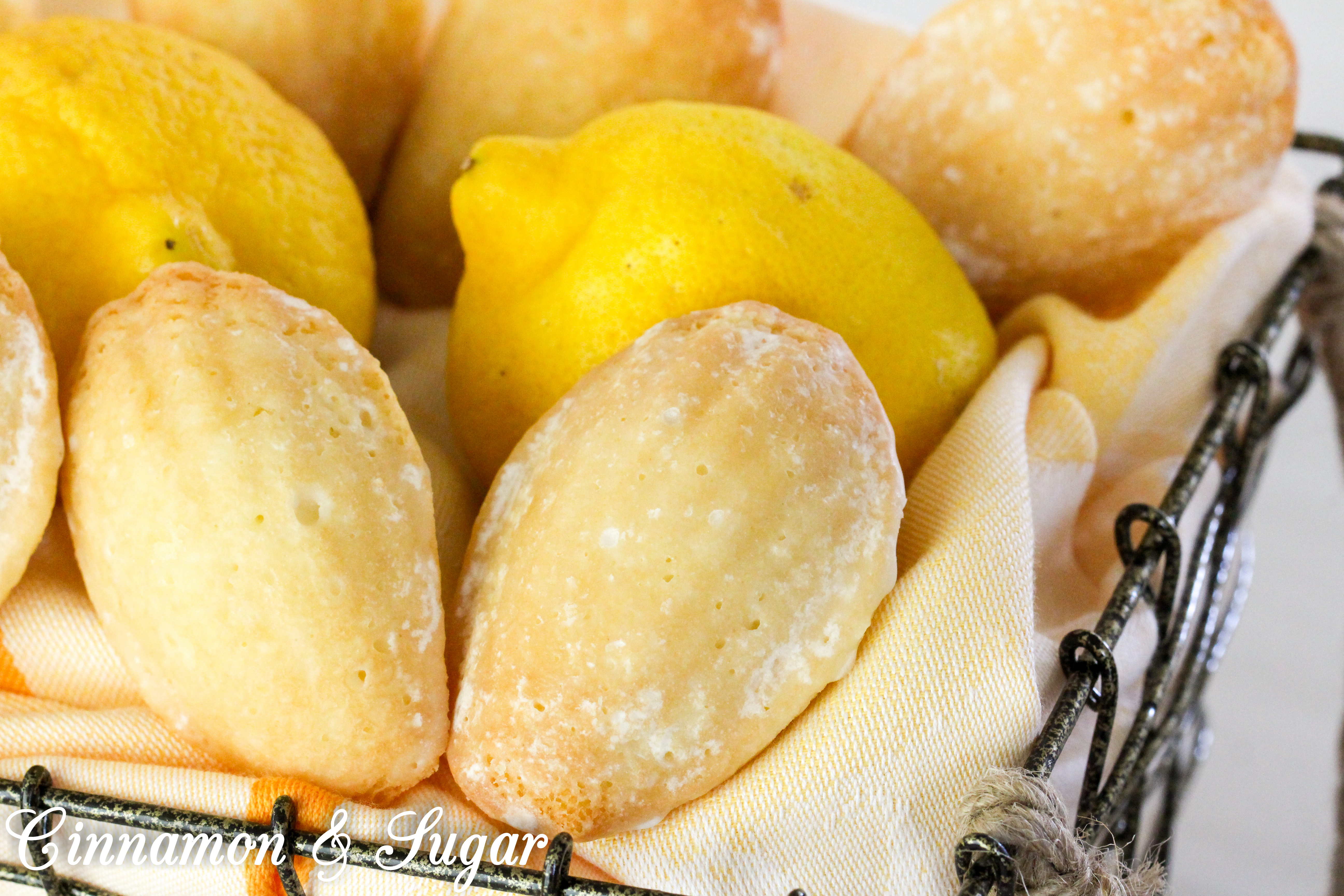 Ingredients
Madeleines

1/2 cup unsalted butter
1-1/2 cups all-purpose flour
1 teaspoon baking powder
1/2 teaspoon sea salt
3 eggs, room temperature
1 cup granulated sugar
Zest of 1 small lemon
1/2 teaspoon lemon extract, optional

Glaze

1/2 cup + 2 tablespoons confectioners' sugar
2-1/2 to 3 tablespoons fresh lemon juice
Instructions
Madeleines

Don't preheat the oven since the batter needs to rest in the refrigerator for an hour.
Melt the butter and allow to come to room temperature while you collect the remaining ingredients.
In a medium-sized bowl, whisk together the flour, baking powder, and salt. Set aside.
In the bowl of a stand mixer, beat together the eggs and granulated sugar until the mixture is very thick and a pale lemon color. This will take about 5 minutes using medium-high speed.
Mix in the lemon zest and lemon extract if using.
Remove the bowl from the stand mixer and gently stir in the flour mixture by hand just until moistened.
Mix in the melted butter and stir just until it's incorporated.
Allow the batter to chill in the refrigerator for 1 hour.
Preheat oven to 375 degrees (F).
Spritz the madeleine pan with non-stick cooking spray.
Spoon approximately 1 tablespoon of batter into the madeleine molds.
Bake 8 - 11 minutes until the edges are golden brown and the middle of the cake springs back when gently touched.
Allow to cool in the pan for 2 minutes then remove the madeleines to a wire rack to cool completely.

Glaze

Once the madeleines are completely cooled, whisk the confectioners' sugar and 2-1/2 tablespoons lemon juice together until completely smooth. If the glaze is too thick, add additional lemon juice as needed until it reaches a brushable consistency.
Brush each cake with the glaze and allow to set for 30 minutes before serving.
Store leftovers in an airtight container at room temperature for 3 days.
https://cinnamonsugarandalittlebitofmurder.com/lemon-glazed-madeleine-cookies/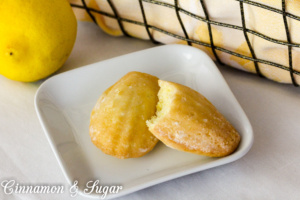 Pin to Pinterest: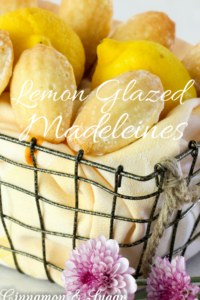 If you receive my blog post via email you will need to visit my website to view the video.
I was provided an advanced copy with the hopes I would review. All thoughts and opinions are my own.