Rare books, impending nuptials, murder, and even more terrifying for Brooklyn, meeting her future in-laws for the first time come together in a delightful tale! ONCE UPON A SPINE by Kate Carlisle, the eleventh book in the Bibliophile Mystery series, captivated me from the very beginning. I love Brooklyn's relationship with her parents, who are probably some of my favorite characters: a mom who is a hippy, new-age Wiccan and a dad who is a vintner. The fact that her fiancé, Derek, loves them too adds to the appeal. Derek won't say how he thinks his upper-class British parents will react to meeting Brooklyn's family, so Brooklyn is doubly worried. When they do meet, the fun starts. No spoilers here but in Brooklyn's words, "Oh dear God!" and I was laughing out loud.
Brooklyn and Derek live in a small community within the large city of San Francisco and the author paints a vivid picture of how we sometimes see people in our own neighborhoods. People we may see quite frequently yet remain strangers can lead to remorse as it did for Brooklyn when one of her neighbors was murdered. Getting to actually know the people around us is what forms a close-knit community and creates friendships. Brooklyn, with the help of Derek, decides to solve the case and try to bring unity back to their neighborhood. The more Brooklyn asks questions the more puzzling the murder becomes. ONCE UPON A SPINE has a twisty, topsy-turvey plot and ending that is worthy of Lewis Carroll and Alice in Wonderland!
Brooklyn and Derek are good hosts to the parents visiting them and there is lots of delicious foods mentioned and enjoyed throughout the book. Fortunately for the reader, Kate has included several appetizer recipes that the families enjoyed one evening. They all sound delectable but to add to the fun book, each recipe has a very humorous title or play on words. I chose to make the Cheesy Balls because, I'll admit it, I'm a cheese-a-holic. Add some bacon and pecans to the mix and oh my goodness… it was hard to limit myself. These are very easy to mix up and I liked that they could be made ahead of time. Perfect for entertaining…or making for yourself and enjoying with a glass…or two of California wine!
Amazon Synopsis
In this Bibliophile Mystery from the New York Times bestselling author of Books of a Feather, San Francisco bookbinder Brooklyn Wainwright stumbles through the looking glass in a tale of murder, rare books, and a quest for the perfect pie…
Brooklyn's oh-so-proper future in-laws are traveling from England to meet her, and if that's not enough to set her on edge, rumors abound that the charming Courtyard shops across the street may be replaced by high-rise apartments. Their trendy neighborhood will be ruined unless Brooklyn and her fiancé, Derek Stone, can persuade the shopkeepers not to sell.
But with a rare edition of Alice's Adventures in Wonderland causing bad blood at the Brothers Bookshop and a string of petty vandalism making everyone nervous, Brooklyn and Derek feel like they're attempting six impossible things before breakfast. Then the owner of the Rabbit Hole juice bar is felled by his own heavy shelves, and the local cobbler lies dead beside him. An accident . . . or something more sinister? Things get curiouser and curiouser when a second priceless copy of Alice is discovered. Will it stir up more trouble within the close-knit community?
As the Brits descend, Brooklyn learns they're not so stuffy after all. Derek's dad is won over with chocolate cream pie, and his psychic mum would kill to help Brooklyn solve this murder—before another victim takes a tumble.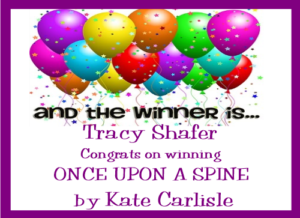 A huge thank you to Kate Carlisle for providing a hardcover copy for one lucky winner! Contest ends Tuesday, June 6, 2017 at 11:59 pm PST and is limited to U.S. residents. Please use the Rafflecopter box located below the recipe to enter. The winner will be announced on this page and on Cinnamon & Sugar's Facebook page, as well as notified by email (so check your spam folder!)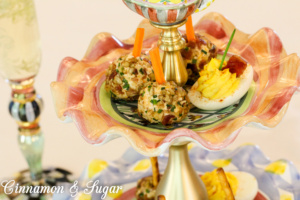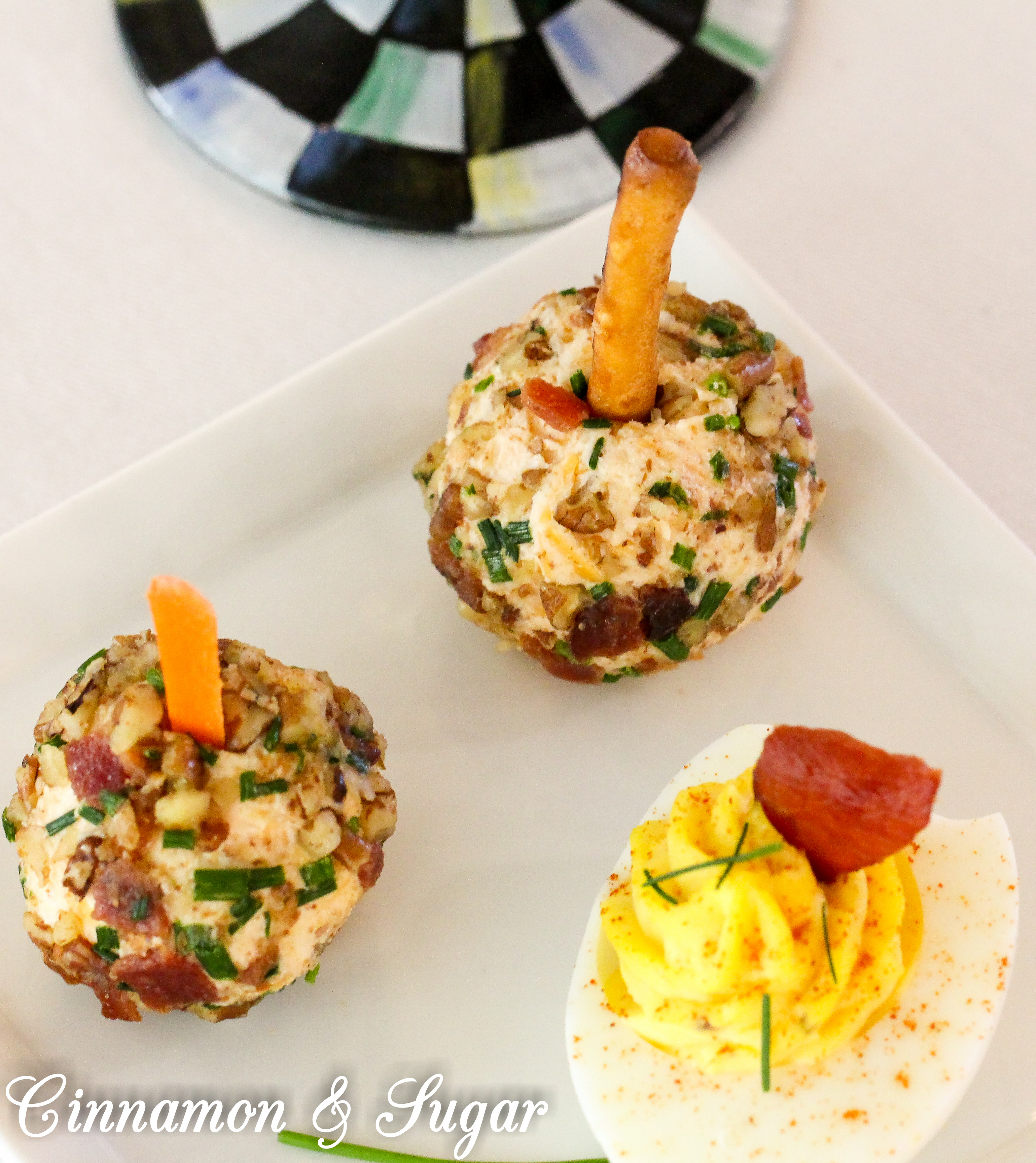 Ingredients
8 ounces cream cheese, softened
1 cup shredded cheddar cheese
1/2 cup grated Parmesan
1 teaspoon Worcestershire sauce
1 tablespoon hot sauce (Frank's is Brooklyn's favorite)
1 teaspoon garlic powder
1 teaspoon paprika
Kosher salt
Freshly ground black pepper
1/3 cup chopped chives
1/3 cup finely chopped walnuts or pecans
4 - 5 slices bacon, cooked and chopped
Several carrots cut into thin but sturdy sticks
Instructions
Mix together cheeses, Worcestershire sauce, hot sauce, garlic powder and paprika, then season to taste with salt and pepper.
Form into 15 - 18 small balls and chill at least 1 hour.
Stir together chives, nuts, and bacon.
Roll chilled balls into chive mixture and insert a thin carrot stick in each ball. (Pretzel sticks can be substituted for carrot sticks, but be careful not to break them while inserting into cheese ball.)
Serve immediately or cover in plastic wrap and chill until ready to serve.
Best if brought back to room temperature 15 minutes before serving.

Tips

Taste the mixture before adding salt. I found mine really didn't need any.
Add the carrot sticks and/or pretzel sticks just prior to serving. They will get soggy if left too long in the refrigerator.
https://cinnamonsugarandalittlebitofmurder.com/cheesy-balls/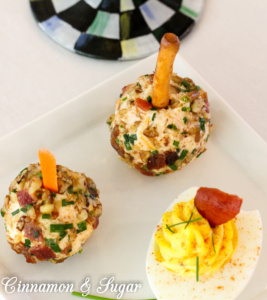 Pin to Pinterest: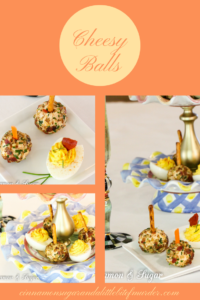 If you receive my blog post via email you will need to visit my website to view the video.
I was provided an advanced copy with the hopes I would review. All thoughts and opinions are my own.