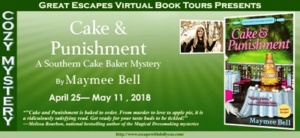 I'm delighted to be participating in the Great Escapes Virtual Book Tour by sharing my review and a recipe from a brand new book in a brand new series! CAKE & PUNISHMENT by Maymee Bell (aka Tonya Kappes) is the first book in the Southern Cake Baker Mystery series and one not to be missed! Filled with Southern charm and sayings, the characters bring the Kentucky region to life for the reader. The protagonist, Sophia Cummings, is a talented pastry chef taking a short leave from her prestigious position at a Manhattan, New York restaurant after catching her boyfriend in a compromising position with the maître d'. Returning home to Rumford, Kentucky to stay with her folks, Sophia finds herself volunteering to make the wedding cake for one of her old high school friends. I love how the author integrates cake baking and decorating tips into the story and the descriptions of her gorgeous confections are drool-worthy. Bitsy, Sophia's mother, is as southern as they come and adds appeal to the story. Many of the scenes are centered at the Rumsford Country Club and when the head chef is found murdered right before Sophia shows up to start on the cakes, she gets involved. Some might call her nosy but she pays close attention to details and finds that people like to talk to her. The author provides many suspects to keep the reader guessing while for the most part, the pacing of the story was good. The final reveal felt a bit rushed or maybe I just didn't want this enticing story to end.
Not only did Sophia bake the wedding cake for her friend, she pitched in to work in the country club's kitchen after the chef was murdered. She also baked yummy treats for her friends and family throughout the book and I was constantly drooling. Fortunately Ms. Bell provides several mouthwatering recipes at the back of the book and I want to try them all! But having to settle for one to share, I chose the Red Velvet Crunchies which Sophia made numerous times during the story. The base is a chocolate red velvet with a generous amount of chocolate chips added to the dough and then additional chocolate chips pressed into the tops as soon as the cookies are done baking. To be honest, I've never made red velvet anything so was quite alarmed when the batter turned SO red when I mixed it… I thought I'd done something terribly wrong. But, once the cookies baked, they turned a delicious chocolate brown with a red tint instead of looking like they were straight out of a horror show. The warm, gooey chocolate cookies were a huge hit when served with an ice cold glass of milk. I found these to be a wonderful variation on everyone's favorite chocolate chip cookies!
Amazon Synopsis
In the first of a delectable new Southern-set baking cozy series, Sophia Cummings, pastry chef extraordinaire, must craft the perfect cake for an old friend's wedding while sifting through the suspects in a murder.
Bucolic Rumford, Kentucky has glowing fields of bluegrass, a fine selection of bourbons, and now a professional pastry chef. Broken-hearted Sophia Cummings has come home from New York City. She's not there a minute before she's charmed into making her high school friend Charlotte's wedding cake. The kitchen at the Rumford Country Club seems perfect until Chef Emile's body is discovered, sprawled near the stove, a cast iron skillet on the floor close by.
With one look at the shiny, new frying pan, Sophia knows it's not Emile's. She offers her knowledge to Sheriff Carter and her talents to Evelyn, the manager, who needs an interim chef. The mood in the country club is grim: Emile's peppery personality had burned members and staff alike. Sophia wonders which one of them burned him?

A special thanks to Tonya Kappes for providing one winner with an Amazon Kindle tablet! Contest ends Friday, May 11, 2018 at 11:59 pm PST and is limited to U.S. residents only. Please use the Rafflecopter box located below the recipe to enter. The contest is administered by Tonya Kappes and the winner will be announced on this page as well as notified by email (so check your spam folder!)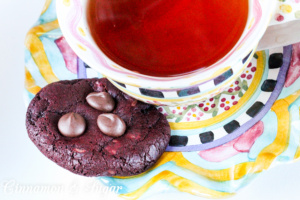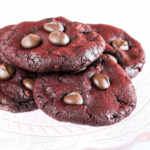 Red Velvet Crunchies
Ingredients
1-1/2

cups

+ 1 tablespoon all-purpose flour

1/4

cup

unsweetened natural cocoa powder

1

teaspoon

baking soda

1/4

teaspoon

salt

1/2

cup

unsalted butter, softened

3/4

cup

packed light or dark brown sugar

1/4

cup

granulated sugar

1

large egg, room temperature

1

tablespoon

whole milk

2

teaspoons

vanilla extract

1

tablespoon

red food coloring, liquid or gel (might might need more, depending on how red you want your cookies)

1

cup

semisweet chocolate chips plus 1/2 cup for after baking to stick on top for decorations
Instructions
Do not preheat the oven because the dough has to be chilled for one hour.
Whisk the flour, cocoa powder, baking soda, and salt together in a large bowl. Set aside.

Use a mixer to beat the butter on high speed until creamy. Beat in the brown sugar and granulated sugar until combined and creamy. Beat in the egg, milk, and vanilla extract. Once mixed, add the food coloring and beat until combined.

Turn mixer off to add the dry ingredients to the wet ingredients. Mix on low and slowly beat until a very soft dough is formed. Add more food coloring if you'd like the dough to be brighter red, which I do. I eyeball this. On low speed, beat in the chocolate chips. The dough will be sticky.

Cover the dough tightly with plastic wrap and chill for at least one hour. It has to be chilled.

Preheat oven to 350 degrees (F).

Put parchment paper on two baking sheets and set aside so they are ready for you to place dough on once you've rolled it into balls.

Scoop up 2 tablespoons of dough and roll into a ball.

Place nine balls on each baking sheet. Bake each batch for 10 - 11 minutes. The cookies may only spread slightly because the center will be nice and moist. If you want to press down the warm cookie, you can, and it will make crinkles on top. I stick a few chocolate chips on top and in the crinkles for decoration only.

Keep the cookies on the baking sheet for 5 minutes before transferring to a wire rack to cool completely.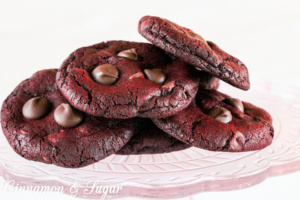 Pin to Pinterest: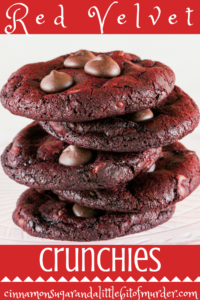 If you receive my blog post via email you will need to visit my website to view the video.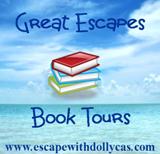 Tour Participants
April 25 – The Pulp and Mystery Shelf – CHARACTER GUEST POST
April 25 – Books a Plenty Book Reviews – REVIEW
April 26 – Babs Book Bistro – SPOTLIGHT
April 26 – Bibliophile Reviews – REVIEW
April 27 – The Book Diva's Reads – CHARACTER GUEST POST
April 27 – 3 Partners in Shopping, Nana, Mommy, & Sissy, Too! – SPOTLIGHT
April 28 – Ms. Cat's Honest World – REVIEW
April 28 – MJB Reviewers – REVIEW, AUTHOR INTERVIEW
April 29 – Laura's Interests – REVIEW, GIVEAWAY
April 30 – Reading Is My SuperPower – REVIEW
April 30 – A Holland Reads – SPOTLIGHT
May 1 – My Reading Journeys – REVIEW
May 1 – Mysteries with Character – AUTHOR INTERVIEW
May 2 – Queen of All She Reads – REVIEW
May 2 – Island Confidential – CHARACTER INTERVIEW
May 3 – Texas Book-aholic – REVIEW
May 3 – Valerie's Musings – GUEST POST
May 4 – The Power of Words – REVIEW
May 4 – Celticlady's Reviews – SPOTLIGHT
May 5 – Varietats – REVIEW
May 6 – Brooke Blogs – SPOTLIGHT
May 7 – FUONLYKNEW – REVIEW
May 7 – Ruff Drafts – GUEST POST
May 8 – The Montana Bookaholic – REVIEW, CHARACTER GUEST POST
May 8 – Cinnamon, Sugar and a Little Bit of Murder – RECIPE POST
May 9 – Moonlight Rendezvous – REVIEW, CHARACTER GUEST POST
May 9 – Escape With Dollycas Into A Good Book – REVIEW, GUEST POST
May 10 – That's What She's Reading – REVIEW, GUEST POST
May 10 – Bookworm Cafe – REVIEW
May 11 – Lisa Ks Book Reviews – REVIEW, RECIPE POST
May 11 – Melina's Book Blog – REVIEW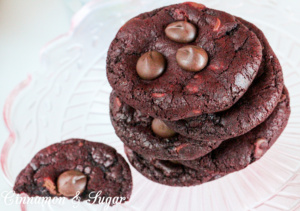 I was provided an advance copy with the hopes I would review. All thoughts and opinions are my own.