DEATH OF A COOKBOOK AUTHOR is the tenth book in the Hayley Powell Food and Cocktails Mystery series by Lee Hollis and is an entertaining page turner! I love that Hayley is an "older" woman, her children grown and on their own. She writes a successful food and cocktail column for the Island Times newspaper in Bar Harbor, Maine. The author includes several of Hayley's columns sprinkled throughout the book and they add a peek into her personal life as she shares snippets of memories, anecdotes and recipes. It truly is a unique way for the reader to feel like they know the protagonist. When Hayley is invited to spend the 4th of July weekend at Penelope Janices' estate and participate in a celebrity potluck casserole competition, Hayley can't believe her good luck. It's cute how she goes all fan-girl over Penelope, the famous cooking and lifestyle star on the Flavor Network. I'm sure I would act just like her if I ever had the chance to meet a famous television personality.
Hayley believes she overhears a plot between Penelope's husband and assistant to murder the famous woman. However, it's Penelope's husband that ends up dead shortly thereafter and Hayley has a difficult time believing it was just an accident like the police say. Not one to shy away from asking questions and finding out the truth, she starts digging and uncovers a multitude of secrets that the rich and famous weekend guests have tried to hide… but could that make one of them a killer? I have to hand it to Hayley, even though she managed to make most of the guests mad at her, she doesn't let it deter her. The exciting reveal pulls the reader in and keeps you turning pages faster and faster and just when I gave a sigh of relief that justice was served, the author threw in one last twist that I didn't see coming!
The theme of the recipes centered around the celebrity completion are casseroles and Hayley has recipes galore that she shares with readers, along with some delicious cocktail concoctions! I'll admit, I love casseroles for their ease of serving larger groups and the leftovers typically reheat well. I was intrigued by Hayley's recipe for Summer Corn Casserole, which is actually a side dish… except I loved it so much I felt like I could easily make it a main vegetarian meal! Super easy to mix together and bake, the corn flavor shines through. And since frozen or canned corn may be used instead of fresh summer corn, I can enjoy this year round!
Amazon Synopsis
Food and cocktails columnist Hayley Powell will be cooking alongside top chefs at a cookbook author's party. But a killer plans to ruin her appetite . . .

When Hayley's idol, cookbook author and TV personality Penelope Janice, invites her to participate in a Fourth of July celebrity cook-off at her seaside estate in Seal Harbor, Maine, Hayley couldn't be more flattered. She just hopes she can measure up. With a who's who of famous chefs whipping up their signature dishes, this holiday weekend has all the ingredients for a once-in-a-lifetime culinary experience.

Instead, Hayley gets food poisoning her first night and thinks she overhears two people cooking up a murder plot. The next morning, a body is found at the bottom of a cliff. Tragic accident or foul play? To solve a real cliffhanger, Hayley will need to uncover some simmering secrets—before a killer boils over again . . .
A special thanks to Lee Hollis for providing a print copy of DEATH OF A COOKBOOK AUTHOR for one lucky winner. Contest is limited to U.S. residents only and ends Sunday, May 6, 2018 at 11:59 pm PST. Please use the Rafflecopter box located below to enter. The winner will be announced on this page and on Cinnamon & Sugar's Facebook page, as well as notified by email (so check your spam folder!)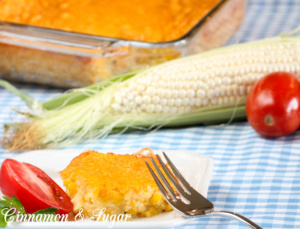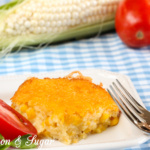 Summer Corn Casserole
Ingredients
2 - 2-1/2

cups

fresh corn off the cob (about 5 ears) you can substitute frozen or canned

1

can

cream-style corn

1

8.5 ounce

box Jiffy corn muffin mix*

1

cup

sour cream

1

stick

butter (1/2 cup)

1

cup

shredded cheddar cheese
Instructions
Preheat your oven to 350 degrees (F).

Combine both your corns, Jiffy mix, and sour cream in a mixing bowl.

Melt your butter and add to the bowl and mix all together.

Pour the corn mixture into a greased casserole dish and bake for 45 minutes. Remove and sprinkle with shredded cheese on top and bake 10 more minutes, or until cheese is melted.

Remove from oven and serve.
Notes:
I successfully substituted a gluten-free cornbread mix for the Jiffy mix by weighing out 8.5 ounces of the mix and proceeding with the recipe as written.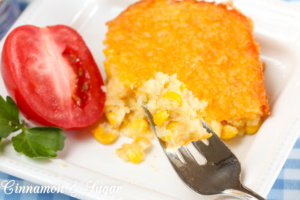 Pin to Pinterest: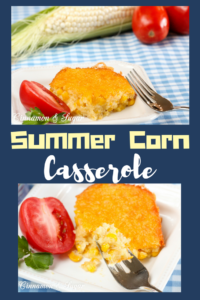 If you receive my blog post via email you will need to visit my website to view the video.
I was provided an advance copy with the hopes I would review. All thoughts and opinions are my own.