COLOR ME MURDER, the first book in the brand new Pen & Ink Mystery series by Krista Davis was everything I had hoped and so much more! The reader is introduced to Florrie Fox, a delightfully creative protagonist. She has a kind and loyal heart and I loved the relationship she has with her family, especially her sister. It's refreshing to see close-knit families portrayed on the page. Ms. Davis includes a cast of characters at the beginning of the book so that you can reference if needed. I felt that the author was judicious in bringing new characters to the page, so I never got confused about who was who. But it was nice to know the list was there if I needed it. The story quickly pulled me in and allowed me to get a good sense of who the main characters are, especially Florrie, while the murder mystery provided page-turning suspense. I found Florrie's method for collecting and organizing clues by sketching what she had seen or heard to be very unique and added to the enjoyment of the story.
The mystery was well plotted and kept me guessing as Florrie uncovered suspects, including her own sister… which puts her loyalty to the test. There are so many creative twists and turns in the book and I love how the author expertly weaves together humor with mystery, adds adorable animals and admirable humans, hidden secret passageways with a missing author, and then ties it all up with an exciting conclusion! And if a delightful tale isn't enough, Ms. Davis provides several delectable recipes at the back of the book and if you purchase the print copy, you will have your very own cover to color with your own creative style.
Speaking of the recipes, they are drool worthy and you'll want to try them all! I'm delighted to share Krista's recipe for Blackberry Muffins, perfect for breakfast, snack, tea time. Since I visit my sister in Oregon every summer and pick wild blackberries, I'm always on the lookout for blackberry recipes to try. Not only were these blackberry muffins super quick and easy to mix up, they were utterly delicious from the crunchy, cinnamon-y topping to the jammy pieces of tart blackberries baked into the sweet bread. Since it's not wild blackberry season yet, I had to settle on store-bought cultivated blackberries. They are much, much larger than wild berries so I cut them into smaller pieces so they were more evenly distributed. I can't wait for berry season to start so I can make these again and again!
Amazon Synopsis
By day, Florrie Fox manages Color Me Read bookstore in Georgetown, Washington D.C. By night, she creates her own intricately detailed coloring books for adults, filling the pages with objects that catch her eye. There's plenty of inspiration in her new apartment—a beautiful carriage house belonging to Professor John Maxwell, Florrie's boss. He offers the property to Florrie rent-free with one condition—she must move in immediately to prevent his covetous sister and nephew from trying to claim it.

When the professor's nephew, Delbert, arrives, he proves just as sketchy as Florrie feared. But the following morning, Delbert has vanished. It's not until she visits the third floor of the store that Florrie makes a tragic discovery—there's a trap door in the landing, and a dead Delbert inside. The esteemed Professor Maxwell is an obvious suspect, but Florrie is certain this case isn't so black and white. Doodling clues, she begins to consider other colorful characters on the scene, all with a motive for murder. With a killer drawing closer, Florrie will need to think outside the lines . . . before death makes his mark again.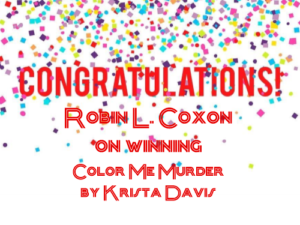 A special thanks to Krista Davis for providing a print copy of COLOR ME MURDER for one lucky winner. Contest is limited to U.S. residents only and ends Sunday, April 29, 2018 at 11:59 pm PST. Please use the Rafflecopter box located below to enter. The winner will be announced on this page and on Cinnamon & Sugar's Facebook page, as well as notified by email (so check your spam folder!)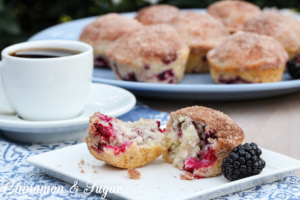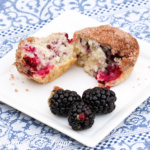 Blackberry Breakfast Muffins
Ingredients
Butter for greasing muffin tin

1-1/2

cups

flour

1/2

cup

sugar

1-1/2

teaspoons

baking powder

1/4

teaspoon

nutmeg

1/8

teaspoon

salt

1

egg

1/2

cup

2% milk

1/3

cup

butter, melted

1

cup

fresh blackberries

1/2

teaspoon

cinnamon

1/4

cup

sugar

1/4

cup

butter, melted
Instructions
Preheat oven to 350 degrees, Fahrenheit.

Grease muffin wells in the muffin pan.

Combine the flour, 1/2 cup sugar, baking powder, nutmeg and salt in a bowl. Mix well with a fork, and make a well in the middle.

In another bowl, whisk the egg with a fork, pour in the milk and combine, then whisk in the 1/3 cup melted butter.

Add the egg mixture to the flour mixture and stir until just combined. It should be lumpy. Do not overmix!

Add the blackberries and turn gently to distribute.

Spoon into the muffin pan, diving evenly, filling each well about 1/2 full.

Bake at 350 degrees for 10 to 20 minutes.

Meanwhile, stir the cinnamon with the 1/4 cup sugar.

Melt the 1/4 cup butter in a small bowl.

Remove the baked muffins from oven. While still hot, remove each muffin from the pan, dip into the melted butter, and then dip into the sugar.
Note:
If your blackberries are huge, as often times cultivated berries are, cut them into smaller pieces so they distribute more evenly in the muffins.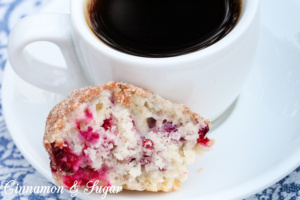 Pin to Pinterest: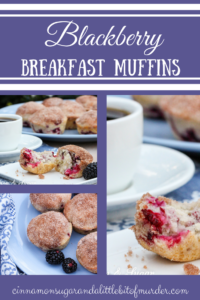 If you receive my blog post via email you will need to visit my website to view the video.
I was provided an advance copy with the hopes I would review. All thoughts and opinions are my own.