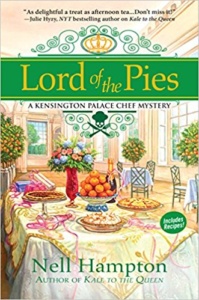 LORD OF THE PIES (such a great title and yes, you'll be craving pie while reading) is the second book in Nell Hampton's Kensington Palace Chef Mystery series. This delightful addition gives the reader an insider's peek at working for the royal family in London. The protagonist, Chef Carrie Ann Cole, is an American transplant who is hired by the Duke and Duchess of Cambridge as a private chef for the family. While she's making a few friends, several people view her as an outsider and it seems like someone is going out of their way to sabotage her position. Could it be the stalker who spies on her while she's working in the kitchen late at night? Or maybe one of the other palace chefs who feel that an American shouldn't be cooking for royalty? Carrie Ann knows she must prove she is more than capable in order to keep her job. When her pie is found to have poisoned a waiter and she's relieved of duties while the investigation is ongoing, Chef Cole finds herself asking questions and gathering information on who could have wanted the waiter dead in order to clear her name.
Ms. Hampton weaves intrigue, spies, scandal, and a cooking competition in this page turner. I'll admit I love hearing about Britain's monarchy and greatly enjoyed the glimpses we see of the young royal family through Carrie Ann's interaction. The story is well-plotted and the action provides good pace. Given how many people are keeping secrets in the palace along with the plot twists, I was kept guessing about who the killer was but also who the intended victim was. The final reveal caught me by surprise… I didn't see that one coming at all! The satisfying conclusion gives a hint of what's in store for Carrie Ann in the next book and I cannot wait!
Like I said at the beginning, you'll be craving pies as you read this book. I am happy to say that Ms. Hampton provides a few recipes at the back of the book and I'm delighted to share her recipe for Seville Meringue Pie! Seville oranges (also known as bitter or sour oranges) are used for cooking and not eating. I found Seville Marmalade at my local Bristol Farms market but regular orange marmalade can be substituted. The orange custard was simply amazing and I would have been happy to eat it as pudding on its own. However, when paired with the buttery, flaky crust and topped by sweet meringue that's crunchy on the outside and fluffy on the inside, this dessert is fit for royalty… or serve to someone you want to treat as royalty!
Amazon Synopsis
When Carrie Ann Cole bakes a lemon meringue pie to die for that actually kills someone, she must find out who the real killer is before her time at the Kensington Palace expires.
The elegant Orangery at Kensington Palace is the perfect setting for the bridal shower of Carrie Ann Cole's best friend's sister. Personal chef to the royal family, Carrie Ann's pie theme is naturally winning. But a waiter later keels over dead into the lemon meringue pie she leaves as a thank-you to the staff and Carrie Ann realizes that somebody slipped a mickey into that meringue.
Her floury fingerprints are all over that pie and the authorities suspect her distress is a cover-up for murder. Carrie Ann must set out to clear her name if she wants to stay at her dream job any longer. But all too soon, another body drops in the Orangery. This time, it's the Orangery chef.
Murder won't crimp her style, and as bodies pile up, Carrie Ann uncovers palace intrigue, London nightlife, and British pies scouring for the killer in Lord of the Pies, the witty follow-up to Nell Hampton's Kale to the Queen.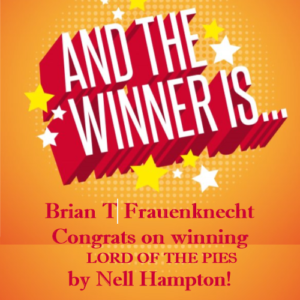 A special thanks to Nell Hampton for providing a hardcover copy of LORD OF THE PIES for one lucky winner. Contest is limited to U.S. residents only and ends Wednesday, April 25, 2018 at 11:59 pm PST. Please use the Rafflecopter box located below to enter. The winner will be announced on this page and on Cinnamon & Sugar's Facebook page, as well as notified by email (so check your spam folder!)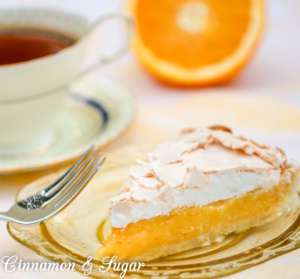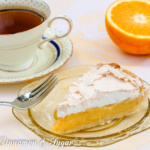 Seville Meringue Pie
Ingredients
Pie Crust
1-1/2

cups

all purpose flour

1

tablespoon

sugar

1/2

teaspoon

salt

1/2

cup

+ 1 tablespoon chilled unsalted butter, cut into 1/2-inch cubes

4

tablespoons

ice water

3/4

teaspoon

apple cider vinegar
Pie Filling
3/4

cup

full-fat milk

1/4

cup

cornstarch

1

cup

sugar

zest and juice from 3 medium oranges (about 1 cup juice)

1/4

cup

thin-cut Seville orange marmalade

3/4

cup

unsalted butter

4

large

egg yolks
Meringue
4

large

egg whites

1

cup

golden caster sugar*

1

teaspoon

cream of tarter
Instructions
Pie Crust
Stir flour, sugar, and salt together in a medium-sized bowl. Add butter; cut with pastry cutter until it resembles fine meal or is pea-sized.

Add 4 tablespoons ice water and cider vinegar. Stir with a wooden spoon until moist clumps form, adding more ice water by teaspoonful if dough is dry.


Gather dough together and turn out onto work surface. Form into a ball and flatten into a disk. Wrap disk in plastic and refrigerate at least 1 hour.

Using a little flour to dust the surface, thinly roll out the pastry and place in a loose-bottomed tart tin.

Leave the excess overhanging and prick the base with a fork. Chill for 30 minutes until firm.

Heat oven to 400 degrees F.

Put the tart tin on a baking sheet, then line the pastry with foil and fill with baking beans or rice. Bake for 15 minutes or until the pastry is firm and dry, then remove the beans and foil. Bake for 20 minutes more or until the pastry is golden brown and biscuity. Leave to cool.
Pie Filling
Pour the milk into a pan and bring to a simmer.

In a large mixing bowl, whisk together the cornstarch, sugar, orange zest, juice and marmalade. Pour the warm milk into the bowl, whisking constantly.

Pour the mixture into a clean pan and cook over low heat, stirring all the time, until shimmering and thickened. The custard might look a bit lumpy at first, but keep stirring and it will come together.

Take off the heat and beat in the butter. Constantly whisking, add 1/2 cup of the warm custard to egg yolks, then add egg mixture back to the pan of custard. Be sure to whisk constantly until fully incorporated.
Meringue
Beat the egg whites to stiff peaks in a large bowl. Add the sugar in four additions, beating back to stiff peaks after each, to make a thick meringue. Whisk in the cream of tarter.
Putting it together
Trim the edges of the pastry case with a small serrated knife.

Warm the orange filling until it bubbles, stirring occasionally. Spoon the filling into the case and smooth the top.

Carefully spoon the meringue on top of the hot filling, starting at the edge and working towards the middle to prevent the meringue from sinking. Gently swirl the meringue down to meet the pastry all around the edge of the tart.

Bake for 15 to 20 minutes or until the meringue is pale golden brown.

Cool for at least 1 hour, then remove from the tin and serve.

Notes
*I couldn't find golden caster sugar so substituted white caster sugar, aka C & H Baker's sugar. Or you can process regular granulated sugar in the food processor for 2 minutes until it is finely ground.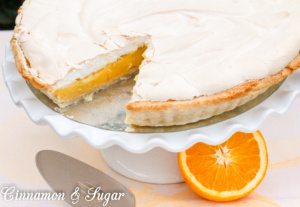 Pin to Pinterest:
If you receive my blog post via email you will need to visit my website to view the video.
I was provided an advance copy with the hopes I would review. All thoughts and opinions are my own.