HAIR OF THE DOG by Carlene O'Neil is the long anticipated third release in the Cypress Cove Mystery series and it does not disappoint! Protagonist Penny Lively inherited Joyeaux Winery from her aunt, situated on the central California coast. I love the setting of the book and Ms. O'Neil provides enough details to make the reader feel like they're visiting wine country. Yet those details don't detract from the well-plotted storyline. The author adds a light touch of humor that I enjoyed, such as Joyeaux Winery hosting the 'Fabulously Ugly Dog Contest' for dogs that are beauty challenged. (Such a cute concept!) Penny is also a bit of a klutz which leads to scenes that had me laughing out loud, like her setting off an earsplitting alarm with flashing laser lights while trying to sneak up on someone.
In amongst the fun is also thought-provoking moments that touches on prescription drug abuse which seems so prevalent in our society. And of course there's the murder of a well-liked veterinarian who worked with Penny's cousin, Annie. When Annie is accused of the murder (it didn't help that she was found standing next to the body holding the weapon) Penny knows she must get involved and clear her cousin's name. Penny is quite tenacious in searching out the truth and at times is almost annoyingly pushy, not caring who she ticked off. There's no subtlety to Penny, but she admirably proves herself to be the most loyal of friends. The reveal provides a super unique twisty-turvey conclusion that left me thinking about the book long after I read the last page!
While there are no recipes included in the book, one of Annie's friends owns a restaurant that she frequents often. There she enjoys a delectable fruit tart which made my mouth water… so I created a Sugar Cookie Fruit Tart myself! With summer on the way, I love having something that is light and utilizes produce that is in season. I also don't want to spend a lot of time in the kitchen with the oven on for hours, so I opted to make the crust from refrigerated cookie dough. A quick bake and then once cooled, a slather of lemony cream cheese and a layer of vibrant fresh fruit. I gave it a shiny, sweet glaze of melted apricot jam and a short chill before serving. The jewel-toned fruit makes this a show-stopping yummy dessert!
Amazon Synopsis
In Cypress Cove, someone is playing ruff… Amateur sleuth Penny Lively is working her tail off trying to keep her family winery afloat. For the first time in her life she's too busy to go looking for trouble. But when drugs are stolen from town veterinarian Annie Moore, Penny is there to help. After all, Annie is her cousin and best friend. When Annie is later found over the body of her business partner, Penny knows it doesn't look good. The police dig up a motive for Annie and she quickly becomes the primary suspect. Penny knows Annie is no murderer, and is determined to find the real culprit. When a second body turns up, Penny knows she needs to find the killer before anyone else is muzzled, permanently.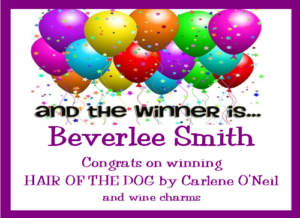 A special thanks to Carlene O'Neil for providing a winner their choice of print or an e-book copy of HAIR OF THE DOG and a set of wine charms! Contest is limited to U.S. residents only and ends Sunday, May 20, 2018 at 11:59 pm PST. Please use the Rafflecopter box located below to enter. The winner will be announced on this page and on Cinnamon & Sugar's Facebook page, as well as notified by email (so check your spam folder!)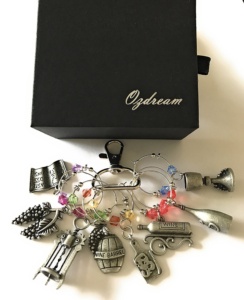 Sugar Cookie Fruit Tart
Ingredients
1

package

(16.5 ounces) refrigerated sugar cookie dough (such as Nestle)

1

package

(8 ounces) cream cheese, softened

1/3

cup

granulated sugar

2

tablespoons

confectioners' sugar

2

teaspoons

lemon juice

1/2

teaspoon

grated lemon zest

1-1/2

cups

assorted fruit such as strawberries, blueberries, raspberries, mango, kiwifruit, sliced as desired

1-1/2

tablespoons

apricot jam
Instructions
For the crust:
Preheat oven to 325 degrees (F).

Spritz the bottom and sides of a 9 or 10-inch tart pan with non-stick cooking spray.

Press the cookie dough onto the bottom and sides of the tart pan. If the dough is too firm, allow to sit at room temperature for 5 to 10 minutes to soften a bit.

Bake crust for 20 - 24 minutes or until lightly golden brown. Cool crust completely before assembling tart.
For the filling:
Beat the cream cheese, sugars, lemon juice and lemon zest in a small mixing bowl until completely smooth.

Spread over the cooled crust.
For the topping:
Arrange desired fruit in a pleasing pattern over the top of the cream cheese mixture.

Place the apricot jam in a microwave-safe bowl. Heat for 20 - 30 seconds or until it reaches a liquid state. Strain off any fruit chunks then brush remaining jam over the fruit.

Refrigerate tart for at least 1 hour before serving.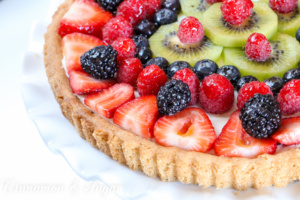 Pin to Pinterest: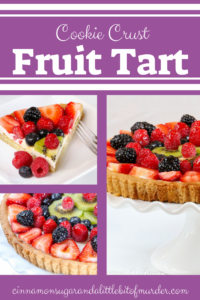 If you receive my blog post via email you will need to visit my website to view the video.
I was provided an advance copy with the hopes I would review. All thoughts and opinions are my own.