BEAR WITNESS TO MURDER, the second book in the Shamelessly Adorable Teddy Bear Mystery series by Meg Macy is the most adorable cozy mystery out there! Combining a teddy bear factory, and a Cran-beary Tea Party celebrating Octobear Fest while mixing in a close-knit family and a rekindled romance provides Ms. Macy with a delightful hit in this newest release! The beary-fun puns add humor and wit while the Silver Bear Shop and Factory provides a unique setting in the small Michigan town. Sasha Silverman is a likeable protagonist and I enjoyed seeing her interact not only with her family but also with people that she didn't care for… like her sleazy ex-husband, Flynn, and her high school nemesis. Flynn seems to be cozying up to Sasha's mom and the reader has to wonder just what it is he is trying to accomplish. The subplots bring an added complexity to the story while the author has allowed Sasha to mature and grow in the face of adversity. The murder of her ex's girlfriend brings out numerous suspects, including Sasha's cousin along with her ex-husband and I was kept guessing until the final suspenseful reveal. I loved the first adorable book and I was more than delighted with this second installment in the series!
While the book does not contain recipes there are so many adorable bear-themed treats on Pinterest. The author sent me a photo of Panda Macarons and I almost swooned over their cuteness… and decided I really had to try them out! Even though there are so many ways to flavor macarons, I sometimes prefer something simplistic that allows the filling flavor it shine, especially since I had already decided I wanted a subtle white chocolate filling. But simple and subtle definitely don't mean boring! The crunch of the almond-flavored macaron is complemented by the sweet, rich creaminess of the white chocolate ganache which provides a hint of vanilla. If you feel you need a burst of flavor, by all means substitute semi-sweet or dark chocolate chips for the white chocolate in the ganache. Either way, kids of all ages will be happy to eat these Panda Macarons!
Check out the free macaron piping guide I've included at the bottom of the page as a pdf download.
Amazon Synopsis
Silver Bear Shop and Factory manager Sasha Silverman is cozying up to the fall season by hosting Silver Hollow's Cranbeary Tea Party, the opening event of the village's Oktobear Fest—a too-cute celebration themed around teddy bears. She barely has a moment to agonize over the return of her former high school rival, Holly Parker, whose new toy and bookstore in town could spell big trouble for the Silver Bear Shop and her cousin's small bookstore . . .

But when Sasha discovers Holly's shop assistant dead with a knife plunged in her body, the unpleasant woman suddenly looks like a real backstabber. So does Sasha's ex-husband, rumored to have rekindled the fiery extramarital affair he once had with the victim. Now, before a gruesome homicide case takes the fun out of both the Fest and her personal life, Sasha must identify the true culprit from a daunting suspect list—or risk becoming as lifeless as one of her stuffed bears . . .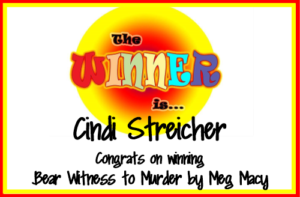 A special thanks to Meg Macy for providing a winner with a print copy of BEAR WITNESS TO MURDER! Contest is limited to U.S. residents only and ends Wednesday, May 30, 2018 at 11:59 pm PST. Please use the Rafflecopter box located below to enter. The winner will be announced on this page and on Cinnamon & Sugar's Facebook page, as well as notified by email (so check your spam folder!)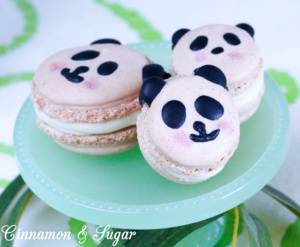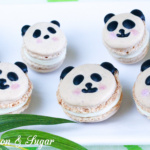 Panda Macarons with White Chocolate Ganache Filling
It is important that you weigh the ingredients to obtain good results.
Ingredients
Macarons
200

grams

confectioners' sugar (1-1/2 cups + 1-1/2 tablespoons)

110

grams

almond meal (1 cup)

90

grams

egg whites, room temperature (from 3 eggs)

50

grams

granulated sugar (1/4 cup)

Pinch

cream of tartar

1/2

teaspoon

white food color (optional)

Black food coloring
White Chocolate Ganache
254

grams

premium white chocolate chips (1-1/2 cups)*

90

ml

heavy cream (6 tablespoons)

Pink petal dust (optional)
Instructions
Macarons
In the bowl of a food processor, pulse together the almond meal and confectioners' sugar until it becomes a fine powder, about 30 pulses. Sift the almond meal mixture into a large bowl. If small chunks of almond remain in the sifter, process the chunks in the food processor and sift back into bowl. Set aside.

Add the egg whites to the bowl of a standing mixer. Whip the eggs with the whip attachment on medium-low speed. Once soft peaks start appearing (2 – 3 minutes) add the cream of tartar and then slowly sprinkle the granulated sugar onto the egg whites while the mixer is still running. Increase speed to medium high and whip until stiff peaks appear.

Using a spatula, fold in the white food coloring (if using) and about 1/3 of the almond and sugar mixture until combined. Fold in another third of the almond mixture until combined, then repeat with remaining almond meal mixture and fold until batter is fully mixed. Batter should easily drop from the spatula but shouldn't be runny. Be cautious to not overmix though.

Remove 1/3 cup of the batter and place into a small bowl. Add black food coloring, a little at a time and thoroughly mix until desired shade is reached. Place into a piping bag fitted with a size 3 round tip. I like to use a coupler so I can change out tips if needed, such as using a size 2 tip to pipe the mouth of the panda.

Place the remaining batter into a pastry bag fitted with a large round tip (I used a size 10). Pipe the batter onto the parchment paper, making 1-inch to 1-1/2-inch circles. (You can do this free hand or have a template placed beneath the parchment paper.) Leave 1 – 2 inches between the cookie circles to allow for spreading.

Using the black batter, pipe the panda face details: eyes, nose, and ears on half the macarons. On the remaining macarons, pipe a round tail. If desired, switch to a smaller round tip and pipe mouth details.

Once baking sheets have been filled, firmly tap the sheets on the counter 2 times to release any air bubbles in the batter. Let the cookie shells rest on the counter for 30 to 60 minutes, until the tops feel dry. They should NOT feel sticky or tacky. This will prevent the tops from cracking when baked.

Preheat the oven to 315 degrees (F) and position the rack in the lower third of the oven.

Bake the cookies, one sheet at a time, for 15 – 20 minutes, rotating the pan halfway through the baking time.

They will be done if the cookie lifts fairly easy from the parchment. If it sticks or separates from the bottom, cook a minute or two longer.

Remove baking sheet from oven and allow the cookies to cool completely before removing from parchment paper.

White Chocolate Ganache
Combine the white chocolate and cream in a microwave-safe bowl.

Heat in the microwave, on full power, for 1 minute. Remove and whisk until melted and smooth. If needed return bowl to microwave and heat an additional 15 seconds, being very careful to not overheat.

Once melted, place the bowl in the refrigerator until it cools. Stir often until it becomes a spreadable consistency that won't drip off the macaron. If the ganache is too firm, reheat in the microwave for 5 seconds and rewhisk. If it becomes too thin, re-chill until spreadable.

Place the ganache in a piping bag fitted with wide, round tip.
Putting it together
Match up the cookie shells into face and tail pairs. Pipe a layer of white chocolate ganache onto the bottom side of one cookie and then add the top cookie, creating a "sandwich". Press the cookies together to spread the ganache to the edges. If desired, brush pink petal dust onto the cheeks of the panda macarons.


Immediately serve. Refrigerate any leftovers for up to 3 days.
Tips
Use blanched almond meal for lighter-colored macarons.

I didn't stir my batter long enough so it was too thick as I piped it. The batter should easily drip from the spatula. It resulted in having to bake the macarons longer than necessary which made them extra crunchy instead of slightly chewy. My husband actually preferred them this way!

*Feel free to substitute semi-sweet or dark chocolate chips for the white chocolate.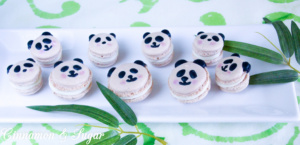 Pin to Pinterest: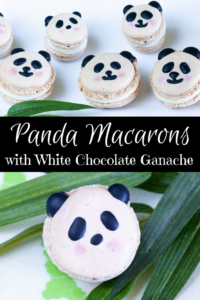 If you receive my blog post via email you will need to visit my website to view the video.
I was provided an advance copy with the hopes I would review. All thoughts and opinions are my own.
Click here for the free pdf template to use beneath parchment paper: Macaron piping template