THE DIVA COOKS UP A STORM by Krista Davis is the newest release in the Domestic Diva Mystery series and one that I, and so many fans, have been long waiting for with great anticipation! Sophie Winston, event planner, is a delightful protagonist and dare I admit it, could be one of my role models! Sophie's attention to detail and style is both elegant and casual at the same time. She has no problem whipping up amazing meals for last-minute drop-in guests and serving them on thoughtfully-chosen plates and linens. That attention to detail is what helps her solve murder mysteries. She also has a generous, caring heart which is exhibited when she befriends the young widow of the murder victim. Most of the town shuns the young woman because she was that "other woman" who broke up a marriage and even suspect her of being the murderer. Yet Sophie manages to see below the surface and uncover the truth. I also love how the author starts each chapter with an advice column. It gives insight into the characters via their answers.
The wonderful characters are what draws readers in but it's the well-developed plot that keeps us turning pages. The action starts right from the very beginning: 'killer' bees swarming and attacking a man (enjoyed the facts provided about bees!); a husband worried about being poisoned; a pending summer hurricane; and even an underground dinner (sounds like fun!). Ms. Davis effortlessly weaves the story together which kept me turning pages late into the night. The exciting conclusion wove each piece of the story together into one satisfying read!
With all the entertaining Sophie does, she's always preparing dishes to share. Fortunately, Ms. Davis provides several mouth-watering recipes at the back of the book. I was drawn to the Chocolate Truffle Tart with Strawberries… pure nirvana! And it's such an elegant dessert to serve which makes me feel like I'm channeling Sophie. A flaky, buttery crust provides the base for a decadently, rich Chocolate Truffle Tart that is garnished with juicy, red strawberries and sweetened whipped cream. Chocolate and strawberries are the perfect combination to impress your family and friends!
Amazon Synopsis
When a trendy, underground dinner club leaves some guests six-feet-under the table, entertaining professional and amateur sleuth Sophie Winston hopes she has all the right ingredients to put a murderer on ice in New York Times bestselling author Krista Davis's new Domestic Diva mystery . . .

Domestic diva Sophie Winston can whip up an elaborate event in her sleep, but as the hippest hostess she rarely gets to enjoy the full guest treatment. Which is why her best friend Nina Reid Norwood loops her in to the latest culinary craze: a pop-up gourmet dinner party. The celebrity chef, the epicurean menu, and the high-profile attendees are all a surprise, turning the decadent dining experience into the hottest ticket in Old Town. But Sophie's just pleased as punch that she finally has an opportunity to join her fellow foodies in some fun.

The posh party proves to be a recipe for disaster when Hollis Haberman sours spirits by bringing his own hot new dish—his young trophy wife. With Hollis's son and ex-wife in attendance, there may be more heat at the table than in the kitchen. But by aperitifs, Sophie discovers Hollis swallowing his last bits of air, and she must scramble to stop a killer before the swanky supper becomes anyone else's last meal.
A special thanks to Krista Davis for providing a winner with a print copy of THE DIVA COOKS UP A STORM! Contest is limited to U.S. residents only and ends Tuesday, June 5, 2018 at 11:59 pm PST. Please use the Rafflecopter box located below to enter. The winner will be announced on this page and on Cinnamon & Sugar's Facebook page, as well as notified by email (so check your spam folder!)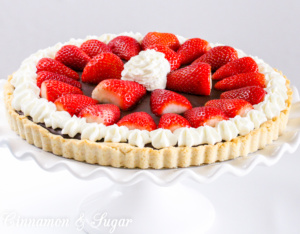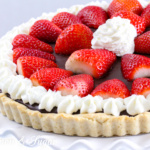 Chocolate Truffle Tart with Strawberries
Ingredients
Crust
2

cups

all-purpose flour

1

tablespoon

sugar

3/8

teaspoon

baking powder

1/2

teaspoon

salt

7

tablespoons

unsalted butter, melted

1/3

cup

very cold water
Filling
1-1/4

cups

heavy whipping cream

12

ounces

55% to 60% semi-sweet chocolate, chopped

or 12-ounce package semi-sweet chocolate chips & 2 teaspoons vanilla
Topping
1-1/2

pounds

small strawberries

1

cup

heavy whipping cream

1/3

cup

powdered sugar

1

teaspoon

vanilla
Instructions
Crust
Preheat oven to 350 degrees (F).

Place flour, sugar, baking powder, and salt in a food processor and pulse about four times to combine.

While running the food processor, pour cooled melted butter into the mixture slowly. Pulse several times.

Add cold water while running. Pulse until it sticks together in small bits. Remove from food processor and press into an ungreased tart pan.

Bake 18 - 20 minutes until it begins to pull away from the edge and is a light golden color.
Filling
Heat the cream until very hot but do not bring to a boil.

Add the chopped chocolate. Stir until the chocolate has melted.

Pour in the vanilla and stir to mix.

Pour chocolate mixture into the prepared tart pan. Set aside until cool and then refrigerate to set.
Topping
Wash and hull strawberries. Cut in half lengthwise. Place on top of the set chocolate tart in a pleasing pattern.

Beat the cream. When it begins to take shape, add the powdered sugar and vanilla. Beat until fairly stiff.

Pipe decoratively around the top edge of the tart. Place the rest of the whipped cream in a bowl and pass it when you serve the tart.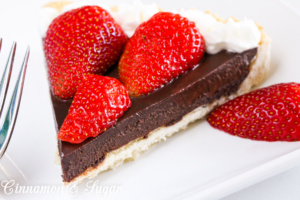 Pin to Pinterest: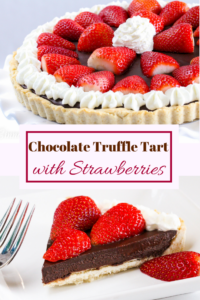 If you receive my blog post via email you will need to visit my website to view the video.
I was provided an advance copy with the hopes I would review. All thoughts and opinions are my own.