Holidays are fast approaching which means family and friends gather together to celebrate. Most people have their traditional holiday dinners established but often when guests stay overnight it can be a struggle to decide what to fix for breakfast or brunch. One of my "go-to" dishes is Ham & Gruyère Quiche. I can prep all the ingredients the night before along with a fruit salad and sometimes my Overnight Cinnamon Rolls. The next morning it takes only a moment or two to pull it together and pop it into the oven. While the quiche bakes I am free to serve coffee and/or mimosas to my guests and enjoy all the holidays have to offer without the stress of being stuck in the kitchen.
Our family also enjoys this for dinner served with a green salad and my crusty No-Knead Rustic Bread… and if there just happens to be leftovers, this quiche easily reheats in the microwave to make the perfect lunch the next day.
Ham & Gruyère Quiche
Ingredients
2 cups (8 ounces) shredded Gruyère cheese (or Swiss cheese)
2 tablespoons all-purpose flour
1-1/2 cups Half & Half
4 eggs, room temperature, slightly beaten
3/4 cup chopped ham (optional)
3 tablespoons sliced green onions
1/4 teaspoon salt
Dash of pepper
9-inch unbaked pie crust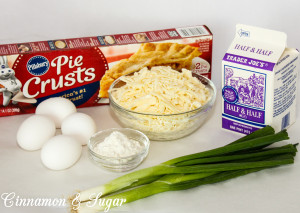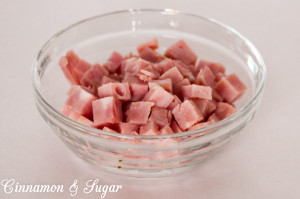 Instructions
Preheat oven to 350 degrees
Whisk the Half & Half, eggs, salt and pepper together.
Sprinkle the chopped ham and sliced onions on the bottom of the unbaked pie crust.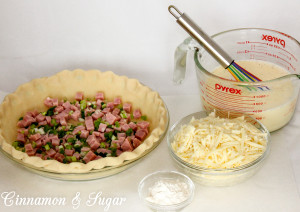 Toss the cheese with the all-purpose flour and sprinkle over the ham and onions.
Pour the egg mixture over the cheese mixture.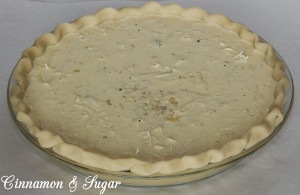 Bake in the preheated oven for 45 – 55 minutes. The center of the quiche should barely jiggle and an instant read thermometer should read 180 degrees when inserted into the middle of the dish.
Allow the quiche to rest 10 – 15 minutes before slicing and serving.