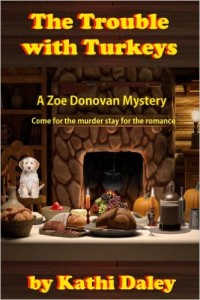 Between Halloween and Thanksgiving I begin browsing through cookie recipes, both new ones I've clipped and saved this year and old ones that have long been favorites. I then try to narrow down seven or eight recipes that will make the Christmas goodie bag cut and start baking. With my oldest granddaughter, Jaidyn, living with Rett Syndrome, there are so many incredible people giving their time, love and talent to provide her with care. Homemade cookies are one of the ways we say thank you to each and every person. Naturally as I read books, magazines and "research" on Pinterest (okay, I'll admit it…I find Pinterest very addicting and time consuming, so "research" sounds much better!) I'm always on the lookout for new cookies to try. I was very excited when I came across Zoe's Pumpkin Snickerdoodles in the cozy mystery THE TROUBLE WITH TURKEYS by Kathi Daley. My youngest granddaughter and Jaidyn's sister, Emory, also voted that these needed to be made. She also volunteered to be my video baker and sous chef (video tutorial at the bottom). So thank you, Em, for baking these for all our friends and family! We loved Zoe's Pumpkin Snickerdoodles which have a cake-like texture and the warm fall spices compliment the pumpkin perfectly.
THE TROUBLE WITH TURKEYS is the second book in Kathi's Zoe Donovan Mystery series. Two weeks before Thanksgiving, Zoe Donovan is depressed and hiding out in her alpine home after losing her job at Animal Control. Not only is she feeling sorry for herself but she's also feeling guilty for getting her assistant, Jeremy, fired as well since he can't afford to not have a job. Jeremy, however, doesn't hold it against her and calls to offer her a temporary job helping him take care of turkeys. Not just a few turkeys but hundreds of heritage turkeys that are destined for Thanksgiving tables. She'd rather not, given the ultimate fate of the fowl, but takes the job anyway since Jeremy needs her help.
At the farm they find out that the owner, Charles Tisdale, has died which is why temporary help is required. His family, waiting to see how the estate will be divided amongst themselves, are sure his death was from natural causes or maybe even an accident. But Zoe isn't so sure and starts poking around, looking for answers. She finds that there are several people who had reasons to want Charles dead and when his long-time mistress is found murdered on the farm, Zoe starts looking for answers in earnest before someone else becomes a victim. On top of hunting for a killer, Zoe and Jeremy have their hands full taking care of tipsy turkeys and trying to figure out why the number of turkeys are fluctuating.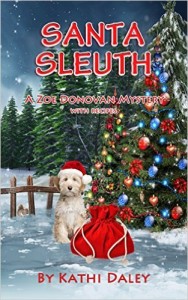 Zoe's long-ago antagonist from grade school, Zak, who is now a friend, gets involved in the hunt to find the murderer. As a result of spending time together and Zak being willing to help out however he can, Zoe finds that maybe there could be more than just friendship developing between them. This is the first book I've read by Kathi Daley and I was excited to see that she has many additional books in the series. I will be reading more to find out what happens to Zoe, Zak and Jeremy!
And for fans of Kathi Daley's books, there is a brand new Zoe Donovan Mystery releasing December 1, 2015 titled SANTA SLEUTH, the 18th book in the series. I see I have quite a bit of reading to do to catch up on Zoe!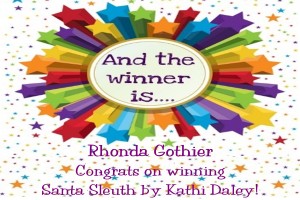 As a bonus for my readers I am offering a Kindle copy of THE TROUBLE WITH TURKEYS or SANTA SLEUTH (available 12/1/15) by Kathi Daley. Please comment below for which book you'd like to win to be entered. Contest ends Thursday, November 12, 2015 at 11:59 pm PST. Winner will be announced on this page and on Cinnamon & Sugar's Facebook page, as well as notified by email (so check your spam folder!) and will have 5 days to respond or another winner will be chosen.
Thank you to Kathi Daley for allowing me to share Zoe's delicious Pumpkin Snickerdoodles with you!
Zoe's Pumpkin Snickerdoodles
Makes approximately 50 cookies
Ingredients
Cookies
1 cup butter at room temperature
1 cup granulated sugar
1/2 cup light brown sugar
3/4 cup canned pumpkin
1 large egg
2 teaspoons vanilla extract
3-3/4 cups (16 ounces) flour (lightly spoon and level the flour when measuring)
1-1/2 teaspoons baking powder
1/2 teaspoon salt
1/2 teaspoon ground cinnamon (or 1 teaspoon if you're like Emory and LOVE cinnamon!)
1/4 teaspoon ground nutmeg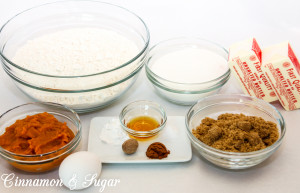 For the coating
1/2 cup granulated sugar
1 teaspoon cinnamon
1/2 teaspoon ground ginger
Dash of allspice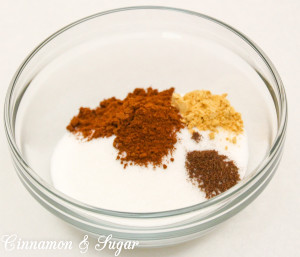 Instructions
Cookies
Whip together butter and sugars until creamy.
Add pumpkin, egg, and vanilla. Mix well.
In a separate bowl, whisk flour, baking powder, salt, cinnamon and nutmeg together.
Add to the pumpkin mixture and mix well.
Refrigerate for at least 1 hour.
Preheat oven to 400 degrees.
Coating
In a separate bowl, mix the sugar and spices together.
Roll chilled dough into one-inch balls. Roll in coating.
Place cookies on an ungreased (or parchment lined) cookie sheet and bake at 400 degrees or until lightly browned (around 12 minutes.)
Cool for a few minutes on the cookie sheet then remove to a wire rack to cool completely.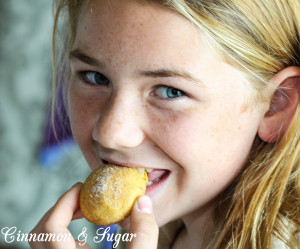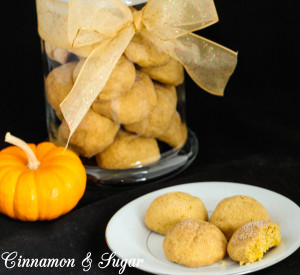 If you subscribe to receive my post via email, you will need to go to my actual website to view video.