The beginning of November is the signal that family holiday gatherings are right around the corner. Growing up, turkey always had the spotlight for our Thanksgiving table while at Christmas turkey shared the table with holiday ham. My mother would get up at the crack of dawn to stuff the turkey and get it into the oven so it would be done in time for an late lunch. We had lots of extended family close by so our huge turkey was shared and all families pitched in with side dishes and desserts. My mom and aunts all took turns hosting the gathering and roasting the turkey so that it didn't become burdensome.
Now days, most families are spread out all over the place so roasting a huge turkey for just a few of us seems like way more work and food than we could possible want or need. Plus, the turkey breast is the favored part of the poultry and I'm always left wondering what to do with the drumsticks and thighs. I was happy to discover that half turkey breasts are now readily available at several stores in my area and become prevalent in mid-October through the end of December.
Still, I hated to heat up my oven to roast the breast on top of worrying that the meat would dry out before it was fully cooked. Enter the slow-cooker and my problems were solved! In addition to freeing up my oven for cooking side dishes and desserts, the half breasts cook relatively quick in the slow cooker: 1-1/2 to 2 hours! A bonus is that the braising liquid makes the most delicious gravy that is gluten-free so I can enjoy it as well. Succulent, moist turkey breast served with creamy mashed potatoes and drizzled with flavorful gravy… I'll be making this dish again and again instead of saving it for a special holidays!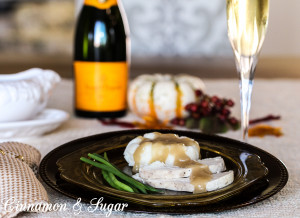 Slow-Cooker Turkey Breast
I cooked 2 half turkey breasts which was plenty for 6 of us for dinner with enough leftovers to satisfy turkey sandwich and turkey noodle soup cravings. 
Ingredients
1 or 2 (3-1/2 to 4 pound) bone-in half turkey breasts*
1 medium onion
1 large carrot
1 stalk of celery
6 cloves of garlic, crushed
2 cups + 4 tablespoons low-sodium chicken broth, divided
1/2 cup dry white wine
1/2 teaspoon dried thyme
2 bay leaves
4 tablespoons cornstarch
Salt and pepper to taste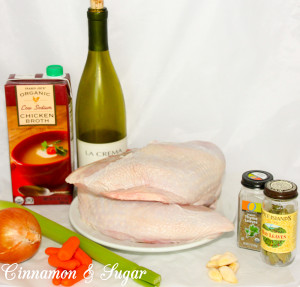 Instructions
Remove skin from the turkey breast and pat skin dry. Cut it into 4 or 5 pieces. I like my kitchen shears for this.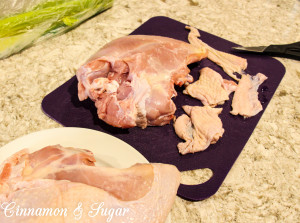 If you do not have a saute / brown feature on your slow-cooker, use a skillet set over medium heat and following the direction I have written for the slow-cooker browning feature.
Heat the slow-cooker to 350 degrees on the browning feature and place turkey skin (skin side down) into the base.
Cook until the skin is browned, turning over once, about 8 to 10 minutes.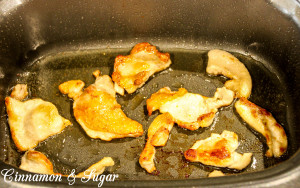 While the skin is browning, coarsely chop the onion, carrot, and celery.
Add the vegetables to the turkey skin and cook an additional 10 minutes, stirring occasionally. If they begin browning too much, reduce heat.
Add the garlic, 2 cups of chicken broth and the white wine to the vegetable mixture and stir.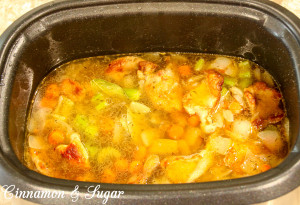 Once it begins to simmer turn the slow-cooker to low on the slow-cooker cycle. (If you're using a skillet, transfer the mixture to the base of your slow-cooker.)
Season the turkey breast with salt and pepper.
Add dried thyme and bay leaves then nestle the turkey into the broth mixture, rib side down.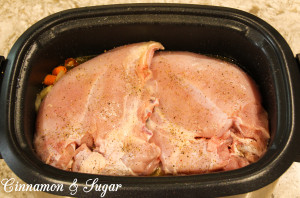 Cover and cook the turkey on low for 1-1/2 to 2 hours. The turkey will be done when it registers 160 degrees on an instant read thermometer. I suggest checking for doneness beginning at 1-1/2 hours.
Remove turkey to a platter and cover with aluminum foil.
Strain the broth and vegetable mixture through a fine-mesh strainer.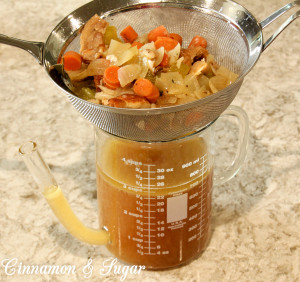 Discard solids and allow the fat to separate from the broth. Discard most of the fat and return the broth to your slow-cooker insert (if it has a saute feature) or to a medium-sized saucepan.
Mix the 4 tablespoons of cornstarch with 4 tablespoons chicken broth. Set aside.
Heat the broth to a simmer then slowly whisk in the cornstarch mixture.
Bring back to a simmer and cook 1 minute, until thickened, stirring constantly.
Remove from heat and season with salt and pepper to taste.
Remove the rib bones from the turkey breast and carve the meat.
Serve with mashed potatoes and gravy.
*If your slow cooker is large enough, you can cook 2 half turkey breasts at the same time. No need to increase the gravy ingredient amounts.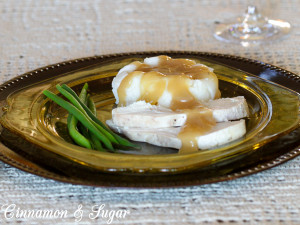 Thanksgiving is a time of being thankful and remembering special people…. I chose to use my maternal grandmother's hand crocheted tablecloth she gifted me 30+ years ago along with my paternal grandmother's antique, depression glass plates and platter that she passed down to me.