My first memories of being in the kitchen were spending afternoons with my grandmother and a couple of my cousins baking cinnamon rolls. Since my grandmother had thirteen grandchildren it was a special treat to get her undivided attention AND eat yummy eats. Now mind you, this was way back in the day before there were bread machines or KitchenAid stand mixers to do the heavy kneading work. Ok, I'm not that old….KitchenAid did have standing mixers available for purchase, but working class families like mine didn't own one.
I was seven years old when my grandmother invited me the first time for a baking lesson. I'm sure those cinnamon rolls turned out dense and heavy given that I didn't have the strength or stamina to properly knead the dough, but despite that, the smell of the rolls baking was, and still is, pure heaven. Yeasty, spicy cinnamon and sweet sugar smells filled that tiny kitchen in Ojai, California. I fell in love with bread.
Now that I'm a grandmother myself I have passed on my loved of baking to Emory, especially if it involves bread or dessert. She'd rather skip learning to cook meat or veggies…but I'm working on that!
Unfortunately, I don't have my grandmother's recipe for her cinnamon rolls, however, I came across this recipe and adapted to fit our family's needs. I love that you can mix these up the afternoon or evening before you need them, refrigerate overnight, then bake the next morning. Soft, pillowy, melt in your mouth rolls straight out of the oven for breakfast. It just doesn't get any better than that! Of course if you don't have the patience to wait overnight you can skip the refrigeration period and go straight to baking and eating.
Enjoy!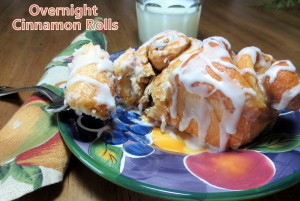 Overnight Cinnamon Rolls
Ingredients
Dough:
3 large eggs, room temperature
2 ounces sugar, approximately 1/4 cup
3 ounces unsalted butter, melted, approximately 6 tablespoons **
6 ounces milk (whole, 2%, almond or coconut), slightly warmed to 100 degrees in microwave (my microwave took 45 seconds on high)
20 ounces all-purpose flour, approximately 4 cups, plus additional for rolling out dough
1 teaspoon cinnamon
1 package instant dry yeast, approximately 2 1/4 teaspoons
1-1/4 teaspoons salt, kosher or sea salt (reduce to 1 teaspoon if using salted butter or margarine)
Vegetable oil or cooking spray
Filling:
5 ounces light brown sugar, approximately 3/4 cup packed
4 ounces granulated sugar, approximately 1/2 cup
1 tablespoon ground cinnamon
If you want to be really decadent, add 3/4 cup cinnamon chips to the filling, but omit if making dairy free rolls
You may also add 3/4 cup raisins and/or 1/2 cup chopped walnuts to the filling as well
Dash of salt (omit if using salted butter or margarine)
1 ounce unsalted butter, melted, approximately 2 tablespoons **
Icing:
3 -4 tablespoons water or milk (whole, 2%, almond or coconut)
Dash of salt
8 ounces powdered sugar, approximately 2 cups
**Substitute vegan margarine such as Earth Balance buttery sticks for dairy free rolls
Directions:
Using a stand mixer: with a whisk attachment, whisk the eggs, sugar, butter, and milk until fully mixed. Add 2 cups of the flour along with the yeast and salt; whisk until thoroughly combined. Switch to a dough hook. Add all but 1/2 cup of the remaining flour and knead on low for five minutes. Check the consistency of the dough, add more flour if necessary; the dough should not be too sticky. Knead on low speed 5 minutes more or until the dough pulls away from the sides of the bowl. Turn the dough out onto a lightly floured work surface; knead by hand about 30 seconds. Lightly grease a large bowl. Transfer the dough to the bowl, lightly oil the top of the dough, cover with plastic wrap and let double in size, 2 to 2 1/2 hours in a warm, dry place. (I like my oven with the light left on for rising dough.)
Using a bread machine: add the dough ingredients (starting with 3-3/4 cups flour instead of 4) to your bread machine's baking pan in the order recommended by your machine's manufacturer. My particular bread machine, made by Zojirushi, recommends adding all the wet ingredients (including sugar) first, then adding the flour. Make a small well in the top of the flour and add the yeast. Start the dough cycle.  Once the kneading cycle has started and the ingredients are well mixed, check the dough and add additional flour if too sticky.
While the dough is mixing, combine the sugars, cinnamon and salt in a medium bowl, along with any other additions if using. Reserve for later use.
Grease a 9 x 13-inch glass baking dish. Once the dough has risen sufficiently or the bread machine cycle has completed, place the dough on a lightly floured work surface. Roll into an approximate 24 x 16 inch rectangle. Spread with the melted butter and sprinkle the sugar and cinnamon mixture over the dough. Press the filling into the melted butter being careful to not tear the dough. Starting at the long edge, roll the dough into a tight cylinder. Pinch the seams to seal and place the roll seam down.  Using your hands, try to shape the log into an even thickness.  With a serrated knife or unflavored (clean!) dental floss, slice the cylinder into 1 1/2-inch rolls; I usually get about 14-16 rolls, but it varies with how thin I roll the dough to begin with. Place the cinnamon rolls cut side down in the greased baking dish. It's okay if the rolls are crowded together.  Cover them with plastic wrap and store in the refrigerator overnight or up to 16 hours.
If you don't have enough patience to wait overnight you can proceed with the final rise.  Place dish in a cold oven and turn oven light on. Let rise 45 – 55 minutes.  Once the rolls are puffy, remove from oven and preheat to 350 degrees.
If you decided you had enough patience to wait overnight, remove the baking dish from the refrigerator and place in a cold oven. Fill a pan or heatproof dish with 2 cups boiling water and place on the rack below the rolls. Close the oven door and let the rolls rise until they are puffy; approximately 30 to 40 minutes. Remove the rolls and the pan of water from the oven.  The hot water helps bring the dough to room temperature faster after being chilled in the refrigerator.  If you're not in a hurry you can skip the hot water and let the rolls rise with the oven light on, but it could take 65 – 75 minutes.
Preheat the oven to 350 degrees.
When the oven is hot, return the rolls to the oven (middle rack is best) and bake until golden brown, approximately 25 minutes. I find myself checking after they have baked for 23 minutes. My new ovens seem to bake hotter…or maybe my old ovens baked slow? If you have an instant-read thermometer, they should reach 190 degrees at the center of the roll.
Once the rolls are done, move dish to a cooling rack (leave the rolls in the dish). Combine the powdered sugar and water or milk together. Mix with a spoon until smooth then drizzle over the warm rolls.
Proceed to watch out for the stampede heading your way…the cinnamon & sugar smells permeating the house are going to be driving everyone crazy!
Tips:
If you forget to take your eggs out to bring to room temperature (like I always do!), place the eggs in a bowl and cover with hot tap water while you collect the rest of your ingredients.
I like to weigh ingredients because it's more accurate and helps eliminate measuring errors, especially when baking bread.  This is my favorite because it weighs both volume and weight:  Escali Scale.
To soften brown sugar, place in microwave safe bowl and cover with very damp paper towel.  Microwave on high for 20 seconds, stir and if lumps remain microwave in 10 second intervals, moistening paper towel as needed.  If you like gadgets, check out the Original Brown Sugar Bear.  It is a clay bear that, when soaked in water, will keep your brown sugar soft.  It really works!
My favorite instant read thermometer is Thermapen Digital Thermometer.
Recipe inspired by Alton Brown, Food Network