I always associate the ensuing holidays with cranberries and pumpkins. Their jeweled tones bring colorful notes to the table, with cranberries bringing a wonderful tartness which provides a nice contrast to all kinds of dishes. When I came across the book CRANBERRY BLUFF by Deborah Garner, I was smitten for many reasons! Her cover art makes me want to step in and visit this quaint Bed and Breakfast and then anything with cranberries is going to catch my attention. I was even more excited to find out as I browsed through the book that Deborah included Aunt Maggie's Cranberry Cottage Cookbook, which contains 15 cranberry related recipes! Of course I would be remiss in not telling you that the author crafts a delightful cozy mystery that pulled me in from the very beginning and kept me guessing until the end….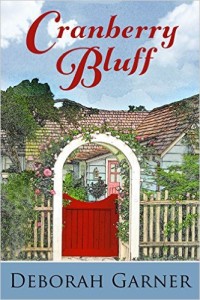 Molly Elliott has moved to coastal Northern California after inheriting Cranberry Cottage Bed and Breakfast from her Aunt Maggie. Molly is happy to have escaped Tallahassee, Florida where she was a suspect in a bank robbery after being in the wrong place at the wrong time. Plus it didn't help that she looked very similar to one of the bank robbers. Even though she is cleared the media won't leave her alone and she started receiving threatening notes. Moving clear across country couldn't have come at a better time.
Molly is settling into the routine of running her Bed and Breakfast. She carefully screens all guest reservation requests to make sure there are no connections to her former life in Florida. When five guests arrive, a newly-wed couple, a senior citizen who loves to shop and knit, a salesman, and a smooth-talking handsome man who claims to be working on his novel, things begin to go awry. Her guests all seem to be hiding something and then she finds out that the trouble she left back in Tallahassee has followed her to California. Someone wants the robbery money back and she's left trying to prove her innocence all over again.
One of the things Molly serves her guests for breakfast is cranberry scones. Tender, flaky pastry studded with tart sweet dried cranberries, these can be made ahead and then rewarmed and served with butter and your favorite jam. The perfect choice for a quick Thanksgiving breakfast while preparing your feast or for serving to your own overnight guests. Be sure to scroll to the bottom of the page to view my video tutorial on how to make these Cranberry Scones.
Thank you, Deborah, for allowing me to share your delectable recipe!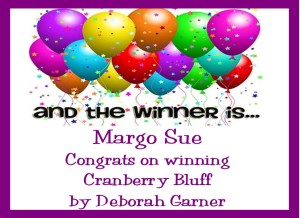 As a bonus for my readers I am offering a Kindle copy of CRANBERRY BLUFF by Deborah Garner. Please comment below to be entered. Contest ends Thursday, November 19, 2015 at 11:59 pm PST. Winner will be announced on this page and on Cinnamon & Sugar's Facebook page, as well as notified by email (so check your spam folder!) and will have 5 days to respond or another winner will be chosen.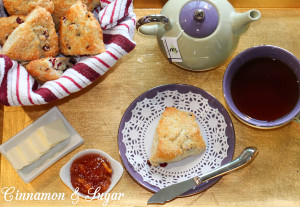 Cranberry Scones
Ingredients
1 cup (5 ounces) all-purpose flour
1/4 cup sugar
1-1/2 teaspoon baking powder
1/8 teaspoon salt
1/4 cup cold butter
4 tablespoons milk
1 egg, beaten
1/4 cup dried cranberries
1 – 2 teaspoons coarse sugar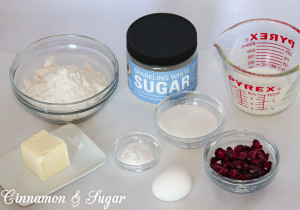 Instructions
Preheat oven to 425 degrees F.
In a small bowl, combine the flour, sugar, baking powder and salt.
Cut in butter until mixture resembles coarse crumbs.
In a small bowl, combine milk and 2 tablespoons of the beaten egg; add to crumb mixture just until moistened.
Stir in cranberries.
Turn onto a floured surface and knead gently 6 – 8 times.
Pat into a 6-inch circle.
Cut into six wedges.
Separate wedges and place on a greased (or parchment-lined) baking sheet.
Brush with remaining egg and sprinkle with coarse sugar.
Bake at 425 degrees for approximately 12 minutes or until golden brown. Serve warm.
If you subscribe to receive my post via email, you will need to visit my website to view video.