With Thanksgiving right around the corner, thoughts turn towards finalizing menus in order to plan grocery shopping and figure out cooking and baking timelines. While pies are favorites in my household, I have had guests who prefer cake. And since my husband can't have dairy products (and we have a few friends who are vegan) I decided many years ago to give vegan pumpkin cake a try. Oh my… once I tried this I stopped looking for any other pumpkin cake recipes! Supremely moist and flavorful thanks to the warming Thanksgiving spices, this cake mixes up super quick and since it doesn't have eggs, the kids can safely lick the beaters afterwards.  An easy icing drizzle and it's company worthy and no one will ever suspect this Vegan Pumpkin Spice Cake doesn't have eggs or dairy. In addition to its deliciousness, this cake can be made a day or two in advance, freeing up the oven for the rest of your meal.
Sending best wishes to everyone for a wonderful Thanksgiving celebration!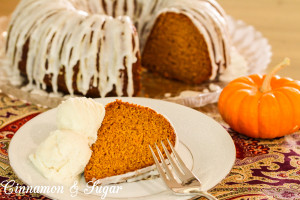 Vegan Pumpkin Spice Cake
Ingredients
Cake
3 cups (12.7 ounces) all-purpose flour (use the lightly fill and level method)
1 cup (7 ounces) granulated sugar
1 cup (7.1 ounces) brown sugar
2 teaspoons baking powder
2 teaspoons baking soda
1 teaspoon salt
1 teaspoon ground cinnamon
1/2 teaspoon ground ginger
1/2 teaspoon ground allspice
1 cup (8 ounces) water
1 cup (8 ounces) canned pumpkin (not pumpkin pie filling!)
2/3 cup vegetable oil
2 teaspoons white vinegar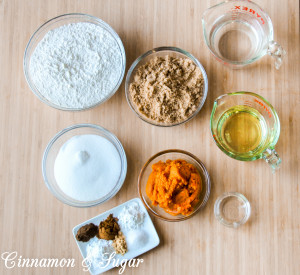 Icing Glaze
1 cup confectioners' sugar
1 tablespoon non-dairy milk, such as coconut or almond
2 teaspoons vanilla extract
Instructions
Preheat oven to 325 degrees (F).
Spray a 10-inch Bundt pan with non-stick cooking spray with flour (such as PAM).
Cake
Whisk the flour, granulated and brown sugars, baking powder, baking soda, salt, cinnamon, ginger and allspice together in a large bowl. Set aside.
In a smaller bowl, beat the water, pumpkin, vegetable oil and vinegar together until combined.
Pour the pumpkin mixture into the flour and sugar mixture.
Using a hand-held electric mixer, beat the batter on medium speed until smooth. This will take approximately 2 minutes.
Pour the batter into the greased Bundt pan.
Bake 50 – 55 minutes or until a wooden skewer inserted into the center of the cake comes out clean.
Remove from oven and allow the cake to cool in the Bundt pan for 10 minutes, then invert onto a serving pan.
Allow the cake to cool to room temperature before drizzling the icing glaze over the top.
Icing Glaze
Add the confectioners' sugar, non-dairy milk and vanilla extract to a small bowl.
Vigorously whisk until smooth.
Drizzle over the cooled pumpkin spice cake and allow the icing to set at least 20 minutes before slicing and serving cake. If you bake the cake a day or two ahead of time, do not add the icing glaze until a few hours before serving.
If you receive this post via email you will need to visit my website to view video.