I had the good fortune of coming across A TOUGH NUT TO KILL by Elizabeth Lee a few weeks ago. This is the first in her Nut House Mystery series with a total of three books now. The protagonist, Lindy Blanchard, has returned to her hometown of Riverville, Texas after receiving a degree in plant biology and bio-engineering. Lindy is devoted to developing a strain of pecan trees that are drought resistant along with helping her grandmother, Miss Amelia, run the Nut House. The Nut House shop is the family store that sells their farm's pecans along with pecan confections and Miss Amelia's famous pecan pie.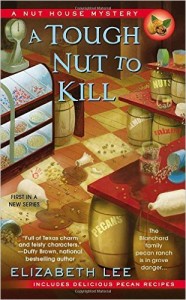 It doesn't take long for trouble to find Lindy and Miss Amelia. Someone has been snooping around Lindy's office and computer and then her Uncle Amos waltzes back into their lives. Amos is the "black sheep" and caused Lindy and her family great distress when her father was killed in a farming accident. Some people are sure it was Amos who killed her father and when Amos disappeared right after the funeral, everyone breathed a sigh of relief. But before they can find out why Amos is in town, Lindy trips over his murdered body lying amongst her destroyed pecan trees. To make matters worse, five of her most promising bio-engineered trees have been stolen. When the local law enforcement arrest Lindy's brother, Justin, for the murder, Lindy and Miss Amelia realize they must find the killer and tree thief before he or she kills again.
I loved the Texan small town setting in this book. My father was born and raised in Texas and every two years our family made the long drive from California to Texas to visit family. Elizabeth Lee has captured the Texans' hospitality and graciousness that I have fond memories of in her cast of characters. She also humorously portrays the small town rivalry between Miss Amelia and her friends.
In addition to a good story the author has also included several pecan-themed recipes. I had a hard time choosing which one to try out (they all sounded so yummy!) but in the end it had to be Miss Amelia's Special Pecan Pie which uses bourbon in the filling. There is something magical that exists when bourbon is paired with crunchy, buttery pecans and this has become my new favorite pecan pie recipe for both Thanksgiving and Christmas! Of course if bourbon and/or alcohol doesn't appeal to you, by all means leave it out. The pie will still be superb! Be sure to scroll to the end of this post to view a video tutorial on how to make this amazing pie.
A special thanks to Elizabeth Lee and her culinary consultant, Patty Sumpter, for allowing me to share this very delicious recipe with you!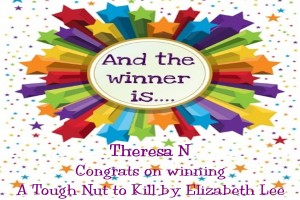 And a huge thank you to Elizabeth for providing an autographed copy of A TOUGH NUT TO KILL to one lucky winner!
Please comment below to be entered. Contest ends Wednesday, November 25, 2015 at 11:59 pm PST. Winner will be announced on this page and on Cinnamon & Sugar's Facebook page, as well as notified by email (so check your spam folder!) and will have 6 days to respond or another winner will be chosen.
Best wishes to everyone for a wonderful Thanksgiving holiday! Aside from posting the winner of A TOUGH NUT TO KILL, I will be taking the rest of the week off to enjoy the holiday and will resume with a new recipe and review December 1st.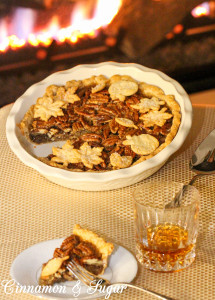 Miss Amelia's Special Pecan Pie
Miss Amelia Hastings of the Nut House always puts at least a dash of Garrison Brothers Texas Straight Bourbon Whiskey in her recipes because she thinks Garrison Brothers brings tears to the eyes of a real Texan.
You can use any bourbon that reminds you of home. Or leave out the whiskey entirely.
Or if you're having a really bad day, leave out the rest of the ingredients and just drink the bourbon.
Ingredients
1/2 cup white granulated sugar
1/2 cup brown sugar
3 tablespoons melted butter
1/2 cup light Karo Syrup
3 eggs, beaten
4 tablespoons bourbon
2 cups pecan halves
1 9-inch unbaked deep-dish pie crust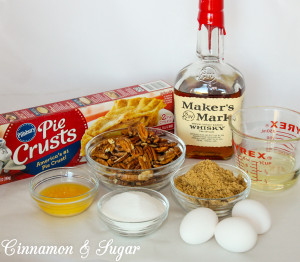 Instructions
Preheat oven to 375 degrees (F).
Mix the white sugar, brown sugar and melted butter together.
Stir in the Karo syrup, eggs, and bourbon.
Fold in the pecans.
Pour the mix into the pie crust.
Bake in the preheated over for 10 minutes.
Reduce the heat to 350 degrees (F) and bake until the pie is set in the middle – about 35 minutes more. The internal temperature should read 185 – 190 degrees (F) if you use an instant read thermometer. You can also use a knife to test if the center is pretty well set.
Allow to cool on a wire rack.
Serve with a side of pecan ice cream or a shot of bourbon.
Extra Garnish
You can use extra pie dough to cut out festive shapes. I like these plunger type cutters but regular mini cookie cutters will work as well.
Cut out the pie dough then brush with a bit of water. Sprinkle with coarse sparkling sugar and bake for 10 – 12 minutes or until golden brown in a 350 degree (F) oven.
Allow to cool then position on the cooled pecan pie. Don't be tempted to add the uncooked shapes to the uncooked pecan pie…it doesn't work very well as I discovered during my experiments 🙂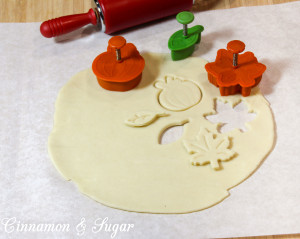 Tip
Spritz the pie plate with non-stick cooking spray before adding the pie crust. This will allow you to easily slice and remove slices of pie should the sticky syrup filling bubble over and adhere the crust to the pie plate.
I tried to find Garrison Brothers Texas Straight Bourbon but couldn't locate any in Southern California. I substituted Maker's Mark with great results!
If you subscribe to receive this post via email, you will need to visit my website to view the video tutorial.