The beginning of the Christmas season means I am in the kitchen baking cookies…lots and lots of cookies! There is something comforting about the smells of cinnamon, ginger, cloves, peppermint and chocolate mingling in a warm kitchen while quiet holiday music plays from my iPod.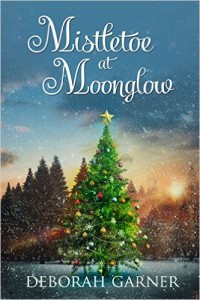 I was honored when my most favorite cookie recipe of all, Ginger Crackles, was chosen to be included in the Christmas novella, MISTLETOE AT MOONGLOW, by Deborah Garner. MISTLETOE AT MOONGLOW is not a cozy mystery like Deborah Garner's Moonglow Cafe novel (a must read if you haven't!). Instead it is a sweet, inspirational Christmas story that is certain to get you in the holiday spirit. While I love mysteries, sometimes it's nice to take a break, especially during Christmas, and enjoy the season with an uplifting story…although in the books I read the good guys always win 🙂
Mist has reopened Moonglow Cafe within the Timberton Hotel in Montanta, working side by side with the elderly owner, Betty. They are preparing to have seven out-of-town guests staying with them over Christmas in addition to hosting the town's annual Christmas cookie exchange and serving Christmas dinner to numerous townspeople. As the guests arrive, it becomes apparent that each has suffered loss or severe disappointment that year. Mist has a special empathy towards each of them and through her kindness and skill in drawing people out, creates special memories which allow them to learn the true meaning of Christmas.
Deborah weaves a beautiful mosaic of Christmas sights, sounds and smells and introduces us to memorable characters. From the grieving widow to the five-year-old child who lost his brother to a reclusive scholar who only wants to sit in front of the fireplace and read, each are treated with genuine emotion and care which adds to this uplifting story.
There are also a total of 19 delicious recipes included with the book – so many new cookies to try! In addition to my Ginger Crackle recipe, Deborah has used my Salted Double Chocolate Chili Cookie recipe in her book – my second most favorite cookie. You can view a video tutorial on how to make my Ginger Crackle Cookies at the end of this post.
Thank you, Deborah, for sharing my special cookie recipes with your readers!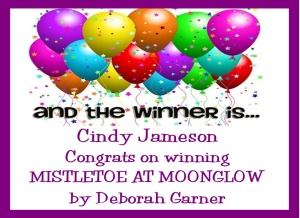 As a bonus for my readers I am giving away one Kindle copy of MISTLETOE AT MOONGLOW. Please leave a comment below and tell me what YOUR favorite cookie is to be entered. Contest ends Wednesday, December 2, 2015 at 11:59 pm PST. Winner will be announced on this page and on Cinnamon & Sugar's Facebook page, as well as notified by email (so check your spam folder!) and will have 5 days to respond or another winner will be chosen.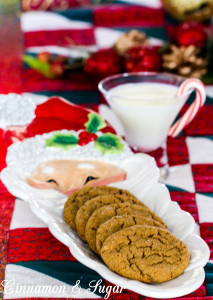 Ginger Crackle Cookies
Ingredients
2-1/4 cups (10 oz) flour
3 teaspoons ground ginger
1 teaspoon baking soda
1 teaspoon cinnamon
1/2 teaspoon ground cloves
1/4 teaspoon salt
1/2 cup (4 oz) unsalted butter at room temperature
1/4 cup (2 oz.) vegetable shortening
1 cup (8 oz.) granulated sugar, plus 2/3 cup for rolling
1 large egg
1/4 cup (2 fl oz.) molasses
1/2 – 3/4 cup crystallized ginger pieces, finely chopped*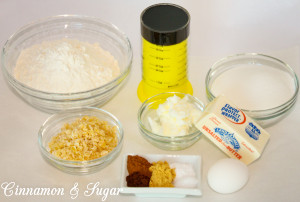 Instructions
Position oven rack to the middle. Preheat oven to 350 degrees.
Line cookie sheets with parchment or Silpat.
In large bowl combine flour, ginger, baking soda, cinnamon, cloves and salt and whisk until well blended. Set aside.
In another large bowl, combine butter, shortening and 1 cup sugar.
Beat with either a stand mixer or hand-held electric mixer, on medium-high speed until well combined.
Add egg and molasses and beat until well blended.
Pour in the dry ingredients and mix on low speed until well blended.
Add crystallized ginger and stir in.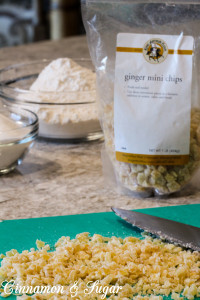 Pour remaining 2/3 cup sugar into shallow bowl.
Using a small scoop, make 1-inch balls with dough (about 1 tablespoon).
Roll each ball in sugar and set 2 inches apart on cookie sheets. (If dough seems too soft to work with, place in refrigerator for a couple of hours. I generally make this the day before I bake and keep refrigerated so the dough is firmer when rolling.)
Bake one sheet at a time until the cookies are puffed and slightly browned around the edges, about 10 – 13 minutes.
Let cool on sheet for five minutes then place cookies on wire rack to cool completely.
The dough can be made, shaped and rolled in sugar, then frozen for up to 2 months before baking. For best results position the shaped dough close together on a small cookie sheet and freeze until very firm. Then pile the frozen balls into a heavy-duty freezer bag and store in the freezer. When you're ready to bake, remove only the number of cookies you need, place them on the prepared cookie sheet and leave them on the counter while the oven heats up. Bake as directed. (I do this very frequently, with great results!)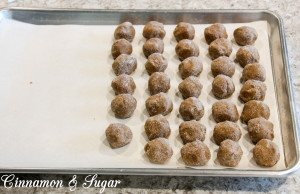 Tips
I purchase crystallized ginger from King Arthur Flour since I make so many batches of these cookies each Christmas season!
If you subscribe to receive my post via email, you will need to visit my website to view video.