If you saw my last post, you might be aware that I bake lots of cookies during the Christmas season… oh, probably somewhere between 2,500 – 3,000 cookies during the month of December. I've found that cookies make the perfect gift for so many people we need to thank and acknowledge we are grateful for, especially those wonderful folk who work with our granddaughter, Jaidyn.
While Ginger Crackle Cookies have long been my favorite, my youngest granddaughter, Emory, prefers candy cane and peppermint cookies during the holiday. I've tried several different recipes using crushed candy canes but they were all so labor intensive with inconsistent results that I had all but given up. When I happened upon some Andes peppermint crunch baking chips last December, I bought some and started experimenting.
I ended up creating a tender, buttery shortbread cookie that gets festive color and a pleasant peppermint bite from the baking chips. Em gave these a two-thumbs up and insists that they be on the permanent Christmas cookie list! And since these don't use any eggs, she can nibble on the dough without me scolding her… What I really love about these is that I can make them a month or so ahead of time and tuck the wrapped dough in the freezer and take out what I need to bake as I need them. I have included a short video tutorial at the end of this post.
From our family to yours, happy holidays!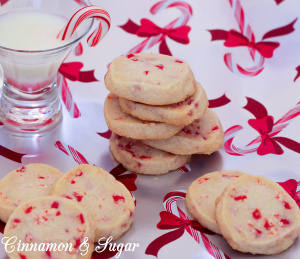 Peppermint Shortbread Cookies
Makes 36 – 40 cookies
Ingredients
1 cup (8 ounces) unsalted butter, room temperature
3/4 cup (3.4 ounces) confectioners' sugar
1 teaspoon vanilla extract
1 teaspoon salt
2-1/3 cup (10.2 ounces) all-purpose flour
3/4 cup (4 ounces) peppermint crunch baking chips (such as Andes)
2 – 3 tablespoons coarse sparkling sugar (optional)
Parchment paper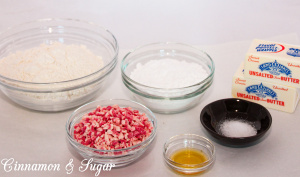 Instructions
Beat the butter and confectioners' sugar together in a stand mixer on medium speed (or you can use an electric handheld mixture) until creamy, about 2 minutes.
Add the vanilla and salt and beat until incorporated.
On low speed, slowly add the flour and mix just until it's incorporated.
Add the peppermint baking chips and stir on low until they are thoroughly mixed in.
Place half of the dough onto a rectangular piece of parchment paper and form into a ten-inch log. Roll the parchment paper around the log and twist the ends to secure.
Repeat with remaining dough.
Refrigerate the dough logs for at least 2 hours or overnight.
Preheat the oven to 350 degrees (F).
Cut the peppermint shortbread logs into 1/4-inch slices and place on parchment-lined baking sheet.
Sprinkle tops of cookies with coarse sparkling sugar, if desired.
Bake for 13 – 15 minutes. The edges should just start to turn light golden.
Allow the cookies to rest on the baking sheet for 5 minutes after removing from oven, then place the cookies on a wire rack to cool completely.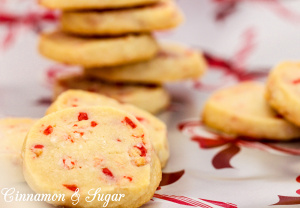 Tips
You can make this dough ahead of time. Roll into logs and secure in the parchment paper. Place in freezer-safe ziplock bags and freeze for up to four months. Defrost in the refrigerator overnight then slice and bake as directed above.
If you can't find peppermint crunch baking chips you can crush candy canes and use those instead. It will change the texture some but the cookies will still be delicious. I have had luck finding the Andes brand from Walmart (but only during the holiday season, so I stock up!) or King Arthur Flour.
If you subscribe to receive my post via email, you will need to visit my website to view the video.