Holidays bring friends and family to visit and sometimes those visits turn into overnight guests. I love coming across a new recipe that incorporates seasonal flavors, such as eggnog, in a special treat that I whip up in no time at all for those visitors. Of course I had to make a batch for my grandkids and their parents…which turned into my granddaughter, Emory, learning to make a second batch of Clare's Eggnog Crumb Muffins for us to share along with her demonstration in my video tutorial at the end of this post.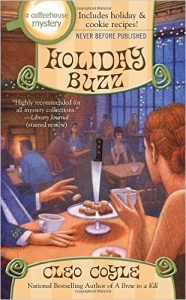 Clare Cosi is the manager of the Village Blend coffeehouse in Cleo Coyle's Coffeehouse Mystery Series. It's Christmas season in New York City and Clare and her staff are busy preparing to participate in the annual Great New York Cookie Swap event, by providing the beverage service.
Unfortunately after the cookie festivities, Clare stumbles upon the body of Moirin "M" Faigin, her newest part-timer, on loan from her friend's bakery. On the surface, "M" is an Irish girl who came to New York trying make a name for herself in the music business. But "M" was hiding deadly secrets that led to her brutal death.
When the arrogant lead detective insists the murder was committed by the serial Christmas Stalker, Clare isn't so sure. She notices things and hears conversations that don't add up. When another murder takes place and then she's assaulted, Clare is certain that the detective is on the completely wrong track and becomes involved to find justice for Moirin and stop the killer before they strike again.
I greatly enjoyed this book with all the sounds, scents and tastes the holiday season has to offer along with bits of humor that were woven in. Madame, Clare's ex-mother-in-law, plays a role in infiltrating a senior center and steals the scene! I have read numerous books in the Coffeehouse Mystery Series and even though each builds upon the previous one, they are easily read as stand-alone books. I love how the author, Cleo Coyle, allows the characters to grow and especially like how she develops the relationship with Clare and her long-distance boyfriend, Detective Mike Quinn. Of course Cleo provides numerous wonderful recipes at the back of the book…all sounding equally delicious and decadent…just in time for holiday celebrations!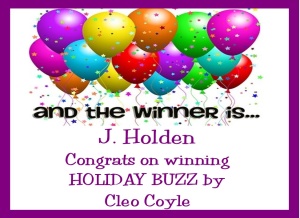 Many, many thanks to Cleo Coyle for allowing me to share Clare's Eggnog Crumb Muffins and for providing an autographed copy of HOLIDAY BUZZ! You don't want to miss out on reading this holiday mystery!
Please leave a comment below to be entered. Contest ends Thursday, December 10, 2015 at 11:59 pm PST. Winner will be announced on this page and on Cinnamon & Sugar's Facebook page, as well as notified by email (so check your spam folder!) and will have 5 days to respond or another winner will be chosen.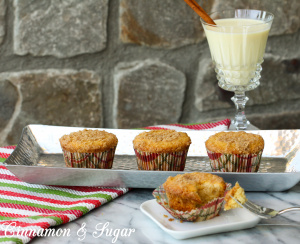 Clare's Eggnog Crumb Muffins
Over the years Clare has created two versions of this recipe. Both produce delicious muffins with the season flavors of eggnog and nutmeg. The following recipe is Clare's "from-scratch" version. It makes only six muffins for fresh-baked enjoyment at an intimate breakfast or over coffee. During her years raising Joy in New Jersey, Clare also created a large batch version of this recipe using a cake mix starter. That version bakes up to two dozen muffins fast, and is great for parties, school functions, or bake sales.
To download the illustrated recipe for Clare's Large Batch Eggnog Muffins, visit Cleo Coyle's online coffeehouse: www.CoffeehouseMystery.com
Makes 6 – 7 muffins
Ingredients
For the muffins
5 tablespoons unsalted butter, softened
1/3 cup white, granulated sugar
2 tablespoons light brown sugar
1 large egg, lightly beaten with a fork
1/3 cup eggnog
1/4 teaspoon ground nutmeg
1/4 teaspoon salt
1 teaspoon baking powder
1/2 teaspoon baking soda
1/2 teaspoon pure vanilla extract
1 cup all-purpose flour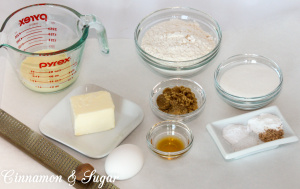 For the Crumb Topping
1/4 cup all-purpose flour
1/4 cup light brown sugar, firmly packed
1/4 teaspoon ground nutmeg
Pinch of baking powder
2-1/2 tablespoons cold unsalted butter, cut into cubes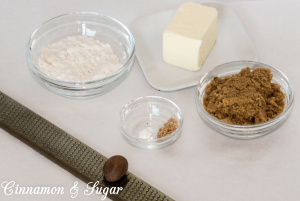 Instructions
Muffins
Preheat your oven to 375 degrees F.
Using an electric mixer, cream butter and sugars in a bowl until light and fluffy.
Add egg, eggnog, nutmeg, salt, baking powder, baking soda, and vanilla extract.
Once blended, add the flour and mix until a smooth batter forms and flour is completely incorporated. Do not overmix at this stage.
Line six muffin cups with paper liners, divide batter among them.
Make the Crumb Topping (directions below) and divide evenly over the muffins.
Bake for 20 minutes.
Muffins are done when a toothpick inserted into a test muffin comes out clean.
Remove from oven and cool.
Crumb Topping
First a warning from Clare – your butter must be COLD for this recipe or you won't make crumbs; you'll make a sticky messy dough, so be sure your butter is well chilled.
To prepare with a food processor: Place all ingredients inside and pulse until you see coarse crumbs.
To mix by hand: Place flour, brown sugar, nutmeg, and a pinch of baking powder into a bowl.
Whisk together to blend.
Add the cubes of COLD butter and using clean fingers or a pastry blender, work the butter into the dry ingredients until the mixture turns into coarse crumbs.
Store in a plastic container, in the refrigerator, for up to 3 days.
If you subscribe to receive my posts via email you will need to visit my website to view video.
Congrats to Cleo on the successful release of her latest book, DEAD TO THE LAST DROP! Here's a brief synopsis…you can click on the book to visit amazon.com: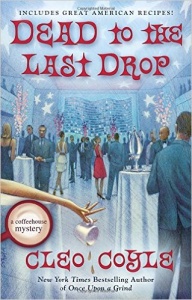 After the White House asks coffeehouse manager and master roaster Clare Cosi to consult on the coffee service for a Rose Garden Wedding, she discovers a historic pot was used as a CIA "dead drop" decades before. Now long-simmering secrets boil over, scalding Clare and the people around her…

Clare's visit to the nation's capital is off to a graceful start. Her octogenarian employer is bunking with her in a charming Georgetown mansion, and she's invited to work with a respected curator on the Smithsonian's culinary salute to coffee in America.

Unfortunately, Clare's new Village Blend DC is struggling to earn a profit–until its second floor jazz club attracts a high-profile fan, the college-age daughter of the U.S. President. Clare's stock rises as the First Lady befriends her, but she soon learns a stark lesson: Washington can be murder.

First a stylish State Department employee suspiciously collapses in her coffeehouse. Then the President's daughter goes missing. Is she a runaway bride or is something more sinister in play? After another deadly twist, Clare is on the run with her NYPD detective boyfriend. Branded an enemy of the state, she must piece together clues and uncover the truth before her life, liberty, and pursuit of happiness come to a bitter end.