Another one of our favorite Christmas treats is Peppermint Bark Cookies. My granddaughter, Emory, loves it because of the peppermint crunch while her older sister, Jaidyn, loves it because of the chocolate. Win-win for me! Santa apparently loves these cookies as well since they are always added to his plate on Christmas Eve and there's not a crumb left to see Christmas morning!
I also like that I can mix the dough up, form into round balls, freeze on a baking sheet then store in a freezer-safe ziplock bag. When I'm ready to bake I remove what I need and place on a parchment-lined baking sheet and allow to come to room temperature for about 30 minutes while the oven preheats, then bake as directed below. A very easy way to have fresh baked cookies on hand whenever I need them!
I hope you and your family enjoy all the flavors that this season has to offer as much as we do!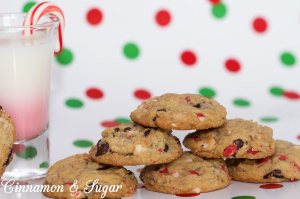 Peppermint Bark Cookies
Makes approximately 50 cookies
Ingredients
1/2 cup (4 ounces) unsalted butter, room temperature
1/4 cup (2 ounces) cream cheese, room temperature
3/4 cup (5.4 ounces) light brown sugar, packed
1/4 cup (1.7 ounces) granulated sugar
1 large egg, room temperature
2 teaspoons vanilla extract
1/2 teaspoon peppermint extract (or 5 drops pure food-grade peppermint oil)
2-1/4 cups (9.6 ounces) all-purpose flour (use the lightly sprinkle and level method to measure)
2 teaspoons cornstarch
1 teaspoon baking soda
1 teaspoon salt
1 cup (6 ounces) semi-sweet chocolate chips
1 cup (5 ounces) Andes Peppermint Crunch baking chips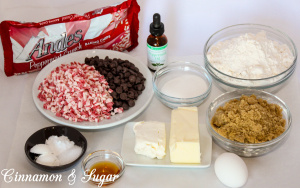 Instructions
In the bowl of a standing mixer, cream the butter, cream cheese, granulated and brown sugar until light and fluffy.
Add in the egg, vanilla and peppermint extract (or peppermint oil) and beat until thoroughly incorporated, scraping down the bowl as needed.
Add the salt, baking soda and cornstarch to the butter mixture and beat until mixed in.
With the mixer running on low speed, slowly add the flour to the mixture and mix until fully incorporated.
Add the chocolate chips and peppermint chips and continue to mix on low just until they are blended into the dough.
Preheat the oven to 325 degrees (F).
Form the dough into 1-1/2″ balls (I like using the Oxo brand two-teaspoon spring-loaded cookie scoop for this) and place on a parchment lined baking sheet, 12 cookies per sheet. If the dough is too soft, place in the refrigerator for 30 minutes or so to firm up.
Bake for 10 – 12 minutes, rotating the baking sheet half way through baking time. The cookies should seem slightly under-cooked when you remove from the oven but will firm up as they cool.
If you subscribe to receive my post via email, you will need to visit my website to view video tutorial.