One of the many reasons I love reading and sharing cozy mysteries is not only do I get to read a great story, often recipes or crafts are included or at least some type of information so I feel I'm learning something while being entertained. Plus ALL the authors I've worked with have been so incredibly nice!!!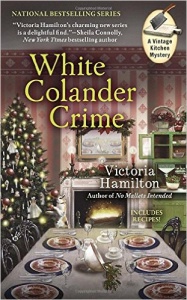 One of the Christmas books I recently read this holiday season, WHITE COLANDER CRIME by Victoria Hamilton, is a good example of what I mean. Victoria was very enthusiastic about her books and offered to let me share one of her family cookie recipes that isn't in print! When I received the recipe I was beyond happy…it was very similar to cookies that my mother made for me when I was a kid. Since she passed away numerous years ago, this was a wonderful reminder during the holidays of sweet memories. Somewhere along the way I lost track of that particular recipe and never gave it a thought…out of sight, out of mind kind of thing. But thanks to Victoria I now have it back in my possession and will cherish it all that much more!
Even though this is Victoria Hamilton's fifth book in the Vintage Kitchen Mystery series, WHITE COLANDER CRIME, this is the first book I've read…and I found I've been missing out! Set during the Christmas season (my favorite holiday!) in Queensville, Michigan, Jaymie Leighton is preparing for Christmas with her family. In addition to writing a food column for the local paper, Jaymie is also helping with the town's grand-opening of its Historic Manor during their Dicken's Day Festival.
Jaymie is excited to finally be able to use the manor's vintage kitchen, which she has meticulously restored, and plans on baking cookies to hand out to the visitors as they tour the manor. After a very long day of promoting the grand-opening she finds Shelby Fretter badly beaten in the closed workshop of the town's handyman. After the young woman is taken to the hospital, and subsequently dies, Jaymie is very disturbed because she witnessed Cody, son of the local paper's editor and her boss, striking Shelby during a heated argument just a few days before. The police have every reason to believe Cody is the murderer too, and it isn't long before he is arrested for the crime. Jaymie's boss begs her to "look into it" and find the real killer.
Though WHITE COLANDER CRIME is a mystery, there's a sweetness to the author's story. Jaymie is thoroughly likable and her new love interest, Jakob, has an adorable daughter that draws the reader in, making you hope the new relationship is all that Jaymie wants it to be. This charming book has enough twists and turns to keep you guessing while providing great characters that make you feel a part of Queensville.
I have included a short video tutorial at the end of this post so you can see just how easy this recipe is. One of the things I especially love about this cookie, that is kind of a a combination of candy and cookies, is that it is readily adaptable for gluten-free eating. If gluten-free is a dietary necessity, be certain to purchase gluten-free oatmeal and vanilla. I will also be making these cookies again and trying it with vegan margarine and coconut milk so my husband can enjoy them too…but the first batch was strictly for my consumption and walk down memory lane 🙂
Special thanks to Victoria Hamilton and her niece, Katheleen, for sharing their family recipe with me and with my readers!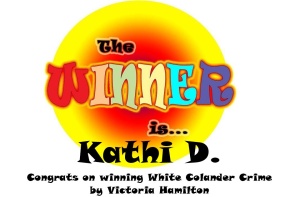 As a bonus for my readers I am giving away one copy of WHITE COLANDER CRIME. Please leave a comment below to be entered. Contest ends Thursday, December 17, 2015 at 11:59 pm PST. If winner lives outside the U.S., a Kindle version will be offered. Winner will be announced on this page and on Cinnamon & Sugar's Facebook page, as well as notified by email (so check your spam folder!) and will have 5 days to respond or another winner will be chosen.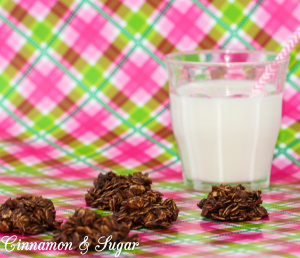 Katheleen's No Bake Chocolate Macaroons
I've seen many versions of these cookies, but my niece Katheleen's no bake, no fuss, quick and simple cookies are the best! I used to ask her to make them every year, and finally just got the recipe from her.
Ingredients
2 cups white sugar
6 tablespoons cocoa powder
1/2 cup butter or margarine
1/2 cup milk
1/2 teaspoon vanilla (If gluten-free is necessary, be sure to purchase gluten-free vanilla.)
1 cup shredded coconut
3 cups oatmeal – quick cooking is fine. (If gluten-free is necessary, be sure to purchase gluten-free oats.)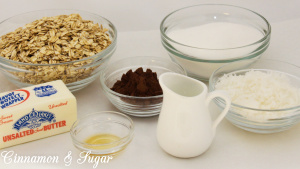 Instructions
1 – Bring sugar, cocoa, butter and milk to a boil.
2 – Add vanilla and take off of heat.
3 – Add coconut and oatmeal. Mix thoroughly.
4 – Drop by spoonfuls on wax paper or parchment paper covered cookie sheets and refrigerate.
5 – When chilled, remove from cookie sheets and put in containers.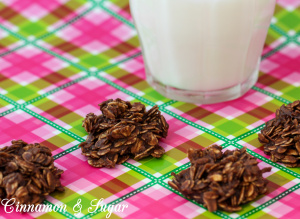 These are best kept chilled in an airtight container, with wax paper between layers, but they never last long anyway!
If you subscribe to receive my post via email, you will need to visit my website to view video.