While I may be all about cookies around Christmas time, their casual presentation don't always fit into an elegant scheme for special occasions. Enter the cupcake: it can be "dressed" up or down depending on requirements yet still provides ease of serving. Everyone can help themselves and depending on the gathering, napkins or plates with forks are all that is necessary for the diners.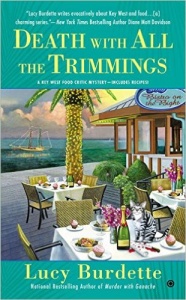 When I came across the recipe for Lucy's Scarlett O'Hara Cupcakes in Lucy Burdette's book, DEATH WITH ALL THE TRIMMINGS, I knew I needed to try it out. Lucy, as you may recall from earlier this year, shared her grandmother's one-bowl chocolate cake recipe with my blog. It was a huge hit and the cupcakes sounded equally delicious. Lucy created a red velvet cupcake but put a twist to the quintessential cream cheese frosting by beating in fresh raspberries. Not only does it elevate the taste to sublime – tart, fruity raspberries compliment the tangy cream cheese along with the hint of chocolate in the cupcakes – but the gorgeous color provides that touch of elegance.
I've included a video tutorial on how to make these luscious cupcakes at the end of the post.
In addition to providing several wonderful sounding recipes in DEATH WITH ALL THE TRIMMINGS, Lucy Burdette writes a cozy mystery set at Christmas time, that keeps you guessing until the end. Hayley Snow is a food critic for style magazine, Key Zest, in Key West, Florida. Trouble is brewing at her office when Ava, one of the co-owners, decides Hayley should be fired. Usually Hayley can rely on Wally, her boss and love interest, to run interference for her, but he's distancing himself both from her and the job to care for his sick mother. Then there's the matter of Hayley's mother deciding to winter in Key West. Not that she doesn't love her mother, it's just that distance is a good thing.
When Hayley lands an interview with a soon-to-be-opened new restaurant in town by a female "celebrity" chef from New York, she thinks her luck is turning around. But Chef Edel is more interested in Hayley finding out who's sabotaging her kitchen and when the chef's ex-husband is found murdered on the property, the chef becomes the main suspect. Hayley is inquisitive by nature and it doesn't take long for her to start asking questions to try to clear the chef's name.
I love how Lucy's writing makes you feel like you're in Key West with all their warm weather Christmas festivities, from the lighted boat parade, a town parade (and I especially loved Key Zest's golf cart float: a giant Key Lime pie pulled by reindeer!) to a Dachshund parade on New Years Day. Lucy also lets the characters grow and develop as the series continues which makes all her books enjoyable. I eagerly look forward to her next book!
A special thank you to Lucy Burdette for allowing me to share her very decadent Scarlett O'Hara cupcake recipe with my readers! It's the perfect treat for any special occasion or holiday or a "just because" day! Sending best wishes to everyone for a very Merry Christmas!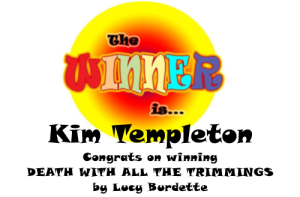 As a bonus for my readers I am giving away one copy of DEATH WITH ALL THE TRIMMINGS by Lucy Burdette. Please leave a comment below to be entered. Contest ends Wednesday, December 23, 2015 at 11:59 pm PST. If winner lives outside the U.S., a Kindle version will be offered. Winner will be announced on this page and on Cinnamon & Sugar's Facebook page, as well as notified by email (so check your spam folder!) and will have 5 days to respond or another winner will be chosen.
Lucy's Scarlett O'Hara Cupcakes
Author's note: Ever since reading Elinor Lipman's novel, The View from Penthouse B, I've had the urge to bake Scarlett O'Hara cupcakes, like one of her characters did. But what exactly is a Scarlett O'Hara cupcake? A red velvet base seemed like a shoo-in. But what kind of icing would show Scarlett's sass? Ginger? Peach? Chocolate ganache? Lemon? Cinnamon? Jalapeno? I settled on a raspberry cream cheese frosting. These may not be authentic, but they taste wonderful and they are showstoppers, too.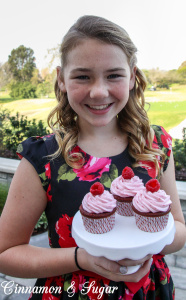 Cupcake Ingredients
2-1/4 cups unbleached all-purpose flour
1-1/2 teaspoons baking soda
1/4 teaspoon salt
2 tablespoons white vinegar
1 cup milk
2 teaspoons vanilla extract
2 large eggs
2 tablespoons cocoa powder
2 tablespoons red food coloring (one 1-ounce bottle)
12 tablespoons unsalted butter (1-1/2 sticks)
1-1/2 cups granulated sugar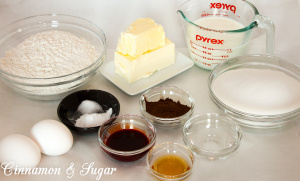 Frosting Ingredients
1 stick unsalted butter, softened
8 ounces cream cheese, softened
1 cup confectioners' sugar – see my "tip" below
1 teaspoon vanilla extract
Pinch of salt
About 40 raspberries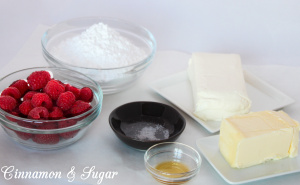 To make the cupcakes
Preheat the oven to 350 degrees F.
Place 20 to 22 cupcake liners in two cupcake pans.
In a medium bowl, whisk together the flour, baking soda, and salt.
In a large glass measuring cup, make a buttermilk mixture by adding the vinegar to the milk. Let it sit for about ten minutes.
Whisk the buttermilk with the vanilla and eggs.
In a small bowl, mix the cocoa with the food coloring until they form a smooth paste.
In a medium bowl, beat the butter and sugar together until fluffy, about 2 minutes, scraping down the bowl as necessary.
Add 1/3 of the flour mixture and beat on medium-low speed until just incorporated, about 30 seconds.
Add half the buttermilk mixture and beat on low until combined, about 30 seconds.
Repeat with half of the remaining flour mixture, the remaining buttermilk mixture, and the other half of the flour mixture.
Add the cocoa mixture and beat on medium speed until completely incorporated, about 30 seconds. Do not overbeat.
Distribute the batter into the cupcake pans and bake until a toothpick inserted in the center comes out clean, 18 to 22 minutes.
Allow the cupcakes to cool for 10 minutes, then remove the cupcakes to a wire rack to cool completely.
To make the frosting
Beat the butter and cream cheese together until smooth.
Beat in the sugar and then the vanilla.
Add the salt.
Set aside the 20 best raspberries and beat the remainder into the frosting.
Beat the frosting for several minutes to allow the raspberries to completely break down which will create a smoother frosting.
Frost the cupcakes and decorate each with a raspberry.
Refrigerate the cupcakes if you aren't serving them right away.
Tip
I ended up adding an extra cup or two of confectioners' sugar since my raspberries were super juicy and I didn't dry them well enough after washing. The frosting was still so delicious, especially since my family likes their frosting on the very sweet side! After beating the butter, cream cheese and sugar together, add the raspberries a few at a time and check the consistency before adding more. If you want a darker pink, add extra confectioners' sugar, 1/4 cup at a time, alternating with adding a few raspberries to the frosting until you reach the desired shade and the desired consistency.
If you are piping the frosting onto the cupcakes you will want the consistency to be stiff which means extra confectioners' sugar.
If you subscribe to receive my posts via email, you will need to visit my webpage to view the video.