Ever since our little rescue grandpuppy, Piper, came into our lives ten months ago I have viewed food a bit differently. Piper is a swiper (seriously!) and we have to keep an eye out on her and make sure that she doesn't find access to dangerous foods such as chocolate and raisins. (We WON'T talk about my calls to her vet during the time she stayed with us for a few weeks!) When I started reading MURDER MOST HOWL by Krista Davis, I was exceedingly happy to see that not only did the author provide delicious recipes for us humans, she included recipes for our furry friends. One of the dessert recipes Krista provided that could be eaten by both us and a few bites shared with Piper (sans frosting) was her Gingerbread Cupcakes.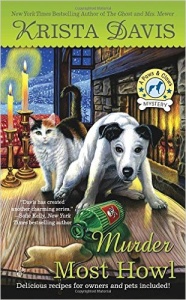 Needless to say when I told my granddaughter, Emory, about this recipe it was the first thing we had to make over her holiday break from school. The gingerbread cupcakes are moist and super flavorful thanks to the generous addition of spices and brown sugar. It also mixes up quickly and can be topped with a sprinkle of confectioners' sugar or your favorite frosting. I've included our favorite vanilla frosting recipe (Em nixed my idea of a cinnamon frosting…and I think she was right…the gingerbread cupcakes were perfect with her choice!) which mixes up super light and fluffy. Best of all it can be made a few days in advance or even frozen for up to 3 months to have on hand as needed. And Piper the Swiper's response to these cupcakes? She gobbled up her mini cupcake and begged for more! Of course we were mindful of her health and made her wait another day to get another bite or two more. Emory also shared her cupcakes with several of her friends and their furry pets.
I've included video tutorials below for both the gingerbread cupcakes and the fluffy buttercream frosting. I would be remiss if I didn't thank Emory for making both the cupcakes and the buttercream frosting for my post…and for her beloved Piper and special friends!
MURDER MOST HOWL is the the third book in Krista Davis's Paws & Claws mystery series but the first one I've had the chance to read. I found I've been missing out on a charming series that features both humans and their pets. Holly Miller runs the Sugar Mill Inn with her grandmother, in Wagtail, Virginia. Don't you just love the town's name?! The town is open equally to pets along with their owners, in shops, restaurants and anywhere people like to frequent. Holly is left in charge of the inn while her grandmother takes a well-deserved vacation. Together with her friend, Val, they have organized and are hosting a murder mystery weekend called Murder Most Howl in the town. They are also introducing an "If the Dog Fits" program that allows her Inn guests to bond with rescue dogs during their stay with the hopes that they will give the dogs a new home.
As the guests arrive and get settled, a blizzard begins to blow but the participants of the murder mystery game don't seem to mind, even with the electrical issues the Inn seems to be experiencing. Holly, at first, has quite a few self-doubts about running the inn without her grandmother around, but as she takes control of the various situations that arise, her self-confidence grows. When Holly's dog finds a dead body sitting on a snowy bench close to her inn, Holly finds herself plunged into trying to find the killer while trying to dissuade her guests from thinking it was part of her mystery weekend game. To complicate matters, someone has left half-truth clues about various townsfolk and game participants which spreads vicious gossip about each other. Could one of those misaligned be the killer or is the killer behind spreading the gossip? It's up to Holly to find out before there's another victim all the while proving she's capable of running Sugar Mill Inn on her own.
I truly enjoyed this charming book. It's full of great characters and their personable pets while at the same time providing twists and turns with Holly trying to solve a murder. Krista provides plenty of believable red herrings that had me convinced I had figured it out only to find out at the end I was wrong…which made the book all the more enjoyable. Even though I started with the third book in the series it was easily read as a stand-alone and I look forward to going back and reading the first two!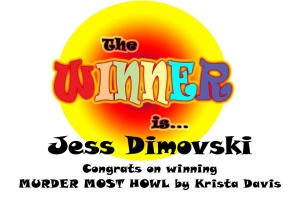 A special thank you to Krista Davis for allowing me to share her yummy Gingerbread Cupcakes recipe along with her generosity in providing an autographed copy of MURDER MOST HOWL to one lucky winner! Please leave a comment below to be entered. Contest ends Thursday, December 31, 2015 at 11:59 pm PST and is open to U.S. residents only. Winner will be announced on this page and on Cinnamon & Sugar's Facebook page, as well as notified by email (so check your spam folder!) and will have 5 days to respond or another winner will be chosen.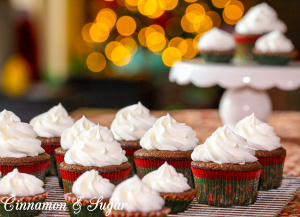 Gingerbread Cupcakes
For people, though dogs may have a bite or two of unfrosted cupcake. Makes 12 to 14 regular sized cupcakes.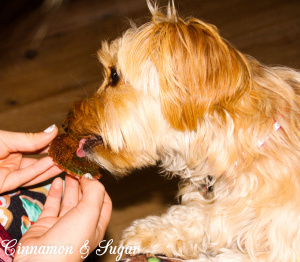 Ingredients
1-1/3 cups of all-purpose flour
1 teaspoon ground cinnamon
1/2 teaspoon baking powder
1/2 teaspoon baking soda
1/2 teaspoon salt
1 teaspoon ground ginger
1/2 teaspoon nutmeg
3/4 cup packed brown sugar
1/2 cup butter, softened
2 eggs, room temperature
1/2 cup warm water
1/2 cup molasses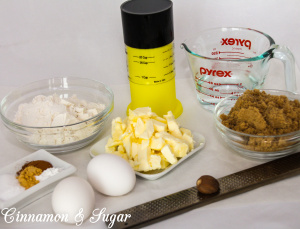 Instructions
Preheat oven to 350 degrees F.
Prepare a cupcake pan with cupcake liners. We used a combination of mini cupcakes (for Piper) and regular-sized cupcakes.
In a bowl, mix together the flour, cinnamon, baking powder, baking soda, salt, ginger, and nutmeg. Set aside.
Cream the sugar with the butter for about 2 minutes, then beat in the eggs.
Mix the water with the molasses and add in thirds, alternating with the flour mixture. Beat well.
Fill cupcake liners one-half full.
For regular-sized cupcakes, bake 16 to 20 minutes. For mini-sized cupcakes, bake 10 – 12 minutes.
Cool on a rack then dust with powder sugar or frost with your favorite frosting. We used my Ultimate Fluffy Buttercream Frosting recipe, which I've included below.
If you subscribe to receive my posts via email, you will need to visit my website to view the videos.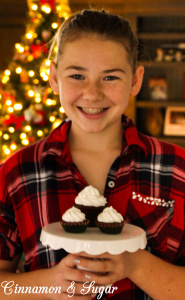 Ultimate Fluffy Buttercream Frosting
Ingredients
2-1/2 cups (11.1 ounces) confectioners' sugar – no need to sift
1/8 teaspoon salt
1 teaspoon vanilla
1/4 cup boiling water
1/3 cup (2.7 ounces) unsalted butter, slightly chilled and cut into cubes
3/4 cup (4.5 ounces) vegetable shortening (hi-ratio is best for lightest, fluffiest frosting)
Instructions
Place confectioners' sugar, salt and vanilla in the bowl of a standing mixer.
Add the boiling water and beat with the wire whisk attachment (or beater blade) on medium speed until the mixture returns to room temperature. This can take 5 – 10 minutes depending on the weather.
Slowly add the cubed butter and mix to incorporate.
Add the vegetable shortening and beat until incorporated.
Increase the mixer's speed to high and whip 10 minutes.
Frost cupcakes as desired.
This frosting can be made ahead of time and even frozen. To reuse, allow to come to room temperature then re-whip for a couple of minutes before using.