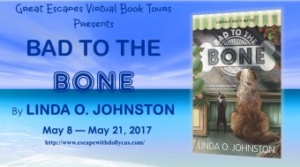 It's a delight to be a part of the Great Escapes Virtual Book Tour with the brand new release, BAD TO THE BONE, by Linda O. Johnston! The protagonist, Carrie Kennersley, is not only a vet technician but also owns a charming bakery, Barkery & Biscuits…actually 2 bakeries on the same premises: one for humans and one for pets. You'll be drooling over the delightful treats Carrie and her employees bake and it's probably a good thing your furry friends can't read because they'd be begging for some special treats as well!
Word has gotten out about Carrie's special pet treats and a large pet food manufacturer, VimPets, is interested in buying some of her recipes. When one of the obnoxious sales reps for VimPets is found murdered, (with a pooper-scooper no less!) two of Carrie's friends are suspects. One of them begs her to clear his name only she's not so sure of his innocence. A large number of her friends, along with her brother, beg her to not get involved in the murder investigation this time but Carrie just can't seem to help herself.
The premise of this storyline is cute. I loved all the pets and their owners who frequent Barkery & Biscuits and Carrie has endeared herself to the townspeople. The author brings to the forefront the need for people to adopt rescue animals and the plight that can befall these unfortunate creatures. The location is in the mountains of Southern California, close to where I live, so I could completely envision the descriptions of the town and its surrounding areas…making me feel at home. Carrie's romance with veterinarian, Reed, is progressing and is very sweet. I like seeing growth in characters in series, and the author provides that both with the main protagonist and with the close characters surrounding her. The reader will get a good feel for what it takes to run two bakeries and still work part time at the vet's office. Carrie doesn't shirk her duties yet manages to find the time to ask questions and try to find out who the murderer is. The grand finale caught me by surprise and wrapped up the plot and subplots in a satisfactory manner.
Thankfully after you've finished drooling on the pages, Linda has provided a recipe for your dog along with a recipe for yourself! She has graciously allowed me to share her recipe for Pumpkin Snickerdoodle Cookies for People. I've tried a lot of snickerdoodles before along with pumpkin cookies, and my main complaint is that they're too cake-like. Linda's recipe manages to bypass the cake-y texture with this recipe. Crisp on the outside and tender on the inside, these cookies have a subtle pumpkin flavor while the cinnamon and sugar coating provides a burst of sweet spiciness in each bite! And in my own opinion, pumpkin isn't just for autumn…it's the perfect treat all year long!
Amazon Synopsis
Veterinary technician Carrie Kennersly, owner of the Barkery & Biscuits bakery for dogs, is reluctant to sell her recipes to pet food manufacturer VimPets. Jack Loroco, a VimPets representative, assures Carrie that it would be a great opportunity to grow her business. His promising new relationship with Carrie's friend Billi Matlock doesn't hurt his cause.
But the budding romance takes a bad turn when Wanda Addler, another VimPets employee, sets her sights on Jack. After threatening to ruin Jack's career if he doesn't give her what she wants, Wanda is found dead. Jack and Billi are put at the top of the suspect list, and Carrie is doggone determined to rescue them from a life behind bars.

A very special thank you to Linda O. Johnston for providing 2 print copies of BAD TO THE BONE! This giveaway is administered by Great Escapes Virtual Book Tours and you can use the Rafflecopter box located below the recipe to enter. Contest ends May 21, 2017 and is limited to U.S. residents only. Winners will be announced on this page and on Great Escapes Virtual Book Tours site, as well as notified by email (so check your spam folder!)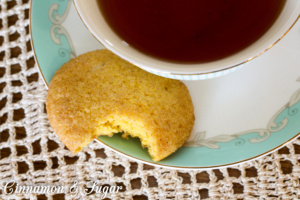 Pumpkin Snickerdoodle Cookies for People
Ingredients
Cookie Dough

1-1/2 cups granulated sugar
1/2 cup butter, room temperature
1/2 cup vegetable shortening (i.e. Crisco butter flavored baking stick)
2 large eggs
3/4 cup canned pumpkin puree
2-3/4 cup all-purpose flour
2 teaspoons cream of tartar
1 teaspoon baking soda
1/4 teaspoon salt

Topping

1/4 cup granulated sugar
2 teaspoon ground cinnamon
Instructions
Cookie dough

Cream together the sugar, butter, and shortening.
Add in eggs and mix well.
Sift together flour, cream of tartar, baking soda, and salt.
Slowly add dry ingredients to the sugar/butter mixture.
Stir in pumpkin puree.
Place dough in freezer to chill for at least 2 hours, but overnight is best. Dough must be thoroughly chilled for cookies to turn out right.
Preheat oven to 350 degrees (F).
In a small bowl combine 1/4 cup sugar with 2 teaspoons ground cinnamon.
Measure a tablespoon of cookie dough and use your hands to roll into a ball. (You can make smaller cookies, if desired.)
Roll the ball of dough around in the cinnamon sugar mixture.
Place the balls of cookie dough on baking sheets lined with parchment paper.
Bake for about 12 - 13 minutes.
Remove from oven just when the edges of the cookies start to brown.

Tips

If you don't have room in your freezer, chill the dough overnight in the refrigerator.
This dough is very sticky. If it becomes difficult to work with while rolling into balls, return to the freezer or refrigerator for 15 minutes before continuing.
https://cinnamonsugarandalittlebitofmurder.com/pumpkin-snickerdoodle-cookies/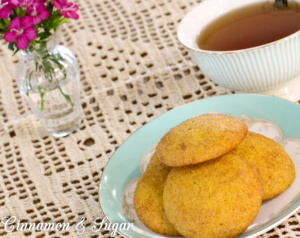 Pin to Pinterest: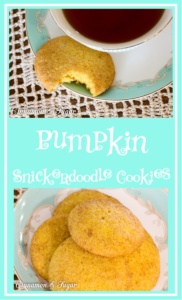 If you receive my blog post via email you will need to visit my website to view the video.
Tour Participants
May 8 – Cinnamon, Sugar, and a Little Bit of Murder
May 8 – T's Stuff
May 9 – My Journey Back
May 9 – 3 Partners in Shopping, Nana, Mommy, & Sissy, Too!
May 10 – Rainy Day Reviews
May 10 – Mystery Thrillers and Romantic Suspense Reviews
May 11 – Bookworm Mom
May 11 – Satisfaction for Insatiable Readers
May 12 – Readeropolis
May 13 – Brooke Blogs
May 13 – Escape With Dollycas Into A Good Book
May 14 – Texas Book-aholic
May 15 – Community Bookstop
May 15 – Author Annette Drake's blog
May 16 – Celticlady's Reviews
May 16 – A Blue Million Books
May 17 – Laura's Interests
May 17 – Books Direct
May 18 – A Chick Who Reads
May 18 – Island Confidential
May 19 – Cozy Up With Kathy
May 20 – Melina's Book Blog
May 21 – Lisa Ks Book Reviews
May 21 – Bibliophile Reviews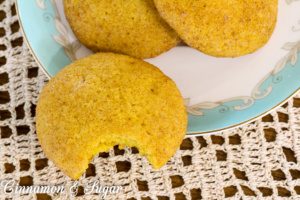 I was provided an advanced copy with the hopes I would review. All thoughts and opinions are my own.