This past weekend I had the chance to meet up with author Catherine Bruns while at the Malice Domestic conference in Maryland. She is just as delightful in person as she is on-line, and her personality shines through in her brand new release, FROSTED WITH REVENGE! This fourth book in her Cookies & Chance Mystery series had me laughing out loud one moment then gripping my tablet the next, on edge, waiting to see what was going to happen to Sally Muccio. Catherine also captures the angst brides can feel trying to appease their mothers with all the planning while trying to retain their own vision of what they want for their wedding. I've always loved Sally's quirky parents and the author aptly describes them as "loud, proud, and march to the beat of their own drum." But this time we see a different side to Sally's mother and come to know her, along with Sally, on a deeper, emotional level. It adds to the appeal of the story.
The murder plot has so many twists and turns, making the reader feel like they're on a wicked roller coaster ride. Catherine builds on the initial shock with tension-filled scenes until I was dying to find out if Sally does make it to the church on time. Fortunately, sandwiched in between the tension are moments of humor thanks to Sally's best friend, Josie, and Sally's dad, Father Death blogger extraordinaire! Both of these characters bring support to Sally and add to the overall enjoyment of the book. Even though this is the fourth book in the series, it is easily read as a stand-alone…but if you haven't read any of the proceeding books, you're going to want to go back and catch up with this delightful series!
Owning a cookie shop, Sally is always baking up lots of yummy cookies that will have you drooling. Fortunately, Catherine provides several recipes at the back of the book. As soon as she mentioned that the traditional Middle Eastern Maamoul Cookies (reminiscent of Italian Wedding Cookies) were from an old family recipe handed down from her aunt, I knew I had to try them. Shortbread style dough is stuffed with dates and/or walnuts (both staples in my house) then formed in beautiful molds. Catherine has provided instructions for making these without using a mold, but I found an inexpensive sturdy plastic one on Amazon, so used that. However, the traditional molds are made with beautiful and intricately carved wood and I'll have to admit, I had a hard time passing those beauties up. If I had a place to display the carved maamoul molds along with my carved springerle molds and rolling pins, I'd be one happy woman! But back to these delectable cookies… they were a bit time consuming to form, but once I started making them, the time flew by and I enjoyed the creativity of the process along with the gorgeous, delicious results!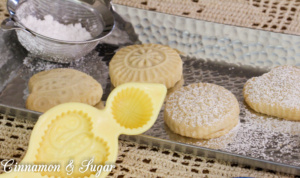 Amazon Synopsis
Sally Muccio's walk down the aisle might be her last. The some-time amateur sleuth and full-time bakery owner is finally marrying the man of her dreams. But during a last minute taste testing of their wedding cake, Sally and her fiancé are witnesses—and almost victims!—of a random shooting. At least they think it's random, until an original fortune cookie message proves otherwise. Is someone after Sally? And why does the mysterious shooter want to ice the baker? Sal tries to proceed with caution, but when someone close to her is attacked, all bets are off. She'll do whatever it takes to bring this monster to justice, even if it means sacrificing herself in the process. Can Sal make it to the church on time…and alive?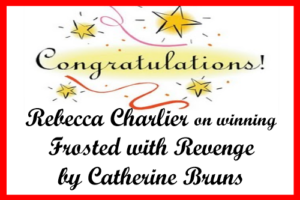 A huge thank you to Catherine Bruns for providing winner's choice of print or e-book copy of FROSTED WITH REVENGE for one winner. Contest ends Tuesday, May 9, 2017 at 11:59 pm PST and is limited to U.S. residents. Please use the Rafflecopter box located below the recipe to enter. The winner will be announced on this page and on Cinnamon & Sugar's Facebook page, as well as notified by email (so check your spam folder!)
For a short time the e-book copy of FROSTED WITH REVENGE is on sale for $2.99. The author isn't sure how long this special release price will last so grab the book while you can!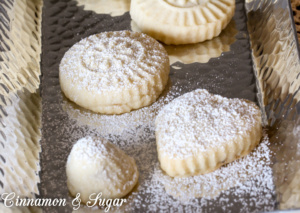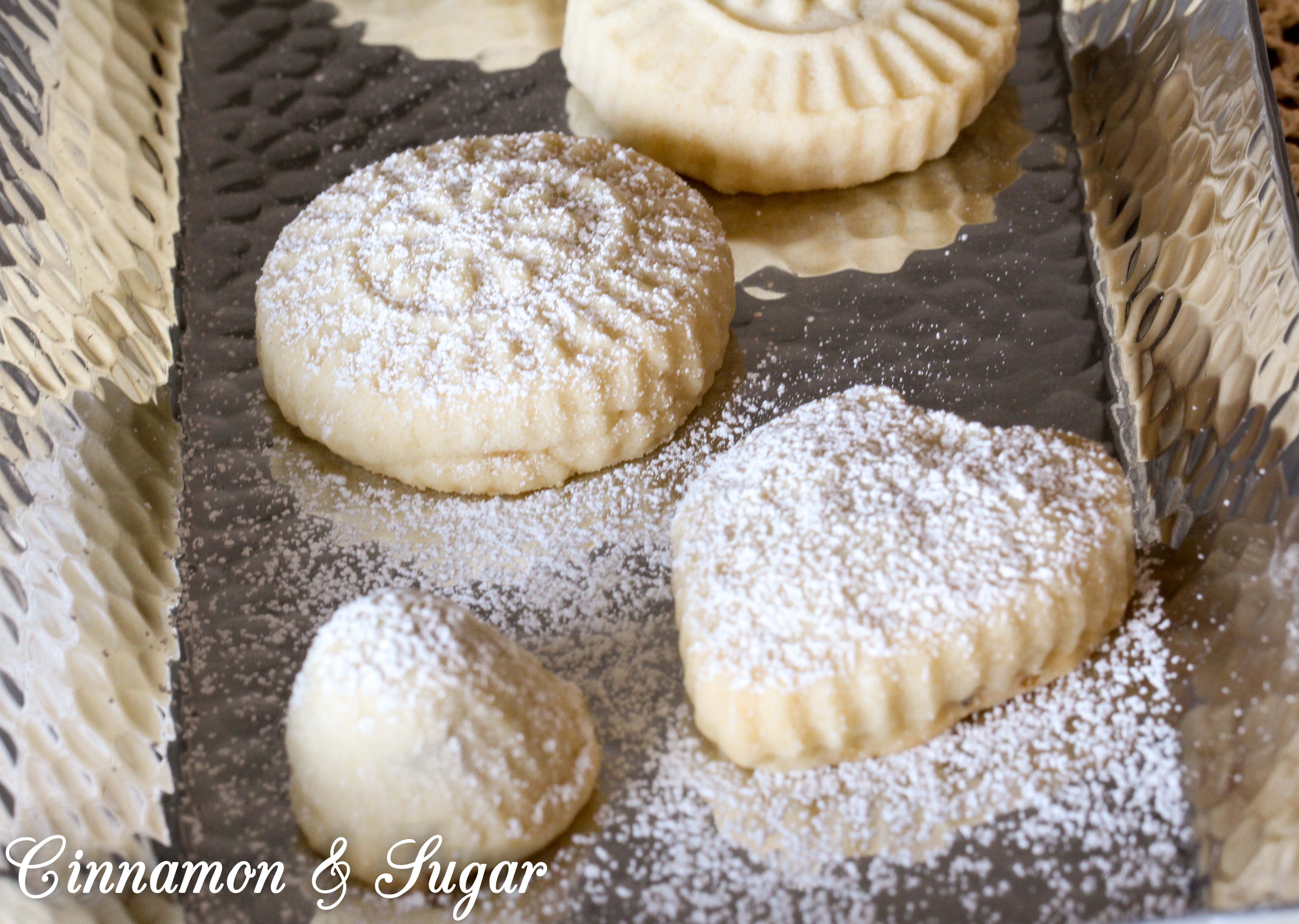 Ingredients
Author's Note: Maamoul is a traditional Middle Eastern cookie made with a wooden mold that can be found in specialty stores Different molds are required depending on whether you use dates or nuts. If you are making the cookies without the mold, you can use both dates and nuts. The cookies are similar in style to Italian Wedding cookies. This recipe was the creation of my beloved aunt who passed away over ten years ago, and I consider it a personal tribute to her memory.

Ingredients

4-1/2 cups (21.3 ounces) all-purpose flour (scoop & level method of measuring)
1 pound unsalted butter, room temperature
1 egg, beaten
1/2 cup plus 2 tablespoons sugar, divided
8 ounces walnuts, finely chopped
6 ounces chopped dates (or whole seedless dates can be used instead)
1/2 jigger rye whiskey (approximately 3/4 ounce)
1/2 teaspoon rose water (or substitute vanilla or orange extract)
Confectioner's sugar
Instructions
Beat 1/2 cup sugar and butter together.
Add in egg, mixing well.
Add flour a little bit at a time, until a stiff dough forms. I mixed in 3 cups of flour, then turned out onto a floured surface and kneaded additional flour in until dough was no longer overly sticky. You may not need to use the entire amount.
In a separate bowl add nuts, 2 tablespoons of sugar, rose water, and rye whiskey.
Coat your mold with flour to prevent sticking.
Add dough, flatten it out in the mold, add a teaspoon of nuts or a date, (or a combination of them both) and close over with more dough.

To make the cookies by hand without a mold

Coat your hand with flour to prevent sticking.
Take a dough ball about the size of a walnut, flatten it slightly, and lay in it the palm of one hand.
Take a date and flatten it slightly then lay it on top of the dough.
Finally, take a smaller dough ball, about one inch in diameter, flatten it slightly, and place it on top of the date filling. (Basically the palm of your hand becomes the mold.)
Gently press the dough on top into the dough on the bottom so the date filling is completely covered.
Shape the cookie into a slightly flattened circle.
Use a fork to make a decorative cross-hatch pattern on the top.
Bake at 325°Fahrenehit for 20 to 25 minutes or until cookies are lightly browned around the edges and light on top.
Cool for five minutes before dusting lightly with confectioner's sugar.
Makes about four to six dozen cookies, depending on size of mold.

Tip

I love the combination of both walnuts and dates so mixed them together and used to stuff the cookies.
https://cinnamonsugarandalittlebitofmurder.com/maamoul-cookies/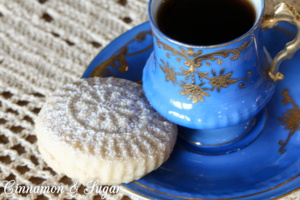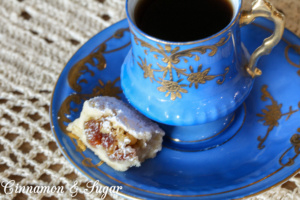 Pin to Pinterest:
If you receive my blog post via email you will need to visit my website to view the video.
I was provided an advanced copy with the hopes I would review. All thoughts and opinions are my own.