It's always a pleasure revisiting the town of Cranberry Cove from Peg Cochran's Cranberry Cove Mystery series! The newest release, DEAD AND BERRIED grabbed my attention from the very first page with its tightly written riveting plot and colorful characters. The heavily Dutch populated town of Cranberry Cove is preparing for Vlaggetjesdag Celebration…Netherland's Flag Day. I enjoyed the tidbits of information the author provides about Dutch food and customs, along with how they celebrate their holiday. The setting of the Sassamanash Cranberry Farm is eye-opening. The author's descriptions had me feeling like I was right there. I loved the words she used to paint the picture of seeing the cranberries in bloom, with their delicate pink blossoms. It makes me want to see them for myself! She also brings to life the hard work being a cranberry farmer. The reader learns, right along with protagonist Monica Albertson, some of the things required to produce a successful crop, such as renting bees to pollinate. Peg weaves into the story the plight of the Honeybee due to pesticides, loss of habitats, disease and climate change.
When another murder happens on Sassamansh Farm, the cranberry farm Monica Albertson's brother owns, Monica's determination to find the truth is put to the test. Especially when her employee's husband, beekeeper Rick becomes the suspect. The victim, Lori, was Rick's assistant, and as Monica starts asking questions around town, she finds that Lori had made a lot of enemies, including her own boss. There are plenty of suspects and I didn't see the surprising, suspenseful ending coming! There are also subplots that Monica finds herself involved in. I had to chuckle out loud when she's horrified to find out the town has a betting pool going on when she's going to get engaged. But that's part of the charm of a small town setting…everyone knows everyone else's business. The author also touches on the heartbreaking situation of elderly people, especially those with dementia, being taken advantage of. This subplot was artfully woven into the plot while bringing to light something that happens much more frequently than we think.
I love browsing through the many cranberry recipes Peg Cochran includes at the back of the book. I want to try them all! In the end I chose to make Cranberry Walnut Chocolate Chunk Cookies… an amazing combination of flavors and textures! Semisweet chocolate enhances ruby red tart cranberries, while the crunch of walnuts rounds out the texture of the soft and chewy cookies. I sent a large container of these cookies with my husband and his friends while on a golf trip. He said they disappeared in record time, even though we both thought I had sent more than enough! I'll be making these again, soon!
Amazon Synopsis
It's June in Cranberry Cove and Monica Albertson's plan to sell cranberry relish to chain stores is taking off. The cranberry bogs are in bloom, and local beekeeper Rick Taylor and his assistant Lori Wenk are bringing in bees to pollinate the blossoms. When a fatal prick fells Lori, the buzz is that Rick is to blame.
In trying to clear her friend's name, Monica discovers that more than a few people in Cranberry Cove have felt the power of Lori's venom, and it looks as if this time she may have agitated the hive a bit too much. With the fate of the farm on the line, Monica must get to the bottom of the crime before another victim gets stung.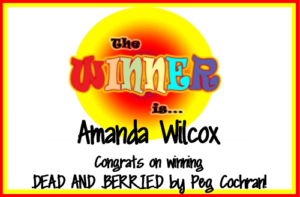 A huge thank you to Peg Cochran for providing a signed copy of DEAD AND BERRIED for one winner. Contest ends Thursday, May 4, 2017 at 11:59 pm PST and is limited to U.S. residents. Please use the Rafflecopter box located below the recipe to enter. Winner will be announced on this page and on Cinnamon & Sugar's Facebook page, as well as notified by email (so check your spam folder!)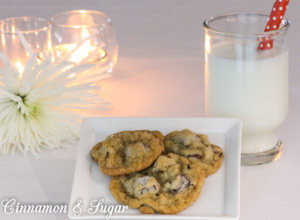 Cranberry Walnut Chocolate Chunk Cookies
Ingredients
1 cup butter, softened
1/2 cup granulated white sugar
1-1/2 cups brown sugar, packed
2 eggs
2 teaspoons vanilla extract
2-1/2 cups all-purpose flour
1 teaspoon baking soda
2 teaspoons hot water
1/2 teaspoon cream of tartar
1/2 teaspoon salt
2 cups semisweet chocolate chunks
1 cup dried cranberries, chopped
1 cup walnuts, chopped
Instructions
Don't preheat oven yet as dough needs to chill first.
Cream softened butter, white sugar and brown sugar until light and smooth.
Beat in eggs, one at a time, along with vanilla extract.
Dissolve baking soda in hot water and add to batter along with salt.
Mix in flour and cream of tartar.
Stir in chocolate chunks, cranberries and walnuts.
Chill batter for one hour.
Preheat oven to 325 degrees (F).
Drop by tablespoon onto cookie sheet leaving room for cookies to expand.
Bake for approximately 10 to 12 minutes.
Cool cookies on baking sheet for 5 minutes then remove and finish cooling on a wire rack.
https://cinnamonsugarandalittlebitofmurder.com/cranberry-walnut-chocolate-chunk-cookies/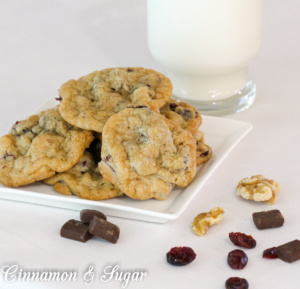 Pin to Pinterest: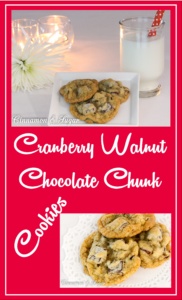 If you receive my blog post via email you will need to visit my website to view the video.
I was provided an advanced copy with the hopes I would review. All thoughts and opinions are my own.