The third book in the Deep Fried Mystery series by Linda Reilly, A FRYING SHAME finds Talia Marby entered in Steeltop Foods' first annual cook-off and bake-off contest with her Miniature Deep-Fried Apple Pies. As owner of Fry Me a Sliver eatery, the large cash prize would go a long way towards helping her business. When the contest winner is found murdered and Talia's new friend, and the runner-up in the contest, becomes the suspect, Talia finds she must become involved and find the killer. In addition to the murder mystery of who killed the contest winner, the author has many subplots that twist and turn, keeping the reader turning pages. I wasn't sure how some of the subplots connected to the overall story but in the end, Linda does an amazing job of weaving them together, creating a cohesive, exciting book.
The characters in this series are endearing. Talia is a good boss and a good friend, showing her caring nature in the way she treats both friends and employees. I love her employee, Martha, a crusty sort of woman, adds another dimension to the story. Talia is dating Ryan Collins, but he has a minor role in this story as he is out of town on business. But, could there be trouble with their relationship when he stops returning her phone calls and texts? Along with a number of viable suspects there were also non-suspects who had secrets or were hiding something which keeps the reader guessing and second guessing themselves trying to figure out the killer.
I was happy that Linda includes the recipe for Talia's Miniature Deep-Fried Apple Pies at the back of the book. The apple filling is so delicious I could literally eat it on its own and would be terrific served over ice cream! I found the pie dough a bit tricky to work with even after trying to make it twice. It cracked and crumbled when I filled the pies… but maybe I tried adding too many of the delicious apples. However, one of my young taste testers said that the pies were like eating cookies with apple pie filling. And then it dawned on me that once the pastry was deep-fried it reminded me of the texture of sable cookies! Of course you can take the easy route and use pre-made refrigerated pie crust, such as Pillsbury…which I did as well. Either way, these are a fun dessert to both make and serve!
Amazon Synopsis
The town of Wrensdale is abuzz with excitement when Steeltop Foods sponsors a cooking contest to promote its new product, the Flavor Dial. With a $25,000 prize at stake, all the contestants are on edge, including Talia Marby, owner of Fry Me A Sliver. She hopes her mini deep-fried apple pies will win her the money to pay off the renovations on her restaurant. But when Norma Ferguson wins with her flaky-top chicken stew, the tensions dial up even more.

After Norma is found dead at her cooking station, the police suspect a losing contestant got a little too hot under the collar. Now it's crunch time as Talia works to catch the killer and clear her name before another cook gets burned.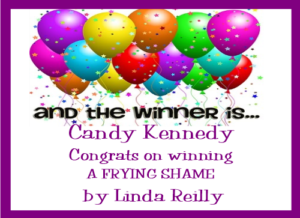 A huge thank you to Linda Reilly for providing a signed copy of A FRYING SHAME to one winner. Contest ends Saturday, April 29, 2017 at 11:59 pm PST and is limited to U.S. residents. Please use the Rafflecopter box located below the recipe to enter. Winner will be announced on this page and on Cinnamon & Sugar's Facebook page, as well as notified by email (so check your spam folder!)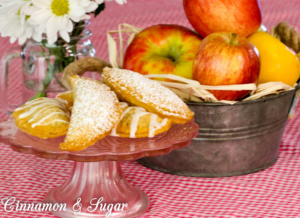 Talia's Miniature Deep-Fried Apple Pies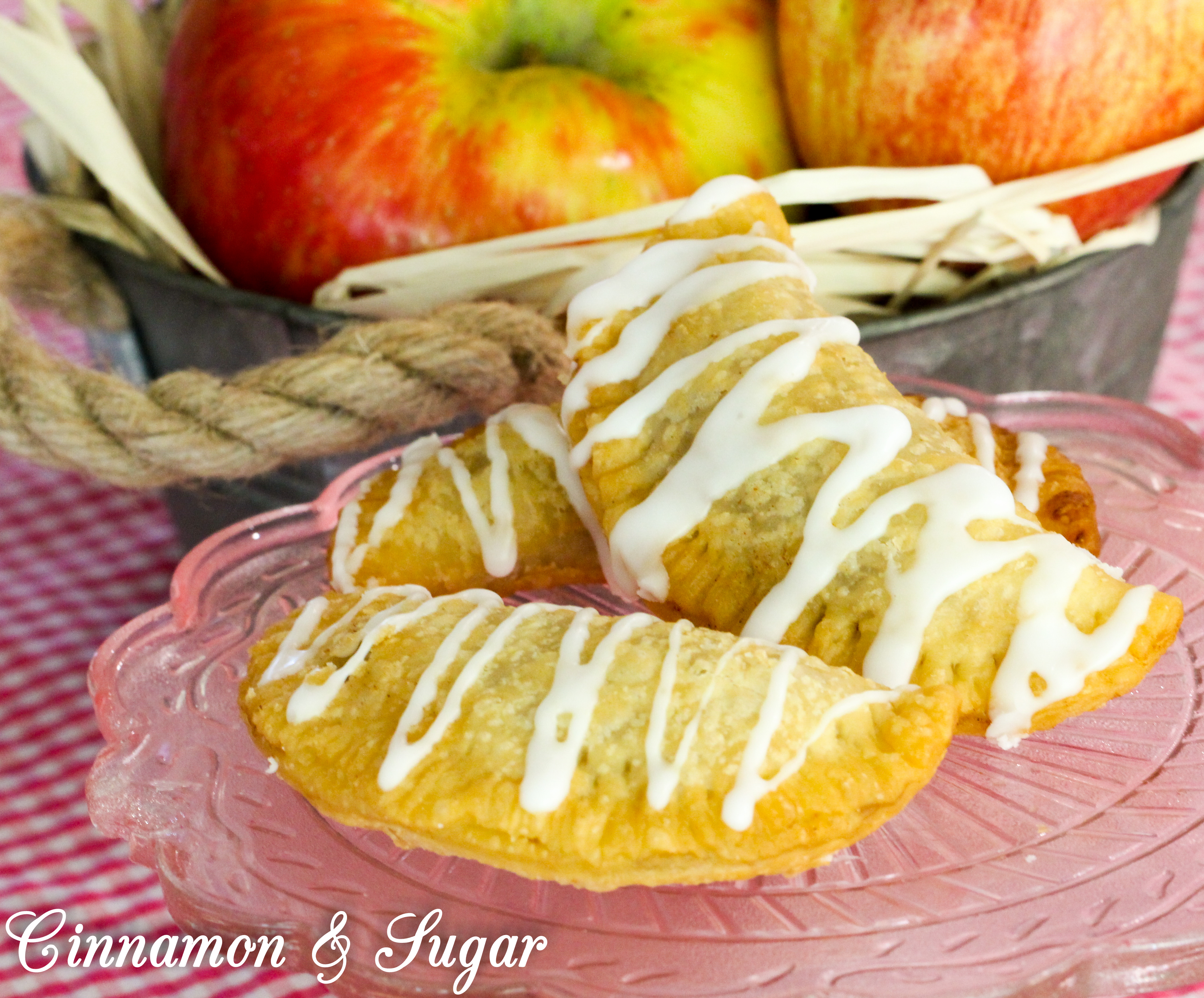 Ingredients
Dough (or use your favorite pre-made refrigerated pie crust)

2 cups flour, plus a little extra for coating
1/2 cup vegetable oil, plus additional oil for frying
1/4 cup milk

Filling

4 Cortland apples, peeled, cored, and sliced*
1 tablespoon butter
1/4 cup white sugar
1/4 cup brown sugar
1/2 teaspoon cinnamon
1/4 teaspoon nutmeg
1/8 teaspoon vanilla
Powdered sugar
Instructions
Prepare the filling:

In a large frying pan, combine the apples, butter, sugar, cinnamon, nutmeg, and vanilla.
Cook gently over medium heat until the apples are soft, about 15 minutes.
Remove from heat and cool.

Prepare the dough**:

Blend the flour, vegetable oil, and milk with a fork, then form into two separate balls.
Coat each dough ball with flour.
Roll out the first one onto a floured cutting board until it's 1/8-inch thick.
Cut out rounds that are 4 inches in diameter.
Repeat with the second dough ball.
Set aside the rounds.

Deep-frying:

Place a heaping tablespoon of the cooked apples in each dough round.
Moisten the edges of the dough with cold water and fold in half over the apple mixture.
Press the edges with a fork to crimp and seal.
Repeat with the remaining rounds.
Place pies on a tray or cookie sheet that's been lightly sprinkled with flour, then chill for 15 minutes while you heat oil.

Frying:

In a deep fryer or heavy-bottomed pan, heat vegetable oil to 350 degrees, using just enough oil to cover the pies. A candy/deep-fry thermometer will help gauge the oil temperature.
Lower the pies into the hot oil with a slotted spoon, frying only a few at a time.
Fry about 2 minutes on each side, or until both sides are golden.
Remove and drain on paper towels.
Sprinkle with powdered sugar and serve warm.

Tips

*If you can't find Cortland apples, substitute 2 Granny Smith and 2 Golden Delicious apples.
**If using pre-made refrigerated pie crust, unroll the dough and cut out 4-inch circles, then proceed with recipe.
If apples extrude a lot of moisture after softening, remove apples from the pan and cook the liquid down until syrupy, stirring constantly. Add the reduced liquid to the apples and proceed with recipe.
If you like, you can add an icing drizzle to the mini pies after frying. Mix 5 tablespoons powdered sugar with 1-1/2 teaspoons water. If too thick to easily drizzle, add a few drops of extra water at a time, stirring until combined and it reaches the right consistency.
https://cinnamonsugarandalittlebitofmurder.com/deep-fried-apple-pies/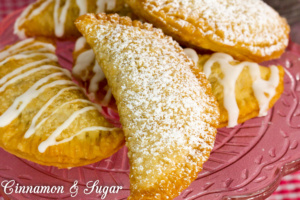 Pin to Pinterest: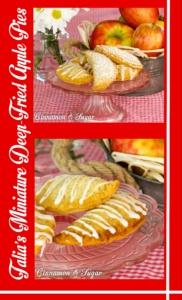 If you receive my blog post via email you will need to visit my website to view the video.
I was provided an advanced copy with the hopes I would review. All thoughts and opinions are my own.