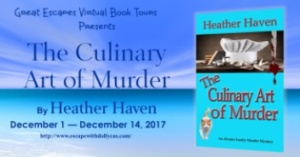 I am very happy to be joining the Great Escapes Virtual Book Tour presenting THE CULINARY ART OF MURDER! This sixth book in the Alvarez Family Murder Mystery series by Heather Haven, is a delightful addition. I've been a long-time fan of the Alvarez Family (since finding her first book on Bookbub a few years ago) and enjoy Ms. Haven's sense of humor as she spins her stories for us readers. I so adored that the author begins each chapter in this newest book with a culinary pun based on famous literary works. I wasn't familiar with some of the books but she provides a list at the beginning so that I could reference it to get the full effect of her puns. Lee (Liana) Alvarez, a professional investigator, is a strong protagonist with a take charge attitude. But that is somewhat tempered by her loving relationship with her new husband and sweet relationship with her Uncle Tío. It's refreshing to see the closeness her family has, despite her stern mother being the exact opposite. The repartee she has with her younger, techie, brother, gives the author a canvas for creating entertaining dialog. The family works well together at their detective agency and pull together to give their uncle support in clearing his friend's name.
I adored the setting for this mystery: the Palo Alto Culinary Arts Institute which, according to the author, is based on the real life Culinary Institute of America at Greystone in St. Helena, California. I would love to have the chance to visit this fabulous place in the wine country! The plot is well thought out with plenty of suspects that kept me guessing as I turned the pages. There were several twists that greatly surprised me and added to the suspense of the reveal. I found it interesting that the author created the reveal in the Hercule Poirot style, which took me back to some of my favorite books.
While there aren't any recipes included with the book, there are some wonderful dishes created by the chefs at the Culinary Institute. The visiting chef at the Institute, and Tío's love interest, is from Arkansas. She makes a Possum Pie which is famous in Arkansas (don't worry, no animals are involved!) and Tío puts his own twist to the pie. Heather told me that it's called possum pie because everything is 'hiding' or playing possum under the whipped cream. After checking Pinterest, I also found it's also called Sex in a Pan, Chocolate Layer Pie, and Four Layer Delight. Either way, it's amazingly delicious with it's pecan shortbread crust, a layer of sweetened cream cheese, topped by another layer of rich chocolate pudding and smothered in heavenly freshly whipped cream!
Amazon Synopsis
Lee's Uncle 'Tío' is smitten with a visiting chef at a Silicon Valley culinary arts institute. When the lady is arrested for two murders, a fellow chef and the dishwasher, Lee Alvarez, lead investigator for Discretionary Inquiries, Inc., the family owned detective agency, agrees to help find the real killer. But undercover work at the institute proves to be more difficult than whipping up a chocolate soufflé. The killer tries to get Lee out of the way and permanently. But just who is it? The lady chef? One of her two sons? Or one of the other inmates from a cooking school with secrets as plentiful as sauces? Can Lee find the real killer before her own goose is cooked? And if it turns out to be the ambitious southern belle chef, will Tío ever forgive Lee for sending his new lady love to jail?

Thank you to Heather Haven for providing an assorted giftbox for the giveaway! This giveaway is administered by Great Escapes Virtual Book Tours and you can use the Rafflecopter box located below the recipe to enter. Contest ends December 14, 2017 and is limited to U.S. residents only. Winner will be announced on this page and on Great Escapes Virtual Book Tours site, as well as notified by email (so check your spam folder!)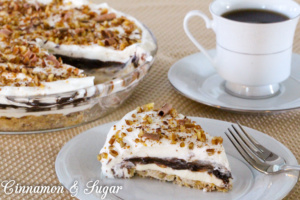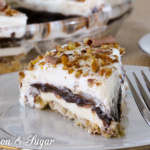 Tío's Possum Pie
Famous in Arkansas, Possum Pie earned it's name because everything is 'hiding' or playing possum under the whipped cream. In this rendition, Tío adds a bit of spice to reflect his heritage.
Ingredients
First Layer (crust)
1/2

cup

(1 stick) butter, melted

1

cup

flour

¾

cup

chopped pecans, toasted
Second Layer
8

ounces

cream cheese, room temperature

3/4

cup

powdered sugar

1

tablespoon

milk
Third Layer
1

cup

sugar

1/3

cup

of Dutch cocoa

3

tablespoons

flour

1/2

teaspoon

ground cinnamon, optional

1/8

teaspoon

ground chilis, optional

Salt, a pinch

3

tablespoon

corn starch

3

large egg yolks

2

cups

whole or 2% milk

1

teaspoons

vanilla (or 2 teaspoons of vanilla if you don't use Kahlúa below)

1

teaspoon

Kahlúa, a coffee flavored liquor from Mexico (optional)
Fourth Layer
1

cup

cold heavy cream

2

tablespoons

sugar

½

teaspoon

vanilla

1/3

cup

chopped pecans, toasted

Chocolate shavings, optional
Instructions
Place all pecans needed for recipe in a skillet on medium heat and sauté until they just begin to turn fragrant and brown, about 3 to 5 minutes (watch closely so they don't burn). Remove from heat and place on a plate to let cool.

Spray a 9-inch pie plate with non-stick cooking spray. Set aside.
For the first layer (crust):
Finely chop 3/4 cup of the toasted pecans for the crust. Combine melted butter, flour and pecans. Spread the dough evenly over the bottom of the pan, pressing down with your fingers. Bake at 350 degrees for about 20-25 minutes or until the dough just begins to brown. Remove from oven and let cool.


Forget the second layer for the moment and move on to the third layer.
For the third layer:
While the first layer (crust) bakes, in a medium saucepan, add the sugar, cocoa powder, flour, salt, cinnamon (optional), ground chilies (optional), and corn starch. In a small bowl, beat egg yolks until broken up, then milk. On medium heat, add milk mixture to dry ingredients, whisking constantly until pudding begins to boil and thicken, about 7-10 minutes. Remove from heat. Add vanilla. Add Kahlúa (optional), but remember to only put in 1 teaspoon of vanilla, not 2, if you're adding Kahlúa Let cool about 5 minutes. Pour pudding in a shallow bowl and place a piece of plastic wrap on the surface so a skin does not form. Place in refrigerator for at least 30 minutes.

For the second layer:
In a medium bowl, combine cream cheese, powdered sugar and milk. Beat with electric mixture for 2-3 minutes or combined.

For the fourth layer:
Place mixer bowl and whisk in freezer for at least 20 minutes to chill. Pour heavy whipping cream, sugar and vanilla into the cold bowl and whisk on high speed until medium to stiff peaks form, about 1 minute. Do not over beat.

To assemble pie:
Spread cream cheese mixture over the completely cooled crust base. Remove pudding from fridge. Carefully spread the completely cooled pudding over the cream cheese layer. Top with whipped cream, toasted pecans and chocolate shavings if desired. Refrigerate or serve, cut into small pieces.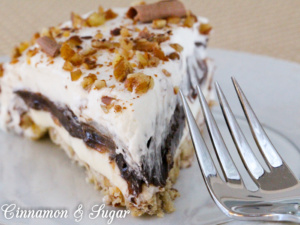 Pin to Pinterest: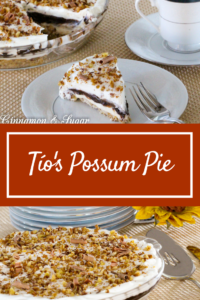 If you receive my blog post via email you will need to visit my website to view the video.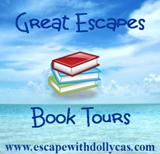 TOUR PARTICIPANTS
December 1 – Cozy Up With Kathy – INTERVIEW
December 1 – Books,Dreams,Life – SPOTLIGHT
December 2 – Cinnamon, Sugar and a Little Bit of Murder – REVIEW
December 3 – Babs Book Bistro – SPOTLIGHT
December 4 – Community Bookstop – REVIEW
December 5 – Sleuth Cafe – SPOTLIGHT
December 6 – StoreyBook Reviews – GUEST POST
December 7 – A Holland Reads – CHARACTER GUEST POST
December 8 – T's Stuff – INTERVIEW
December 9 – My Reading Journeys – CHARACTER GUEST POST
December 10 – 3 Partners in Shopping, Nana, Mommy, & Sissy, Too! – SPOTLIGHT
December 11 – Books a Plenty Book Reviews – REVIEW
December 12 – Escape With Dollycas Into A Good Book – INTERVIEW
December 13 – A Blue Million Books – CHARACTER INTERVIEW
December 14 – Dee-Scoveries – SPOTLIGHT
I was provided an advance copy with the hopes I would review. All thoughts and opinions are my own.