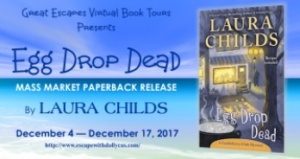 I am very excited to be a part of the Great Escapes Virtual Book tour for the new paperback release of EGG DROP DEAD by Laura Childs! While I've been a long time fan of Laura's Tea Shop Mystery series, I haven't read any books in her Cackleberry Club Mysteries until now…and I found that I've been missing out on another fantastic series! Even though EGG DROP DEAD is the seventh book in the series, I had an easy time jumping into the book and getting to know its delightful characters. The story starts off with a bang in the very first chapter, pulling you in to see if Suzanne can find the killer who brutally murdered a well-respected, elderly dairy farmer. As she asks questions around town, she finds out there could be numerous people who had a motive for killing the farmer, which kept me guessing with each turn of the page. Along the way she rescues horses, befriends an autistic teen, and serves up delicious food at the Cackleberry Club Cafe she owns with her best friends, Toni and Petra.
Another aspect of EGG DROP DEAD, that I greatly enjoyed, is the close relationship Suzanne has with her friends and fiancé, Dr. Sam Hazelet, who all realize that Suzanne has a "devilishly curious mind". There is plenty of sassy repartee to enliven the conversations that kept me entertained and chuckling at times. The author's descriptive and colorful use of language effortlessly draws you in, making you feel like you're experiencing what Suzanne is experiencing. Being a co-owner of a cafe also means there is lots of mouthwatering food being served and the author provides several recipes at the back of the book. Laura has graciously allowed me to share her recipe for Suzanne's Cherry Cake Bars with you. These amazing treats are part cake, part cookie and super easy to make starting with a boxed cake mix. The colorful and flavorful cherry pie filling will bring holiday cheer to your dessert table this Christmas season!
Amazon Synopsis
In Laura Childs's New York Times bestselling mystery series, Suzanne, Petra, and Toni—co-owners of the Cackleberry Club café—are back to track down another bad egg…

Maintaining good personal relationships with their suppliers is one of the secrets of the Cackleberry Club café's success, so Suzanne doesn't mind going out to Mike Mullen's dairy farm to pick up some wheels of cheese. She's looking forward to a nice visit with the mild-mannered farmer before heading back to their hectic kitchen.

But when she arrives, Mike's nowhere to be found. The moaning of his cows leads her to look in the barn, where she discovers a bloodcurdling sight—the farmer's dead body. Apparently not everyone was as fond of Mike Mullen as the Cackleberry Club.

Churning with grief and outrage, Suzanne, Petra, and Toni vow to find the farmer's murderer—but as they get closer to the truth, the desperate killer gets whipped into a frenzy and plans to put the squeeze on them…

A special thank you to Laura Childs for providing 2 paperback copies of EGG DROP DEAD for the giveaway! This giveaway is administered by Great Escapes Virtual Book Tours and you can use the Rafflecopter box located below the recipe to enter. Contest ends December 17, 2017 and is limited to U.S. residents only. Winner will be announced on this page and on Great Escapes Virtual Book Tours site, as well as notified by email (so check your spam folder!)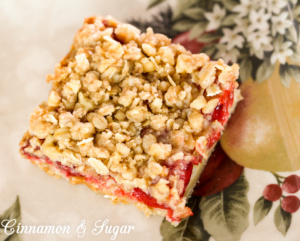 Suzanne's Cherry Cake Bars
Ingredients
1

package white cake mix

8

tablespoons

butter, softened (divided)

1-1/4

cup

rolled oats, divided

1

egg

1

21-ounce can cherry pie filling

1/2

cup

walnuts

1/4

cup

brown sugar, firmly packed
Instructions
Heat oven to 350 degrees (F).

In a large bowl, combine cake mix, 6 tablespoons butter, and 1 cup oats. Mix until crumbly.

Reserve 1 cup of this dry mixture for topping.


To remaining dry mixture add 1 egg and mix well until blended.


Press mixture into greased 9" x 13" inch pan to form bottom crust.


Pour cherry pie filling over this crust.


With reserved dry mixture, add remaining 1/4 cup oats, 2 tablespoons butter, nuts, and brown sugar. Beat until thoroughly mixed.


Sprinkle carefully over cherry mixture.


Bake for 30 to 40 minutes or until golden brown.


May be served with whipped cream or ice cream.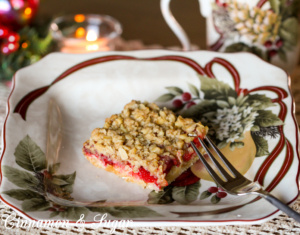 Pin to Pinterest: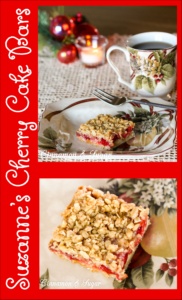 If you receive my blog post via email you will need to visit my website to view the video.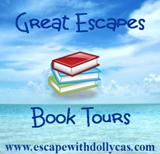 TOUR PARTICIPANTS
December 4 – Cinnamon, Sugar and a Little Bit of Murder – REVIEW REPRISE
December 5 – Books,Dreams,Life – SPOTLIGHT
December 6 – A Holland Reads – GUEST POST
December 7 – My Journey Back – REVIEW, INTERVIEW
December 8 – Celticlady's Reviews – SPOTLIGHT
December 9 – Books a Plenty Book Reviews – SPOTLIGHT
December 9 – Escape With Dollycas Into A Good Book – REVIEW REPRISE
December 10 – Mythical Books – INTERVIEW
December 11 – Deal Sharing Aunt – REVIEW
December 12 – Community Bookstop – INTERVIEW
December 13 – Babs Book Bistro – SPOTLIGHT
December 14 – Maureen's Musings – SPOTLIGHT
December 15 – Brooke Blogs – GUEST POST
December 16 – Laura's Interests – REVIEW REPRISE, GUEST POST
December 16 – Mystery Thrillers and Romantic Suspense Reviews – SPOTLIGHT
December 17 – 3 Partners in Shipping, Nana, Mommy, &, Sissy, Too! – REVIEW REPRISE
I received a copy in exchange for my honest review. All thoughts and opinions are my own.