BARKING WITH THE STARS, the ninth book in the Pampered Pets Mystery series by the talented writing duo Sparkle Abbey, is a delightful romp filled with pups, pomp, and the famous popstar, Purple. Thrown in to keep pet therapist, Caro (Caroline) Lamont, on her toes is her pugnacious ex. I so enjoy the setting of Laguna Beach, California, which is right down the road from where I live. The authors capture the sights, sounds, and smells of this lovely beach town making the reader feel like they've been on vacation. The characters are well developed and Caro is an admirable protagonist. She has deep respect and regard for her canine clients and I enjoyed the bits and pieces of the pet psychology that is shared throughout the book. Her cousin's senior employee, Betty Foxx, is a hoot and I'm glad she made a few appearances.
I loved that Sparkle Abbey chose to highlight a tragic issue facing our country's veterans and the high rate of suicide that plagues these heroic people. They weave this issue into the plot of the story with Caro's involvement in a very worthy charity event to benefit Warriors for the Paws. The purpose of the group is to train and place dogs (often rescue dogs) with wounded warriors. A win-win for both human and pet! Even though BARKING WITH THE STARS is a lighthearted murder mystery, the authors treat this very serious issue with dignity and sensitivity.
The mystery surrounding the murder of the popstar, Purple, has some unique twists that threw my deducing for a loop. When a second murder takes place, I'll admit I wasn't sure who the killer could be since there are several suspects that seemed reasonable. The subplots are nicely woven into the main plot, without detracting, yet add depth to this very enjoyable read.
Caro created Apple Pupcakes for her own furry friends and to share with her canine clients. Sparkle Abbey has graciously allowed me to share the recipe and I can attest that my grandpuppy, Piper, adored these fun treats and begged for more! With a dollop of plain yogurt or pureed cottage cheese, these are the perfect goodie to share for special occasions like holidays or birthdays. However, Piper would argue that these are enjoyable any time of the day and why wait for a special occasion to partake?!?! I baked my Apple Pupcakes in a mini-muffin tin since Piper and most of her friends are all small dogs. Larger dogs will be happy to have full-sized cupcake Pupcakes. Either way, your pup will thank you!
Amazon Synopsis
Caro's ex-husband Geoffrey is spreading rumors about her competence and snuggling up to the biggest stars, including Purple – the temperamental diva, who's the lynchpin of the celebrity line-up. All too soon, Caro is losing clients, her reputation, and patience with Geoffrey's shenanigans.
More trouble is unleashed when the high-strung headliner is found dead and Geoffrey was seen leaving her hotel room. With a potential killer on the loose, Caro is hounded by questions about who had reason to want Purple out of the picture. Though all the evidence points to her ex, Caro believes the police are on the wrong trail.
Even if her sleuthing puts her in the doghouse with Detective Judd Malone, Caro must dig up the truth before the real killer gets away with murder.
A special thanks to Sparkle Abbey for providing a winner their choice of either a print or an e-book copy of BARKING WITH THE STARS! Contest ends Sunday, December 10, 2017 at 11:59 pm PST and print is limited to U.S. residents only. Please use the Rafflecopter box located below the recipe to enter. The winner will be announced on this page and on Cinnamon & Sugar's Facebook page, as well as notified by email (so check your spam folder!)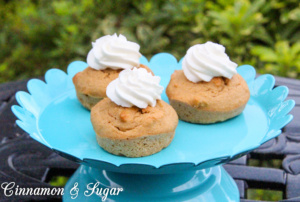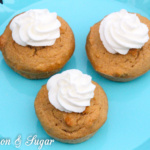 Caro's Apple Pupcakes
Ingredients
2-3/4

cups

water

1/4

cup

applesauce (unsweetened)

2

teaspoons

honey

1/2

scant teaspoon

vanilla extract

1

medium egg

4

cups

whole wheat flour

1

cup

dried apple chips (unsweetened)

1

tablespoon

baking powder
Instructions
Preheat oven to 350 degrees (F).

Mix water, applesauce, honey, egg, and vanilla together in a bowl.

Add remaining ingredients and mix until well blended.

Pour into lightly greased muffin pans.

Bake 75 minutes for standard-sized muffin and 40 minutes for mini-sized muffins.

Let cool before frosting. For frosting you can use plain yogurt or cottage cheese that has been run through the blender until creamy.
Please note:
I always clear my clients for allergies before giving any of my homemade treats. And then I make a notation of any allergies on their charts.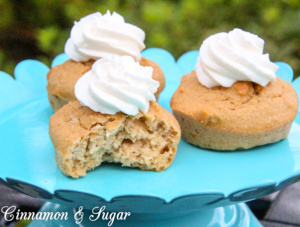 Pin to Pinterest: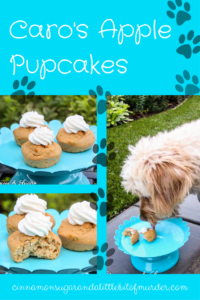 If you receive my blog post via email you will need to visit my website to view the video.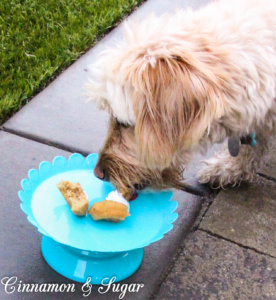 I was provided an advance copy with the hopes I would review. All thoughts and opinions are my own.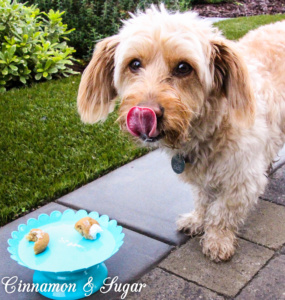 Sparkle Abbey is the pseudonym of two mystery authors (Mary Lee Woods and Anita Carter). They are friends and neighbors as well as co-writers of the Pampered Pets Mystery Series. The pen name was created by combining the names of their rescue pets-Sparkle (Mary Lee's cat) and Abbey (Anita's dog). They reside in central Iowa, but if they could write anywhere, you would find them on the beach with their laptops and, depending on the time of day, with either an iced tea or a margarita. Visit them at sparkleabbey.com