I'm delighted to have Kate Carlisle as a guest blogger today, talking about her new book, EAVES OF DESTRUCTION, the fifth book in her Fixer-Upper Mysteries series! She's also sharing the inside scoop about the series being turned into made for TV movies along with a yummy recipe for Cranberry-Nut Pancakes. These hearty, satisfying pancakes are perfect for upcoming holiday breakfasts… or as my granddaughter let me know, perfect for an after-school snack.
Welcome, Kate, and congratulations on your new release!
Can a TV Movie Change a Book?
by Kate Carlisle
When I wrote the first four books in the Fixer-Upper Mysteries series, I had no idea that they would be turned into movies by Hallmark Movies & Mysteries. But by the time I had begun plotting book 5, Eaves of Destruction, the book that came out this week, the first movie was in production. I hadn't seen it yet—I was working on the plot around October of 2016, and the first movie didn't air until January 2017—but I knew that it was being filmed, and I knew that Hallmark planned to make more.
Oh, how that messed with my head!
It's a good thing, right? Of course! It's a dream come true to have my books turned into movies. And the movies are top-notch. I'm exceedingly proud to be associated with them. Jewel, best known as a singer/songwriter, is wonderful in the role of home contractor Shannon Hammer. She's the perfect combination of feminine strength and smarts. Colin Ferguson as Mac, Shannon's thriller-writing love interest, is crush-worthy. . . not to mention, a sweetheart in real life. His sense of humor shines through in this role.
But seriously, when it came to plotting Eaves of Destruction, the movies did a number on my head, a scary place to be at the best of times.
I kept second-guessing myself. Should this scene take place indoors because interior shots are easier to film? Would this idea be too expensive for the moviemakers' budget? Where would the camera and lights go if I put Shannon in a precarious position on the roof of a house?
Finally, I realized there was only one way forward—go back. Go back to doing what I'd done with the first four books: plot the best story I possibly could, without regard to the movies.
I tried not to worry about budget or camera angles or costume changes. I just did my best to craft a mystery that will keep my readers entertained—and guessing—from the first word to the last. (I confess, though, that it is a challenge to picture Shannon Hammer as a redhead now that I've seen Jewel in the role.) In EAVES OF DESTRUCTION, I did, in fact, put Shannon in a precarious position on the roof.
Murder is on the to-do list when construction contractor Shannon Hammer looks for a killer in the fifth Fixer-Upper Mystery….
At the annual Victorian Home and Garden Tour, Lighthouse Cove, California's premier contractor, Shannon Hammer, realizes that the competition is about to turn deadly….
Shannon is in high demand among rival homeowners, who will do anything to win Best in Show. One-upmanship and even espionage break out among neighbors, construction crews, decorators, and landscapers. Thanks to several new hires, Shannon is sure she can handle the extra load—until murder throws a wrench in the works.
The small town's corrupt building inspector is found dead on one of Shannon's jobsites, and soon plenty of suspects are coming out of the woodwork. When another body is discovered, Shannon calls on her team of close friends and devilishly astute thriller writer Mac to help her nail down the details and build a case against the killer before the door shuts on someone else—for good.
Don't miss Framed For Murder, a Hallmark Movies & Mystery Original starring Jewel, based on the Fixer-Upper Mystery series!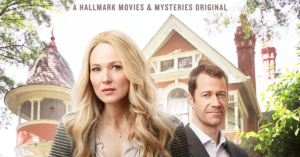 Kate Carlisle is the New York Times bestselling author of the Fixer-Upper Mysteries, featuring Shannon Hammer, a home contractor who discovers not only skeletons in her neighbors' closets, but murder victims, too. Eaves of Destruction, Fixer-Upper Mystery 5, is available now. Hallmark Movies & Mysteries is bringing the Fixer-Upper Mysteries to TV in a series of movies starring Jewel and Colin Ferguson. Visit Kate online at www.KateCarlisle.com.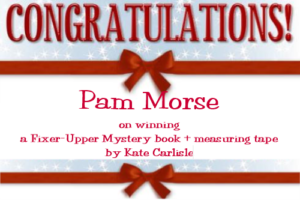 A very special thanks to Kate Carlisle for providing a winner their choice of one copy from the first four books in the Fixer-Upper Mystery series! (Choose one from: A HIGH-END FINISH; THIS OLD HOMICIDE; CROWNED AND MOULDERING; DECK THE HALLWAYS.) Kate is also offering the winner a handy-dandy Fixer-Upper Measuring Tape too! Contest ends Saturday, December 2, 2017 at 11:59 pm PST and is limited to U.S. residents only. Please use the Rafflecopter box located below the recipe to enter. The winner will be announced on this page and on Cinnamon & Sugar's Facebook page, as well as notified by email (so check your spam folder!)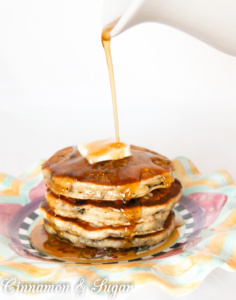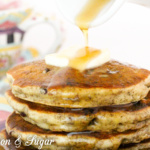 Cranberry-Nut Pancakes
In EAVES OF DESTRUCTION, most of the action takes place in two beautiful Victorian homes on Cranberry Circle in Lighthouse Cove. So, in honor of the fact that some real nuts live on Cranberry Circle, Kate Carlisle presents her recipe for Cranberry-Nut Pancakes!
Ingredients
1

cup

milk

1

tablespoon

lemon juice

2

tablespoons

vegetable oil

1

large

egg

1

cup

dried cranberries

1/2

cup

pecans or walnuts

1

cup

all-purpose flour

1

tablespoon

sugar

1

teaspoon

baking powder

1/2

teaspoon

baking soda

1/4

teaspoon

salt
Instructions
Combine the milk and lemon juice in a glass measuring cup. Set aside for 15 minutes.

Whisk the egg and vegetable oil into the milk mixture.

Put the cranberries and nuts into a food processor and pulse until chopped. Set aside.

Sift together the flour, sugar, baking powder, baking soda, and salt into a medium-sized bowl.

Make a well in the center of the flour and add the milk mixture. Stir just until moistened.

Fold in the cranberries and nuts.

Heat a griddle to 375 degrees. Grease with butter if necessary.

Pour a scant 1/4 cup of batter on the griddle for each pancake.

Cook until it's dry around the edges and bubbles form on top, then flip it over.

When both sides are golden brown, place it in the oven on warm until the rest are done.

Serve with pure maple syrup and fresh cream butter.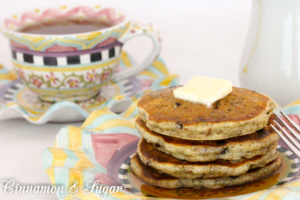 Pin to Pinterest: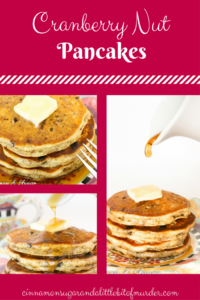 If you receive my blog post via email you will need to visit my website to view the video.
My Review
EAVES OF DESTRUCTION by Kate Carlisle is the fifth book in the Fixer-Upper Mystery series, but I'm embarrassed to say, the first one I've read. Now mind you, I have the first three books in the series sitting in my to-read stack and while I had good intentions of getting caught up this past summer, life got in the way. When Kate mentioned that she had developed a recipe to go with the book, I jumped at the chance to share it and read EAVES OF DESTRUCTION for my blog post. Based on her Bibliophile series (one of my favs!) I was sure that this new release would be easy to read as a stand-alone, and I was correct. I also knew that I would be entertained along with being motivated to get caught up on the other books in the series.
Even though the Fixer-Upper Mysteries have been and are currently being made into movies for the Hallmark Mystery Channel, Kate provides vivid descriptions of both the setting and each scene which brings the reader fully into the story. I loved being allowed to "see" snippets of the protagonist, Shannon Hammer's childhood while she trailed her father around construction sites outfitted in a pink hardhat and a pink tool belt. Now that Shannon is running her father's company, Hammer Construction, and is a skilled carpenter herself, the author carefully provides enough details to make her projects fully realistic without detracting from the plot. I think it's wonderful that a strong female protagonist is shown thriving in an industry that is dominated by men. It's obvious that much research has gone in to the development of Shannon's livelihood. The supporting characters are well-fleshed out and I loved the repartee between Shannon and her boyfriend, Mac. They make an adorable couple and are good at bouncing ideas off each other to solve the murder together.
The mystery surrounding the murder of the detestable building inspector, who has made it his life's mission to make Shannon miserable, is well constructed. The clues are judiciously plotted to keep the reader guessing. I thought I had a firm handle on what direction the story was headed only to be diverted somewhere else with a new suspect, a new clue, and a bombshell that totally caught me off-guard! And then the surprising reveal had me promising myself that I am going to start with the first book and catch up soon!
I was provided an advance copy with the hopes I would review. All thoughts and opinions are my own.