ANOTHER ONE BITES THE CRUST by H. Y. Hanna is the highly anticipated seventh book in her Oxford Tearoom Mystery series and it lived up to my expectations! This delightful cozy series features protagonist Gemma Rose, the owner of Little Stables Tearoom in Meadowford-On-Smythe along with her adorable cat, Muesli. Gemma is preparing for the grand summer ball of Oxford's colleges. The author provides such inviting descriptions of the quaint and charming area, painting a vivid picture of each scene. Attending the ball and providing a special presentation is celebrity chef, Josh McDermott. While the general female viewing population adores him, Gemma finds he has a dark side when his manager accuses her of stealing the chef's Egg Custard Tart recipe. But when Gemma stumbles across Josh who had been murdered at the ball, she's pulled into the investigation. The plot is well-written with a good pace while the sub-plots are judiciously woven in, never detracting from the murder mystery. One of the sub-plots revolves around Gemma finally meeting Detective Inspector Devlin O'Connor's (her boyfriend) mother. His mother is nothing like Gemma's strict, straight-laced mother, and Ms. Hanna uses their interaction for added humor to the story.
Gemma's friends, the four Old Biddies, decide they need to jump into the investigation as well, and it's all Gemma can do to keep them out of trouble. This creates more humorous scenes that add to the appeal of this book. The four older ladies are quite the characters and in addition to their sleuthing take it upon themselves to provide an influx of crocheted doilies for Gemma's tearoom, along with a pair of crocheted lace doily earrings for her to wear. I can imagine the look of disbelief on Gemma's face when presented with the gifts. Yet, Gemma has a kind heart and would never say anything to hurt their feelings. Her compassionate personality also shows up when Muesli is cat-napped and Gemma comes up with a heartwarming solution. I also admire the author for bringing to the forefront the issue of ­­­­feral cats and some of the ways to humanely control their population and provide care for them.
Gemma's baker provides many lovely tea time treats for the tearoom and creates the classic English Egg Custard Tart recipe that is central to the plot. I was honored when the author invited me to create a recipe for English Egg Custard Tarts to use in her book! I tried to create something that remains true to the British version, using lots of butter and cream. I also wanted to make mini tarts since they are easier to serve… people can just help themselves! My mini muffin tin worked beautifully so you don't need to go out and buy mini tart pans (I already had some so used those as well). I found that even though the flavors are quite simple, the rich delicacy makes this a decadent and satisfying dessert that will please discerning palates!
Amazon Synopsis
Champagne and ball gowns, fairy lights and music… Oxford summer balls are one of the highlights of the calendar and tearoom sleuth Gemma Rose is looking forward to taking a break and slipping into something gorgeous for the evening. But when the night ends with a celebrity chef murdered by his own whisk, Gemma finds herself plunged into a new mystery—and the nosy Old Biddies keen to help with the investigation!
But trouble is also brewing at her quaint Cotswolds tearoom: between fighting claims that she's serving "fake" custard tarts and stopping her little tabby, Muesli, from being catnapped, Gemma has her hands full—and that's before she has to fend off an amorous Italian. To top it all, her boyfriend Devlin's mother is coming to visit and Gemma is anxious to make a good impression… although Mrs O'Connor isn't quite what she expected!
With so much going on, it's a recipe for disaster—but with a bit of help from her mother, Gemma might just solve the case… and live to bake another day.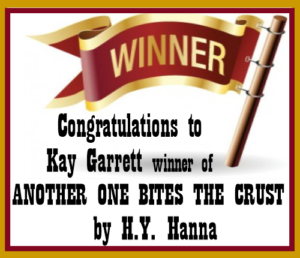 A very special thanks to H.Y. Hanna for providing one lucky winner their choice of either print or an e-book copy of ANOTHER ONE BITES THE CRUST! Contest ends Tuesday, November 28, 2017 at 11:59 pm PST. Please use the Rafflecopter box located below the recipe to enter. The winner will be announced on this page and on Cinnamon & Sugar's Facebook page, as well as notified by email (so check your spam folder!)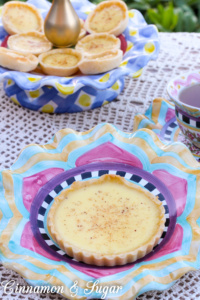 English Egg Custard Tarts
Ingredients
Pastry
225

g

(8 ounces) (2 scant cups) all-purpose flour

85

g

(3 ounces) (1/3 cup + 1 tablespoon) caster (granulated) sugar

Pinch

of salt

Pinch

of freshly grated nutmeg

150

g

(5.3 ounces) (2/3 cup) cold butter, cut into small pieces

1

whole

egg + 1 egg yolk, beaten together

1

egg yolk, for brushing on pastry during baking
Custard
375

g

(13.25 ounces) (1-2/3 cups) heavy cream

90

g

(3.2 ounces) (1/3 cup) whole milk

2

whole eggs + 2 egg yolks

85

g

(3 ounces) (1/3 cup + 1 tablespoon) caster (granulated) sugar

2

teaspoons

vanilla extract

Freshly grated nutmeg
Instructions
Pastry
Don't preheat the oven since dough needs to chill before baking.

Place the flour, sugar, salt and nutmeg in the bowl of a food processor and pulse to combine. Alternately you can whisk the ingredients together in a mixing bowl.

Add the cold butter to the flour mixture and either pulse in the food processor or cut in with a fork or pastry cutter until it resembles bread crumbs.

Add 3/4 of the beaten egg and egg yolk to the flour mixture and pulse (or mix by hand) just until dough comes together. If mixture is too dry, add remaining egg.

Turn out onto a lightly floured surface and gather into a disk. Wrap in plastic wrap and refrigerate for 1 hour.

Roll the dough out and cut into circles large enough to fit your tartlet pan or mini muffin pan. You can do a combination of sizes. Press the dough circles into the pans.

Place pieces of foil over each pastry shell then refrigerate for 30 minutes.

Preheat oven to 180 C / 350 F degrees.

Remove the pastry shells from the refrigerator and place either baking beans or rice on top of the foil, filling almost to the top. This will prevent the dough from slumping during baking.

Bake for 15 minutes then remove the foil along with the rice or beans.

Return the pastry shells to the oven and bake an additional 5 minutes.

Remove from the oven and brush each pastry shell with the beaten egg yolk.

Return to the oven and bake an additional 5 minutes.

Remove pastry shells from the oven and reduce the oven temperature to 120 C / 250 F degrees.
Custard
Place the cream and milk in a medium sauce pan over medium-low heat. Stirring very frequently, heat just until small bubbles form around the edges of the pan.

Whisk the eggs, egg yolks, sugar and vanilla together.

Once the cream is hot, very, very slowly add to the egg and sugar mixture, whisking constantly. Don't be tempted to add all at once or you'll end up with scrambled eggs.

Fill the pre-baked pastry shells with the custard, making sure to fill them evenly so that they cook in the same amount of time. Grate fresh nutmeg over the tops of the custard.

Bake 18 - 30 minutes, depending on size of the tarts.* The custard should be mostly set but the middle should have a faint jiggle.

Remove from the oven and cool to room temperature before serving.
Tips
*The tartlets I baked using a mini muffin tin took 18 minutes. The small tart pans took 20 - 25 minutes. Keep a close watch and check for doneness often.

You can use a large tart pan and bake for 35 - 45 minutes.

You may substitute your favorite pre-made refrigerated pie pastry dough (such as Pillsbury) instead of making the pastry from scratch. Just be sure to pre-bake it and brush with egg yolk so that the crust doesn't get soggy from the custard.

If you have any leftover custard filling, pour into small ramekins. Place the ramekins into a shallow baking dish and place in the oven. Carefully fill the shallow dish with hot water halfway up the ramekins. Bake at 163C/325F degrees for 25 – 35 minutes, just until set and the middle still jiggles a bit. Remove ramekins from the hot water, chill thoroughly and enjoy!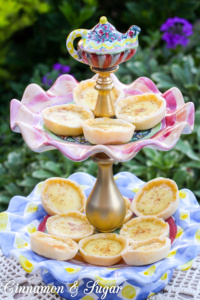 Pin to Pinterest: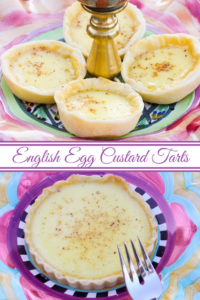 If you receive my blog post via email you will need to visit my website to view the video.