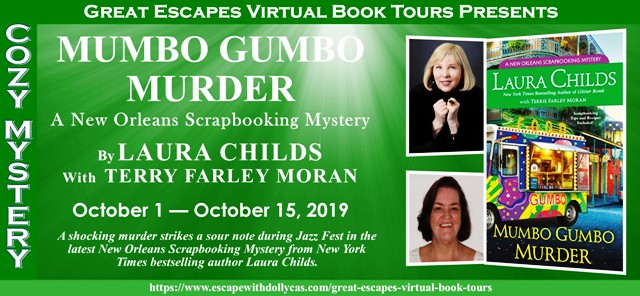 I'm delighted to be participating in the Great Escapes Book Tour introducing MUMBO GUMBO MURDER! This sixteenth book in the popular Scrapbooking Mystery series by Laura Childs and Terrie Farley Moran is a fun romp through the streets of New Orleans during Jazz Fest. The author duo brings the French Quarter to life and the reader is treated to the sights, sounds, and tastes of this vibrant city. And oh the tastes… New Orleans is a foodie-lovers' paradise and the protagonist, Carmela Bertrand, and her sidekick, Ava, eat and drink their way through the festival making me wish I could be there with them. I also enjoyed the parade scenes with the Beastmaster Puppets. The tidbits of information the authors provide on how the puppeteers manipulate them, especially the jumbo-sized puppets, was quite interesting. The reader is also treated to the creepy side of New Orleans through the vampire society and the voodoo shops. Ava, owner of one of the voodoo shops, adds zing to the antics she gets into with scrapbook shop owner Carmela. As a team their capers spice up the pages of this entertaining read and while it's a mystery with murder, they often reminded me of a younger Lucy and Ethel.
While the settings, tastes, and zany antics contribute lighthearted fun, the authors still deliver a solid mystery for Carmela and Ava to solve. The action starts with a literal bang from the very beginning and continues with page-turning intrigue. Even though Carmela is engaged to Detective Edgar Babcock, who begs her not to get involved, she still manages to insert herself into the thick of the investigation. This time it's her antiques dealing friend who is murdered and after rescuing the dead man's adorable pug, she can't help but want to find out who ended his life. Could his death be related to the rumors swirling around that he owned a piece of President Lincoln's coat, worn on the night of his assassination? Or was there something of value hidden away in his shop that was worth killing for? As Carmela asks questions and listens to gossip, while eating her way through town, the suspect lists grows. With an action-packed conclusion, Ms. Childs and Ms. Moran provide a satisfactory end to a highly entertaining read.
Like I mentioned before, New Orleans is a food-lovers' paradise. Fortunate for the reader, the authors include several recipes at the back of the book along with scrapbooking tips and craft ideas. One of the yummy recipes is a cookie recipe title Pecan Jazz Tarts. While I'm not clear why it's called a tart, I can say that these cookies are scrumptious! Loads of buttery pecans are mixed with a shortbread-style cookie dough, rolled into an oblong shape, and after baking, rolled in sweet powdered sugar. These crunchy cookies are sturdy enough to transport making them ideal for gift giving.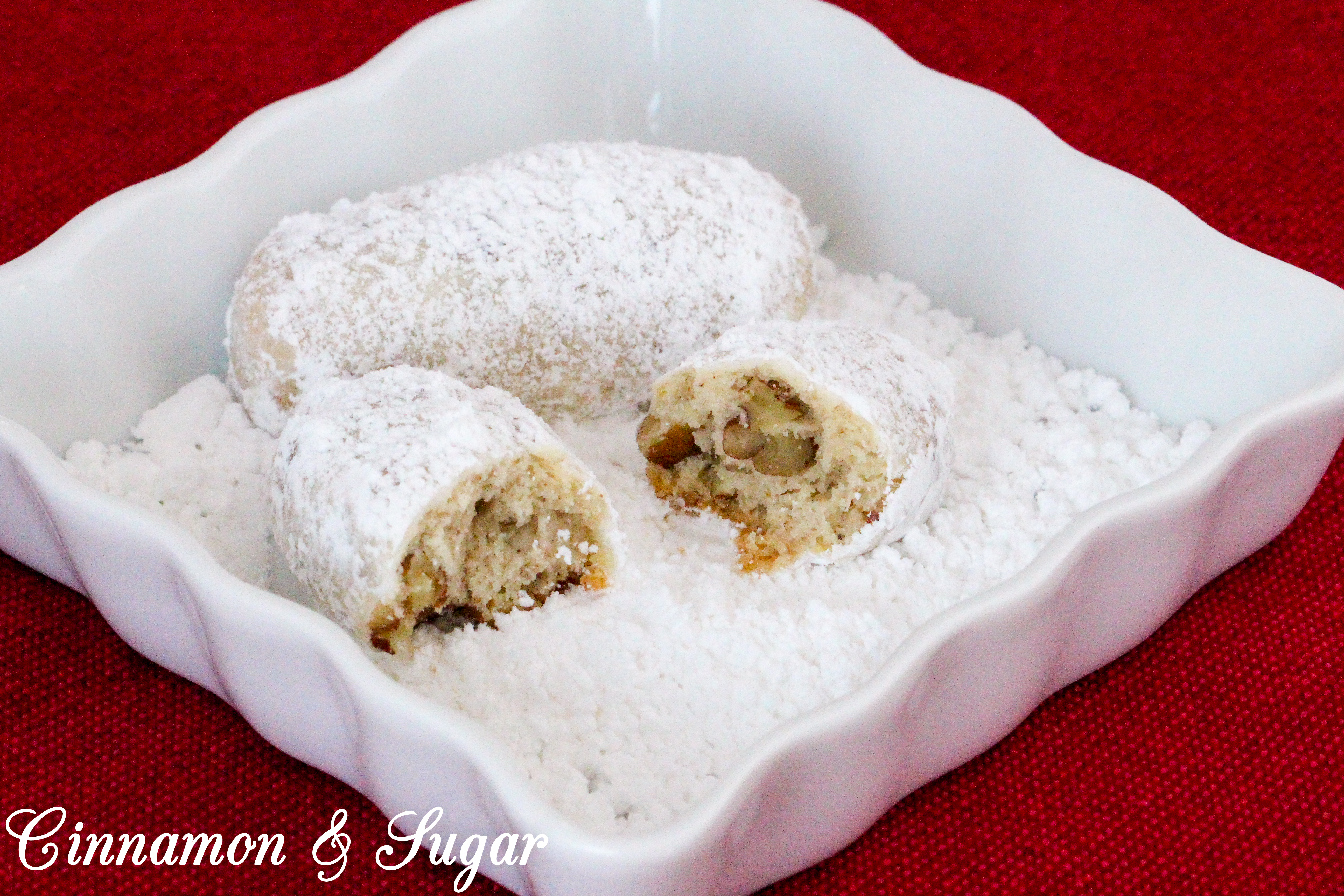 Amazon Synopsis
It's Jazz Fest in New Orleans, and the giant puppets from the Beastmaster Puppet Theatre are parading through the French Quarter. Some are very spooky and veiled, others are tall and gangly, like strange aliens.
As the parade proceeds, Carmela Bertrand and her best friend, Ava, follow behind, down Royal Street and past the food booths. Suddenly, they hear a terrible crash from Devon Dowling's antiques shop. They rush inside to find Devon collapsed with blood streaming down the side of his face. Has he been shot? Stabbed? 911 is hastily called, and the police and EMTs show up. After the police examine Devon's body, they tell Carmela and Ava that their friend was murdered with an icepick. They're shocked beyond belief—and now Mimi, Devon's little pug, is left homeless.
Carmela and Ava are determined to catch the murderer, but the list of suspects is long. How long do they have before they find themselves on the killer's list?

A special thanks to Laura Childs and Terrie Farley Moran for providing two giveaway copies of MUMBO GUMBO MURDER. Contest ends October 15, 2019 at 11:59 pm PST and limited to U.S. Please use the Rafflecopter box located below the recipe to enter. The contest is administered by Great Escapes Virtual Book Tours and the winner will be announced on this page as well as notified by email (so check your spam folder!)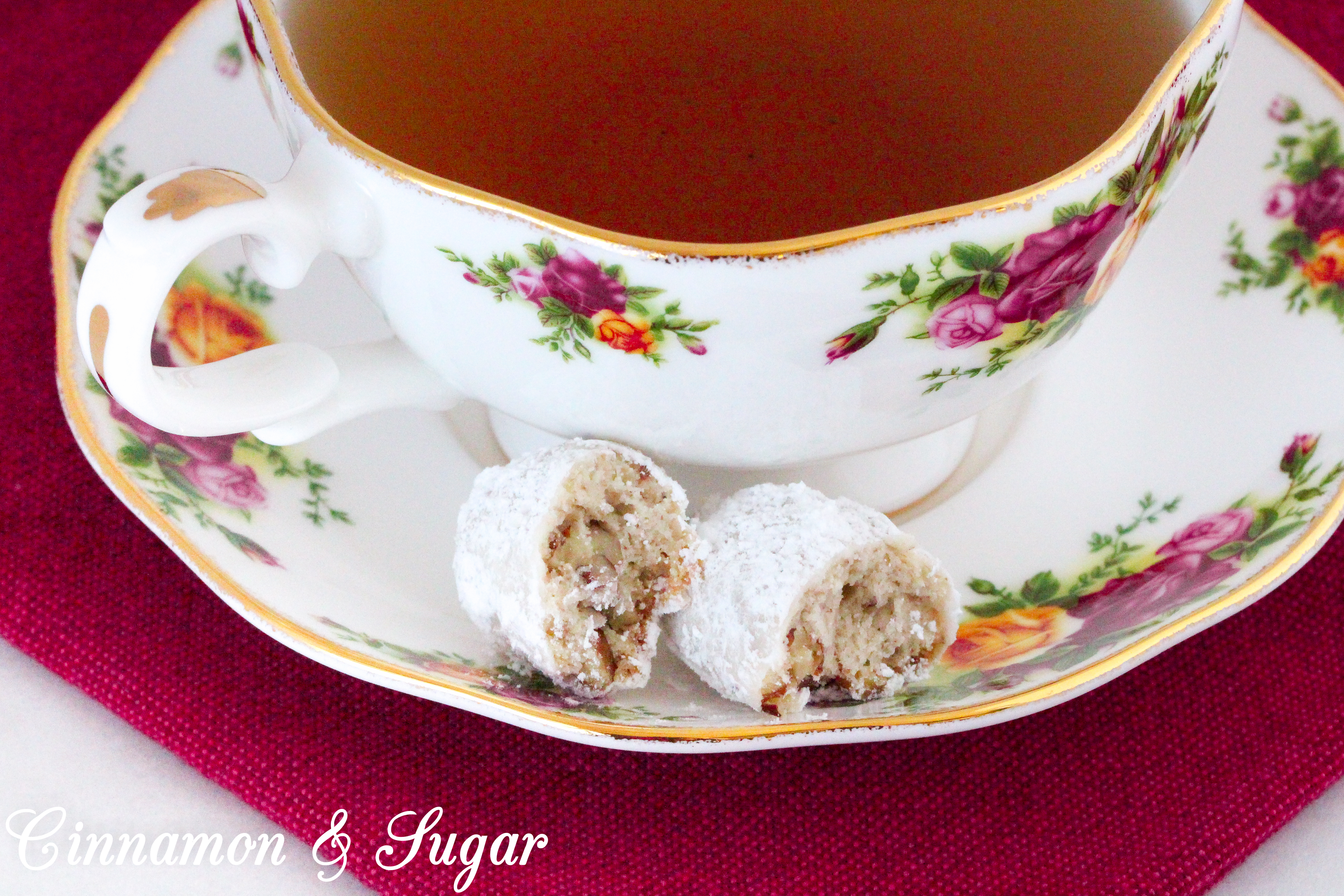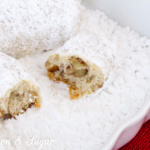 Pecan Jazz Tarts
Ingredients
1

cup

(2 sticks) butter, softened

5

tablespoons

powdered sugar

2

cups

flour

1

teaspoon

vanilla

1-1/2

cups

chopped pecans

Additional powdered sugar to roll cookies in
Instructions
Preheat oven to 350 degrees (F).

Mix together butter, powdered sugar, flour, vanilla, and chopped pecans.

Roll out in small oblong balls and place on lightly greased (or parchment paper-lined) cookie sheet.

Bake for 20 minutes until golden brown.

Roll still-warm tarts in additional powdered sugar.
Notes
Yields 15 to 20 cookies
Pin to Pinterest: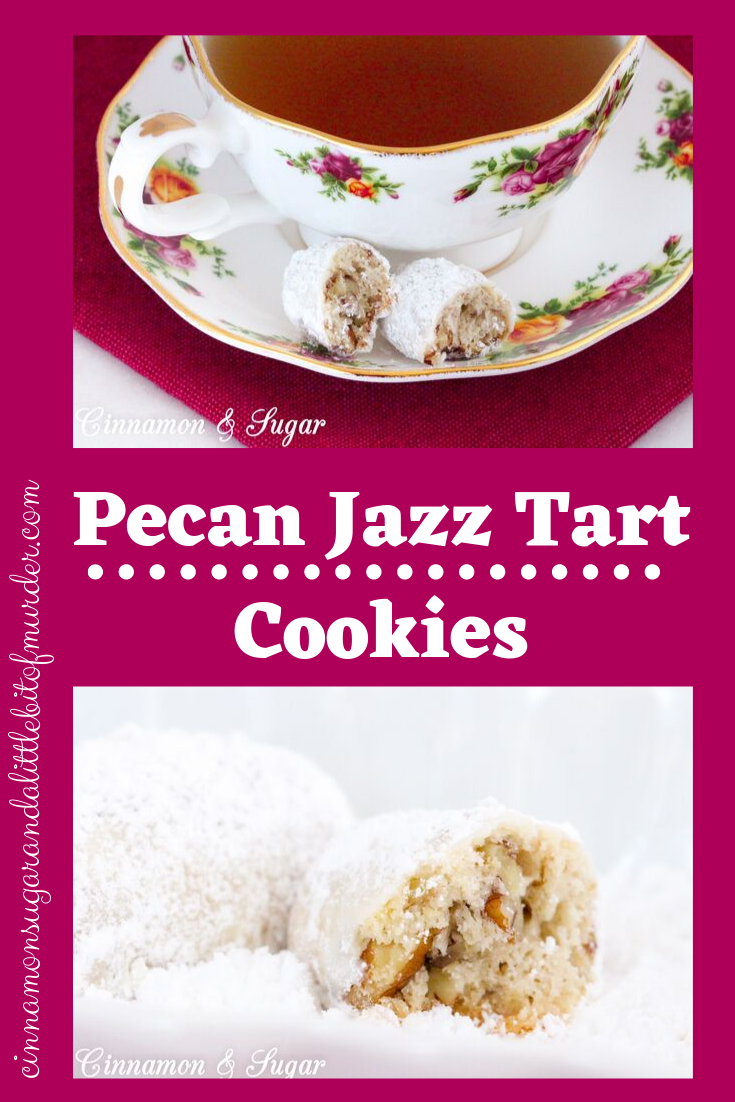 If you receive my blog post via email you will need to visit my website to view the video.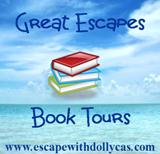 TOUR PARTICIPANTS
October 1 – Cinnamon, Sugar, and a Little Bit of Murder – REVIEW
October 2 – Babs Book Bistro – SPOTLIGHT – Sapphyria's Books
October 2 – FUONLYKNEW – SPOTLIGHT
October 2 – Island Confidential – SPOTLIGHT
October 3 – The Avid Reader – REVIEW
October 3 – A Blue Million Books – AUTHOR INTERVIEW
October 4 – Laura's Interests – REVIEW
October 4 – Hearts & Scribbles – SPOTLIGHT
October 5 – MJB Reviewers – AUTHOR INTERVIEW
October 5 – Lisa Ks Book Reviews – REVIEW
Oct 6 – Mystery Thrillers and Romantic Suspense Reviews – CHARACTER GUEST POST
October 6 – Books a Plenty Book Reviews – REVIEW
October 7 – The Book's the Thing – REVIEW
October 7 – Reading Is My SuperPower – GUEST POST
October 8 – The Book Decoder – REVIEW
October 8 – Brooke Blogs – SPOTLIGHT
October 9 – eBook Addicts – SPOTLIGHT
October 9 – My Reading Journeys – REVIEW
October 10 – Mysteries with Character – REVIEW
October 10 – Escape With Dollycas Into A Good Book – REVIEW
October 11 – Cozy Up With Kathy – REVIEW
October 11 – A Holland Reads – REVIEW, CHARACTER GUEST POST
October 12 – Celticlady's Reviews – SPOTLIGHT
October 12 – Readeropolis – SPOTLIGHT
October 13 – Satisfaction for Insatiable Readers – SPOTLIGHT
October 13 – T's Stuff – SPOTLIGHT
October 14 – Diary of a Book Fiend – REVIEW
October 14 – A Chick Who Reads – REVIEW
October 15 – Socrates Book Reviews – REVIEW
October 15 – Paranormal and Romantic Suspense Reviews – SPOTLIGHT
October 15 – Sapphyria's Books – REVIEW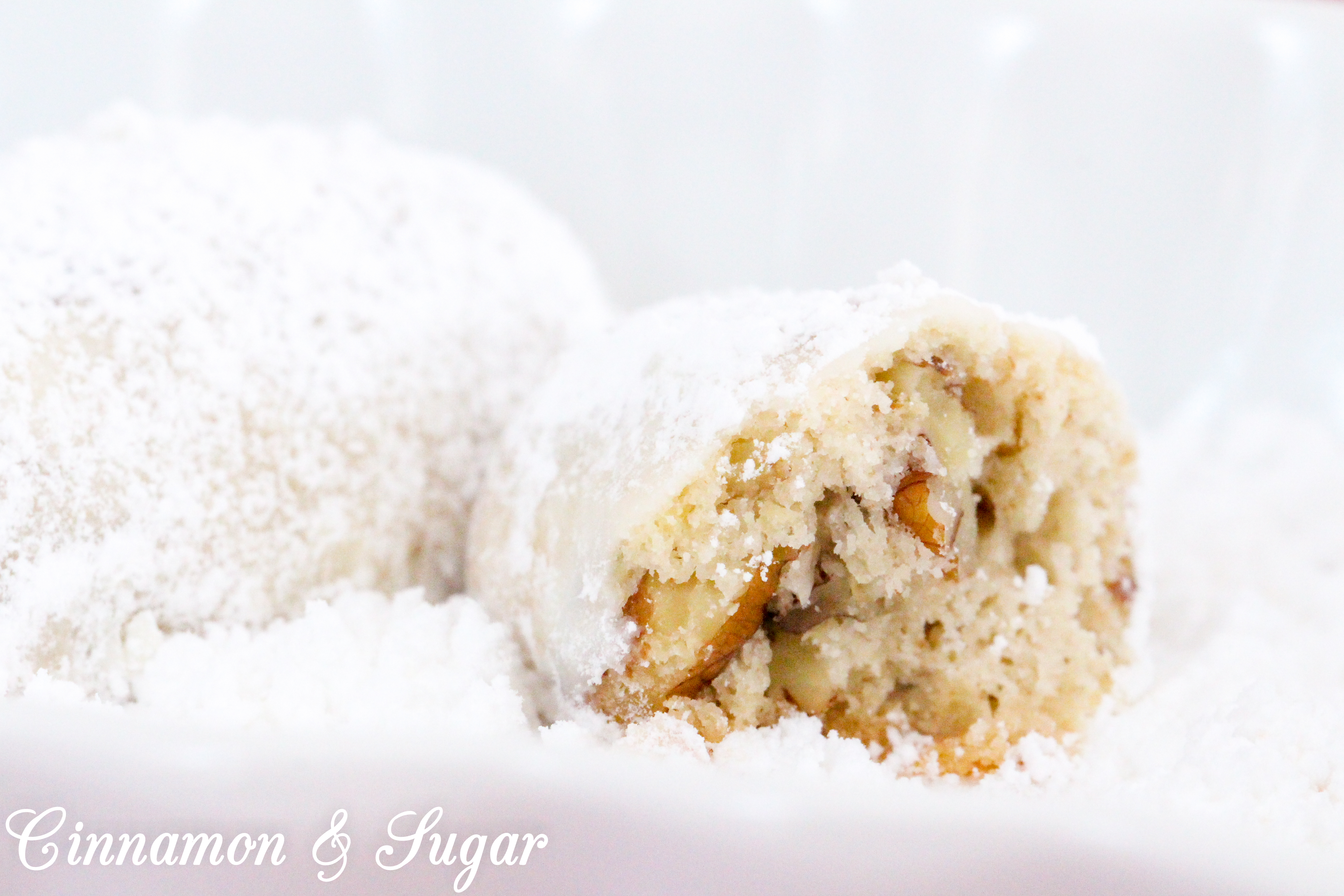 I was provided an advance copy. All thoughts and opinions are my own.