A CUP OF HOLIDAY FEAR, the tenth book in the Bakeshop Mystery series by Ellie Alexander, is a sweet Christmas holiday read that will surely put the reader in the mood for a full cup of holiday cheer. It was a treat to immerse myself in the holly season as protagonist and owner of Torte, Jules (Juliet) Capshaw, contends with keeping the townspeople of Ashland, Oregon filled with sugarplums and other tasty holiday puddings and treats. Ms. Alexander's endearing series' greatest strength is the character development of Jules and her close-knit family, friends, and employees. It's been a pleasure getting to know them from the early books and then seeing them grow and develop over the course of the series. They've all become like close friends. A CUP OF HOLIDAY FEAR can be read as a stand-alone, however as an avid reader, I've loved the slow unfolding of the characters' lives.
Another strength is the author's ability to effectively capture the sights, sounds, and flavors of the setting. Her detailed descriptions make the reader feel like you're living right there: tasting Jule's special cookies and her barista's coffee of the day; feeling the first snowflakes of the season; and smelling the pine trees as Jules and her best friend, Lance, hunt for the perfect Christmas tree. I love how Jules spreads holiday cheer even to Lance, who would rather be a Grinch than a jolly elf.
Lance isn't the only one who wants to embrace being a Grinch, and when a woman is found murdered at the long-running Dicken's feast at a local Ashland Inn, Jules finds herself embroiled in another investigation. I like Jules' style of investigation. She's never overly pushy and while she manages to question a lot of people, she still gives her full attention to her bakery. Of course she relies heavily on the fabulous coffee coming from her barista to keep her awake for hours on end so she can accomplish so much. There isn't a stressful, why is she putting herself in danger, ending which is particularly nice after being cocooned in the holiday festivities. Yet, Ms. Alexander manages to create a satisfying mystery that kept me intrigued and turning pages.
Jules and her staff at Torte are amazing bakers. There were so many delectable goodies being served to the townspeople that I literally had to rush to the back of the book to check out which recipes Ms. Alexander includes. I bookmarked several I have to try but wanted to share her recipe for Mom's Antoinettes. Buttery, almond-flavored shortbread-style cookies are sandwiched around raspberry jam and then topped with dark chocolate buttercream. It really is as good as it sounds… maybe even better given my taste testers feedback! With the bright red filling and the swirls of chocolate buttercream, these Antoinettes will beautifully adorn any cookie tray, whatever time of year it may be.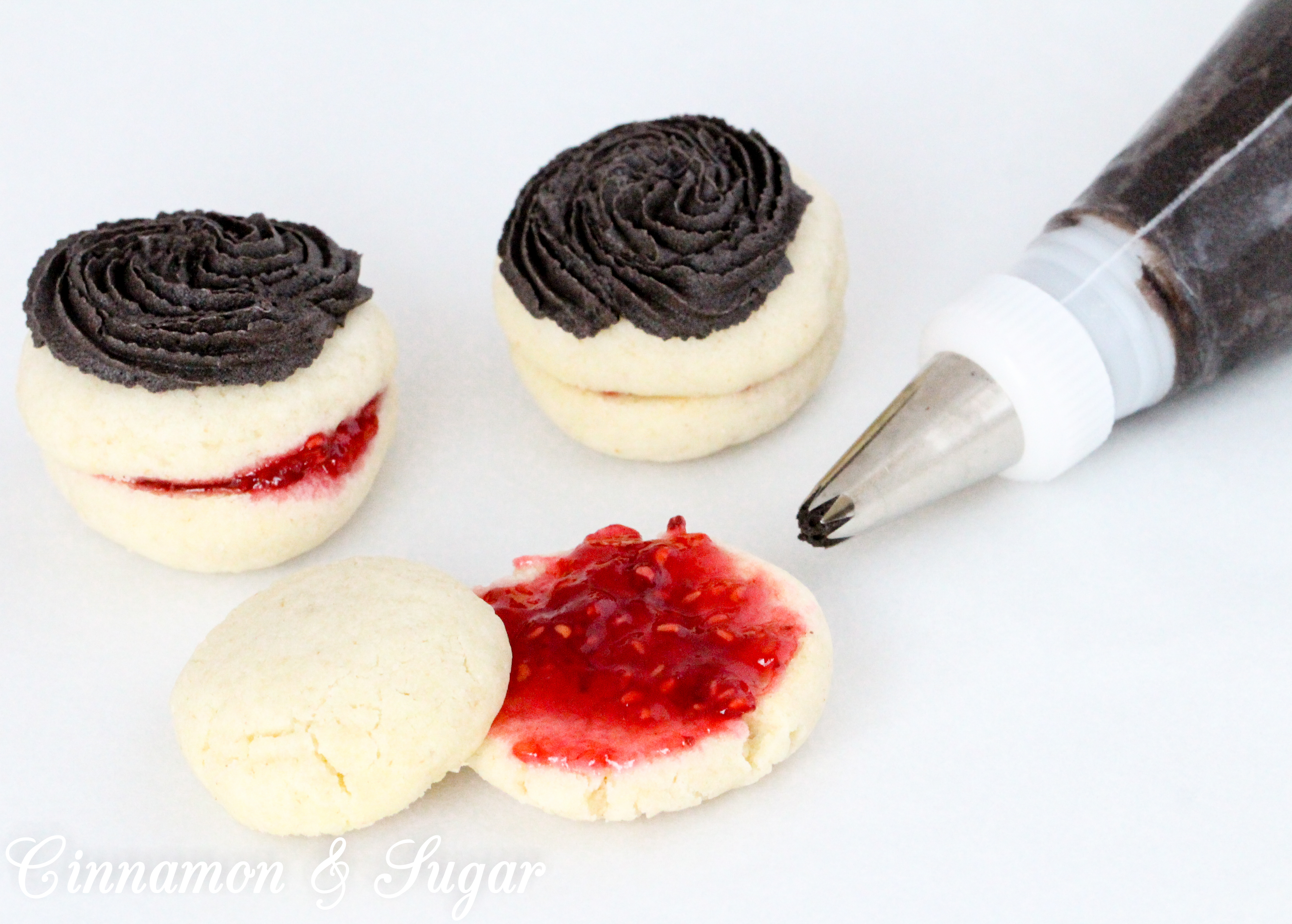 Amazon Synopsis
It's Christmastime and everyone is heading to Torte, the most cheerful bakery in town. There's no place like home for the homicide…
Ashland, Oregon, looks as pretty as a postcard this holiday season. The halls are decked, stockings hung, and eyes are all aglow―mostly thanks to the buttered rum. Jules Capshaw and her staff at Torte are busier than ever. . . still, even the town's most in-demand bakers need to take a break. So Jules invites everyone to celebrate at the local Winchester Inn's Dickens Feast, a six-course extravaganza with Yorkshire Pudding, Christmas goose, and all the trimmings. But as the weather outside becomes frightful, things inside turn less delightful when one of the guests ends up as dead as Scrooge's doornail. Now it's up to Jules and her helpers to make a list of suspects―and check it twice―to try to find out who's naughty, who's nice, and who's guilty of murder…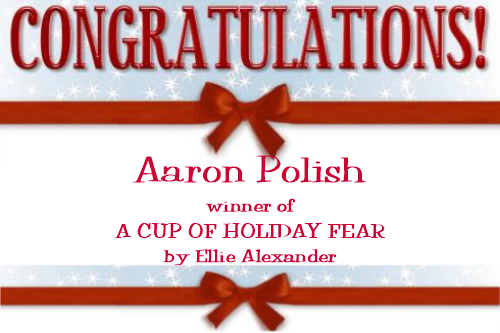 A special thanks to Ellie Alexander for providing one winner with a print copy of A CUP OF HOLIDAY FEAR. Contest ends Sunday, October 20, 2019 at 11:59 pm PST and is limited to U.S. residents. Please use the Rafflecopter box located below to enter. The winner will be announced on this page and on Cinnamon & Sugar's Facebook page, as well as notified by email (so check your spam folder!)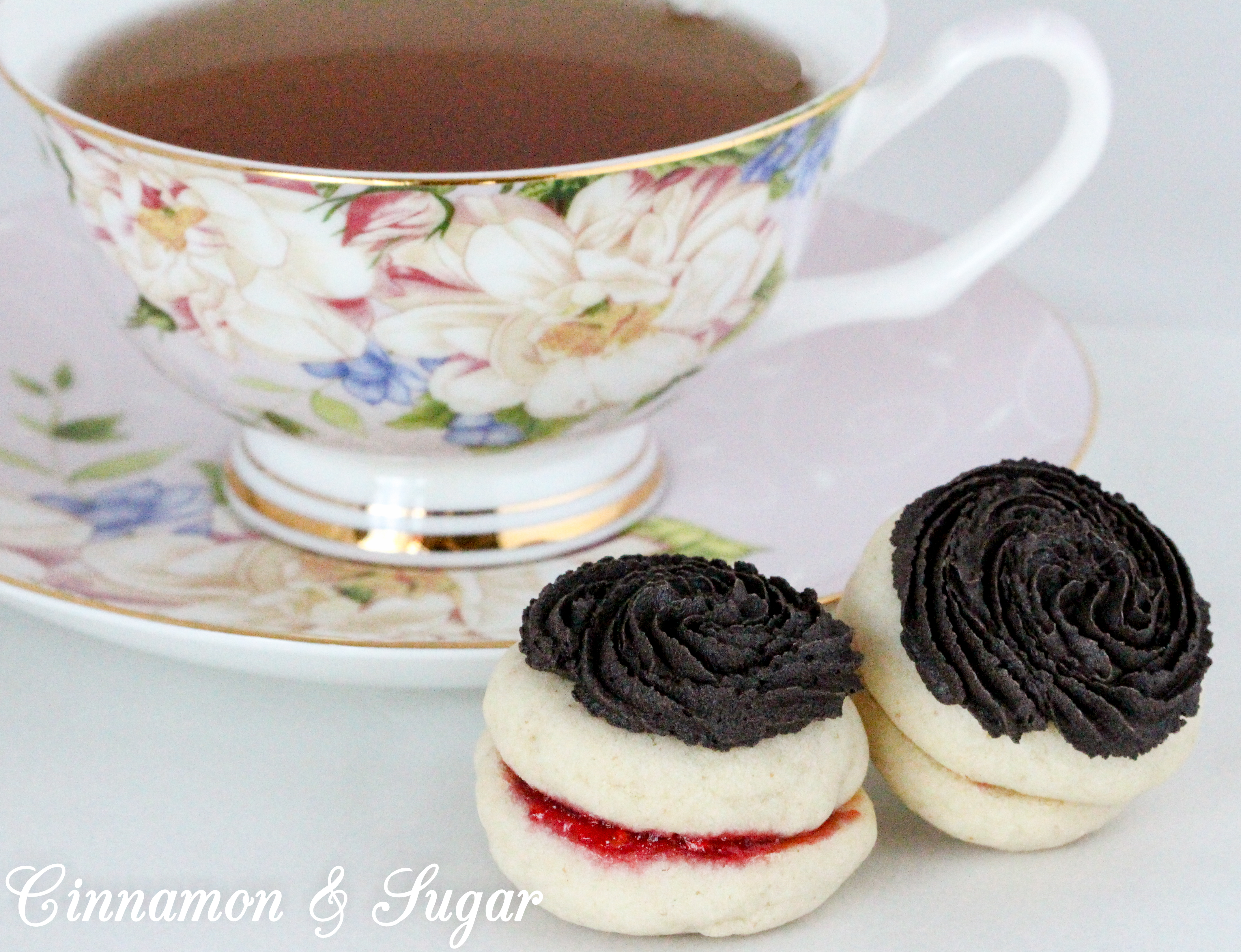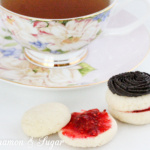 Mom's Antoinette Cookies
Ingredients
Cookies
1

cup

butter

1/2

cup

sugar

1

egg

1-1/2

teaspoons

almond extract

2-1/2

cups

flour

1/2

teaspoon

salt
Frosting
1

cup

butter

3/4

cup

cocoa powder

2-1/2 to 3

cups

powdered sugar

1

teaspoon

vanilla

1

tablespoon

heavy cream
Instructions
Cookies
Cream butter and sugar together in a mixer. Add egg and almond extract and mix well. Slowly incorporate flour and salt.

Roll dough into a large ball, wrap in plastic wrap, and chill for one hour.

Preheat oven to 375 degrees (F).

Make small balls (half inch) and place on cookie sheet. You should be able to get 4 to 5 balls per row. Then use the palm of your hand to press balls into circles (approximately the size of a quarter.)

Bake 6 - 8 minutes. Allow to cool.
Frosting
Whip butter in mixer. Slowly incorporate cocoa powder, powdered sugar, vanilla, and heavy cream.

Mix on high setting for 5 minutes, or until frosting is creamy and light.
Assemble Cookies
Assemble cookies by spreading a thin layer of raspberry jam on the flat side of two cookies. Sandwich them together. Spread a generous layer of chocolate frosting on the top.

Pop in your mouth and enjoy!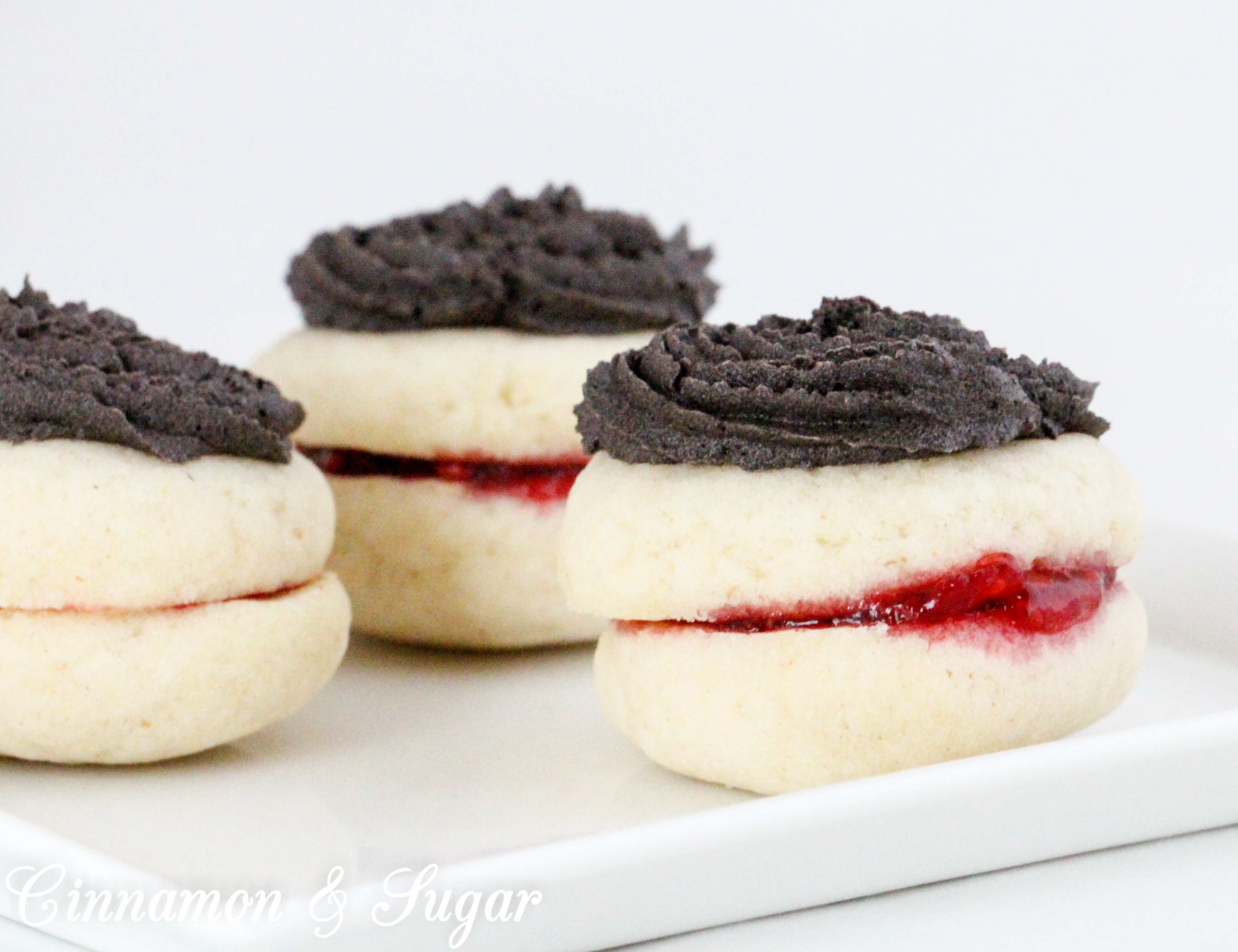 Pin to Pinterest: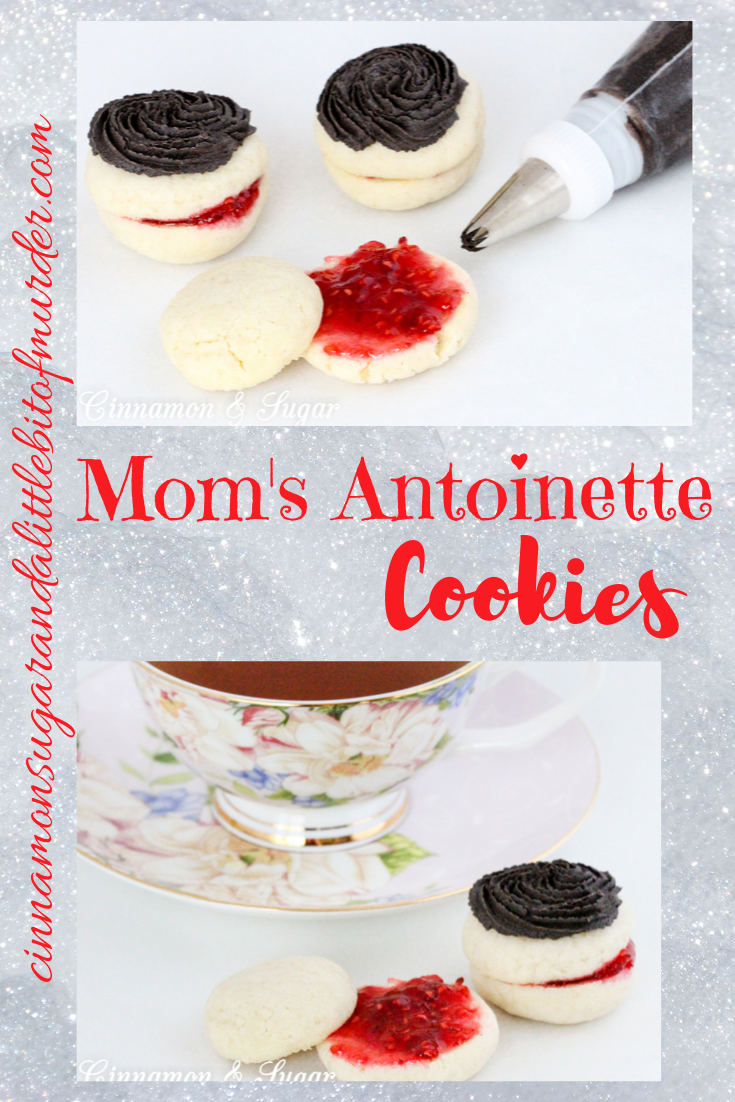 If you receive my blog post via email you will need to visit my website to view the video.
I was provided an advance copy. All thoughts and opinions are my own.