HAVE YOURSELF A BEARY LITTLE MURDER by Meg Macy is the third book in the Shamelessly Adorable Teddy Bear Mystery series. Any book with a tag line of shamelessly adorable and a most darling book cover will grab my attention. Ms. Macy stays true to that promise by penning an adorable cozy mystery. The stage is set at the family owned Silver Bear Shop and Factory at Christmas time. The protagonist, Sasha Silverman, and her family are actively involved in the Silver Hollow annual tree light and Festival of Lights Parade. This highly popular village event gives the author plenty of opportunities to make the reader feel the spirit of the Christmas holiday with the various festivities, costumes, food, and fun, which I greatly enjoyed. The only downside, for me, is that too many characters were introduced because of the festival, and I had a hard time keeping track of who was who for a time. However, once Sasha got involved in trying to figure out who would want to murder the polar Santa-bear-costume-wearing mayor, the pace picked up and got back on track.
While on the surface the mayor seemed to be beloved by all, Sasha digs deeper and finds he had another side that was hidden from his constituents. This opens her investigation to many suspects, prompted, for once, by her own mother to find the villain. There were clues planted throughout which kept me guessing and turning pages until the heartwarming ending. I greatly enjoy how Sasha has a close relationship with her entire family and they work together to support and encourage each other. This, along with (need I say it again?) the adorable teddy bear shop brings a delightful cheer to an endearing holiday cozy read.
One of the events Sasha and her family are hosting during the festivities is a cookie competition. One of the entries is a Cranberry Walnut Cookie Balls and Ms. Macy was kind enough to provide the recipe for me to share. I loved the crunch of the walnuts in the cookie along with the tart sweetness of the cranberries. Easy to mix up and festive with the red cranberries dotting the shortbread-style cookie rolled in fluffy mounds of powdered sugar, this will be sure to add holiday cheer to any cookie platter!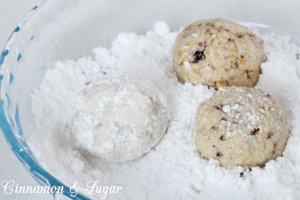 Amazon Synopsis
This holiday season, teddy bear shop manager Sasha Silverman must solve the slaying of Santa Bear . . .
Sasha and her sister Maddie are thrilled that the Silver Bear Shop and Factory has won the Teddy Bear Keepsake Contest, which means they get to produce a holiday specialty toy, a wizard bear named "Beary Potter." Promising to be just as magical is Silver Hollow's annual tree-lighting ceremony and village parade. Only one hitch: the parade's mascot, Santa Bear—played by Mayor Cal Bloom—is missing.
After a frantic search among the floats, Bloom is found dead. When the outfit is removed, it's clear the mayor's been electrocuted. Who zapped hizzoner and then stuffed him into his Santa Bear suit? While the police investigate the grisly crime, Sasha attempts to track down the murderer herself, with some help from the Guilty Pleasures Gossip Club. Can they wrap up this case in time for Christmas—or will Sasha meet her own shocking end?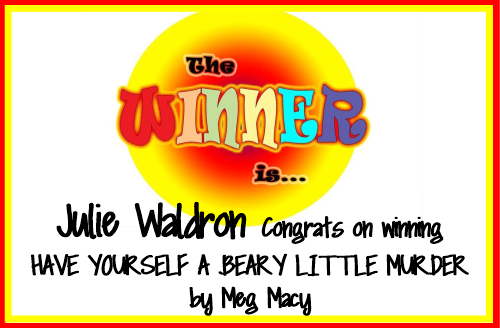 A special thanks to Meg Macy for providing one winner with a copy of HAVE YOURSELF A BEARY LITTLE MURDER. Contest ends Sunday, September 29, 2019 at 11:59 pm PST and is limited to U.S. residents. Please use the Rafflecopter box located below to enter. The winner will be announced on this page and on Cinnamon & Sugar's Facebook page, as well as notified by email (so check your spam folder!)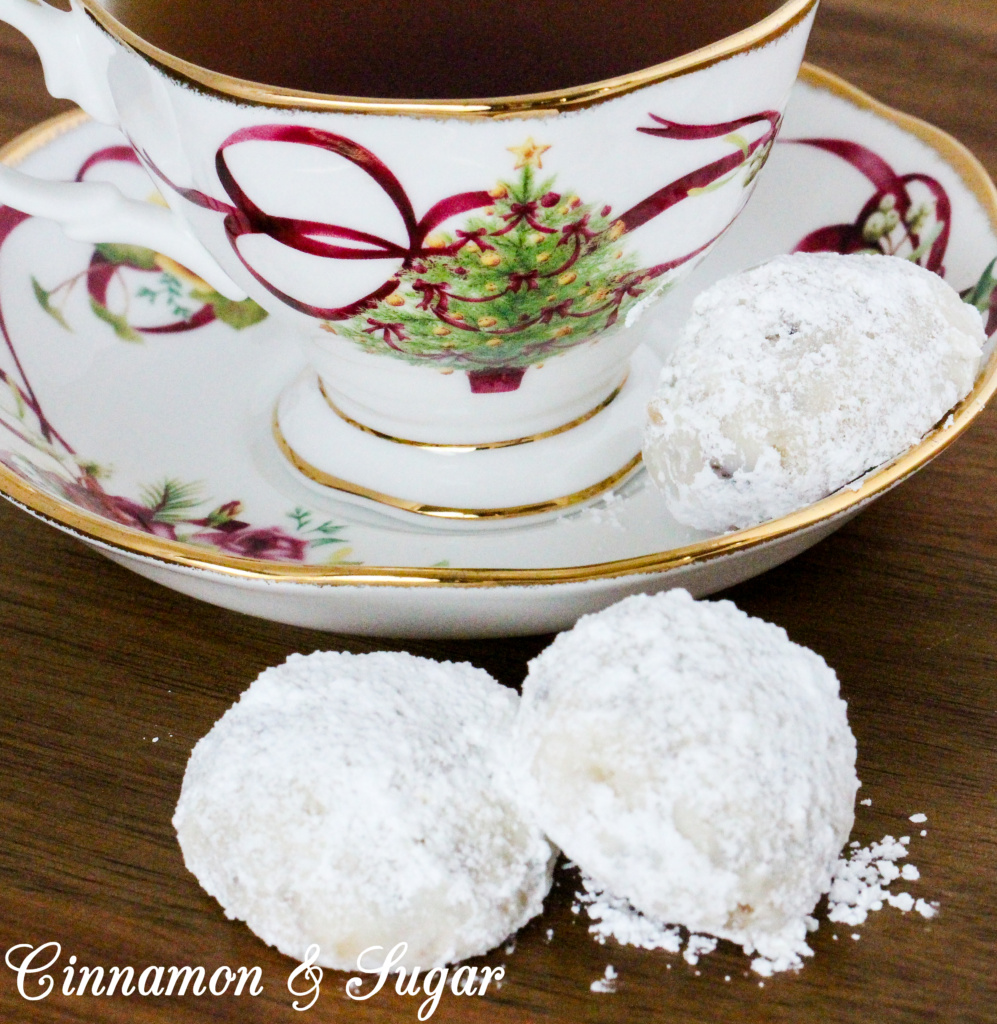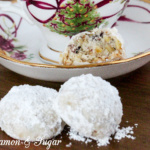 Cranberry Walnut Cookie Balls
Ingredients
1

cup

butter

softened

6

tablespoons

sugar

1/2

teaspoon

vanilla extract

2

cups

all-purpose flour

1/8

teaspoon

salt

2

cups

walnuts, finely chopped

1/2

cup

dried cranberries, chopped into small pieces

1

cup

confectioners' sugar
Instructions
Preheat oven to 325 degrees (F).

Beat together the butter and sugar on medium speed until creamy, about 3 minutes. Mix in the vanilla extract.

Gradually add the flour and salt and mix just until blended.

Stir in walnuts and dried cranberries.

Using a small cookie scoop, roll dough into 1" balls and place on ungreased baking sheet, or on a parchment-lined baking sheet. Keep at least 1 inch space between cookie balls.

Bake for 15-18 minutes. The bottoms should be lightly browned.

While cookies are baking, pour confectioners' sugar into a shallow bowl or pie plate.

Roll 4-5 hot cookie balls at a time into the confectioners' sugar until each cookie is well coated.

Place the coated cookies onto a wire rack to cool completely.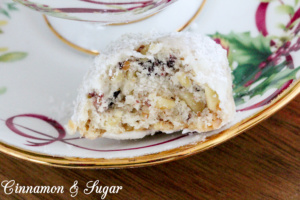 Pin to Pinterest: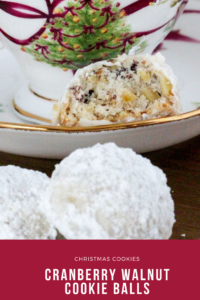 If you receive my blog post via email you will need to visit my website to view the video.
I was provided an advance copy. All thoughts and opinions are my own.