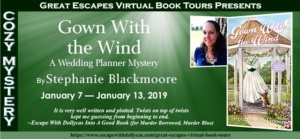 I'm excited to be participating in the Great Escapes Virtual Book Tour introducing GOWN WITH THE WIND! This fourth book in the Wedding Planner Mysteries by Stephanie Blackmoore is the first I've read in the series and most certainly not the last. In fact, I'm anxious to start at the beginning and immerse myself in the adventures of wedding planner and B & B owner, Mallory Shepherd. Even though I haven't read the previous books, I was able to jump in and feel like I knew the characters. Ms. Blackmoore offers enough backstory to make the reader comfortable but never detracts from the ongoing plot. First off the premise of GOWN WITH THE WIND sets up the story with plenty of opportunities for chaos: Mallory has been hired to plan her ex-fiance's wedding and it is scheduled to be held at her own B & B! Add in a bridezilla, the groom's mother who is also known as 'Hurricane' Helene, stolen valuable Gone With the Wind memorabilia, and an unsolved murder. The pace never lets up and kept me turning pages faster and faster as jaw dropping events filled the story.
The bride-to-be's grandmother is a Gone With the Wind enthusiast and the author effectively captures the spirit of the classic and weaves it into the story. There are many memorable characters and I especially liked Pickles, the Maine Coon Cat named as such because he loves to eat pickles. While he holds a minor role, he steals the scenes he is featured in. The unsolved murder mystery from the previous year is effectively woven into the story with the current murder of the bride-to-be's nemesis. I admired the twists and turns throughout the course of the book and there were plenty of suspects to keep me guessing. The suspenseful reveal wrapped up the threads of the mysteries and provides a satisfying conclusion!
Between running the B & B and hosting weddings, Mallory and her sister, Rachel, provide plenty of mouthwatering dishes for their guests. In keeping with the bride's Gone With the Wind theme, pecan cookies were baked to serve as treats for the wedding party. I was happy that the recipe was included at the back of the book (including others). However, with only five ingredients I was a little hesitant on how they would turn out… but then my husband (who doesn't like nuts) took one bite and then consumed several more cookies and I knew I would be making this recipe again and again! These vegan crunchy cookies highlight the best of caramel flavors and buttery pecans and can be served plain or rolled in confectioners' sugar for an extra burst of sweetness. As another tester said, "These cookies are like crunchy pecan pie!" Either way, friends and family will be happy to have you share these with them!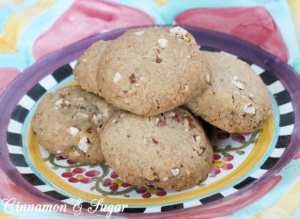 Amazon Synopsis
Professional wedding planner Mallory Shepard knows her job is challenging under any circumstances. But when the groom is your ex and someone invites murder, there may never be another tomorrow . . .

Mallory's fine—really—handling the wedding arrangements for her ex, Keith. But his fiancée, Becca, has at the last minute decided to switch from a Japanese-cherry-blossom theme to a Gone with the Wind theme. She wants to honor her ailing grandmother, who owns an impressive collection of GWTW memorabilia—and who is fiercely at odds with the groom's mother over the nuptial plans.

But among other complications, Becca gets into a fight with an old childhood rival over a replica Scarlett O'Hara wedding gown. She wins the dress—but soon becomes a murder suspect when the other woman is found dead in Becca's swimming pool. And it's up to Mallory to solve the mystery behind this unhappy occasion, before a different kind of civil war breaks out . . .

A special thanks to Stephanie Blackmoore for providing THREE print copies of GOWN WITH THE WIND for three lucky winners! Contest ends January 13, 2019 and is limited to U.S. residents. Please use the Rafflecopter box located below the recipe to enter. The contest is administered by Great Escapes Virtual Book Tours and the winner will be announced on this page as well as notified by email (so check your spam folder!)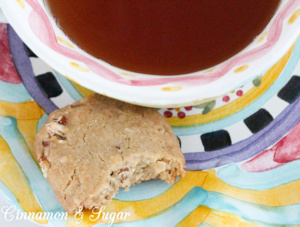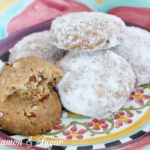 Pecan Cookies
Ingredients
3/4

cup

coconut oil

3/4

cup

brown sugar

2

teaspoons

vanilla

2

cups

flour

1

cup

finely chopped pecans
Instructions
Grease a cookie sheet and preheat oven to 350 degrees (F).

Beat coconut oil, brown sugar, and vanilla until smooth.

Slowly add flour and pecans. Beat until smooth.

Roll spoon-size portions of dough into balls and slightly flatten.

Bake for 15 minutes. Cool on baking sheet for 5 minutes then remove to a wire rack and cool completely.
Tip
Use the lightly spoon and level method for measuring the flour. If the dough appears too dry and crumbly to roll into balls, mix in additional melted coconut oil to the dough, 2 teaspoons at a time, until dough is cohesive.

You can roll the warm cookies in confectioners' sugar, or sift the confectioners' sugar over the tops to garnish. I found non-melting confectioners' sugar worked the best (available on the King Arthur Flour website).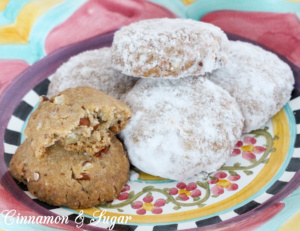 Pin to Pinterest: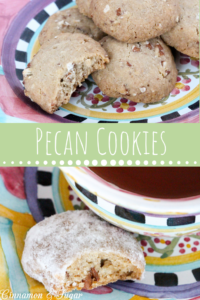 If you receive my blog post via email you will need to visit my website to view the video.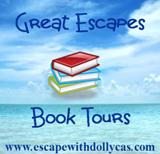 TOUR PARTICIPANTS
January 7 – The Montana Bookaholic – REVIEW
January 7 – Island Confidential – SPOTLIGHT
January 7 – Laura`s Interests – CHARACTER GUEST POST
January 7 – Mystery Thrillers and Romantic Suspense Reviews – SPOTLIGHT
January 8 – Mallory Heart's Cozies – REVIEW
January 8 – Cinnamon, Sugar, and a Little Bit of Murder – REVIEW, RECIPE
January 8 – Brooke Blogs – SPOTLIGHT
January 9 – My Reading Journeys – REVIEW
January 9 – Carla Loves To Read – REVIEW
January 9 – Ruff Drafts – GUEST POST
January 10 – Books a Plenty Book Reviews – REVIEW
January 10 – Cozy Up With Kathy – AUTHOR INTERVIEW
January 10 – View from the Birdhouse– SPOTLIGHT
January 11 – Varietats – REVIEW
January 11 – A Holland Reads – SPOTLIGHT
January 11 – Babs Book Bistro – SPOTLIGHT
January 11 – My Journey Back-The Journey Back – SPOTLIGHT
January 12 – That's What She's Reading – REVIEW, RECIPE
January 12 – A Blue Million Books – AUTHOR INTERVIEW
January 12 – Celticlady's Reviews – SPOTLIGHT
January 13 – Melina's Book Blog – REVIEW
January 13 – StoreyBook Reviews – GUEST POST
January 13 – A Wytch's Book Review Blog – CHARACTER INTERVIEW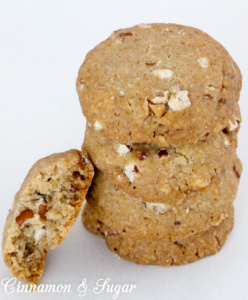 I was provided an advance copy with the hopes I would review. All thoughts and opinions are my own.