LIVE AND LET PIE, the ninth book in the Bakeshop Mystery series by Ellie Alexander, is another charming addition to a sweet series! Protagonist Jules Capshaw, owner of the newly expanded and remodeled Torte Bakeshop in Ashland, Oregon, is an easy to love character. She is the type of person you'd want to hang out with and get to know… and if you're lucky, sample all the yummy goodies she creates in her bakery kitchen! I love the friendships she has developed with her employees and how she freely mentors them to enhance their talents. She also has a very close relationship with her mother which is endearing. The story starts out after the marriage of Jules' mother to the town's detective, The Professor. Jules wasn't sure about her mother moving forward but has learned to love and respect her new stepfather. I enjoy how the author continually gives the characters new learning experiences to expand their personal growth and I find it touching how emotional interaction is brought to some of the scenes.
While the delightful characters bring readers back to the series again and again, Ms. Alexander also provides a compelling murder mystery to intrigue us. She does provide a lot of setup before the cold case murder is brought to light but once Jules' investigation starts, the plot moves forward with many twists and turns. She creates an interesting scenario with the connection between the decades-old victim and the murder victim that happens right after the first gruesome discovery. Jules' investigation uncovers surprising conflicts surrounding the lack of housing and land available in the town. Ms. Alexander also touches on the plight of homelessness, especially homelessness affecting families. This hidden social issue is heart wrenching but the author treats the subject with sensitivity.
The reader will savor the descriptions of yummy foods coming from the kitchen of Torte and thankfully Ms. Alexander provides several recipes at the back of the book. I was drawn to the Raspberry Bars because you can use either frozen or fresh raspberries, making this an ideal dessert year-round. The crunchy brown sugar crust is layered with simple raspberries and then topped with a gooey-chewy nut and coconut layer for a satisfying treat!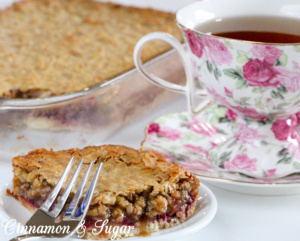 Amazon Synopsis
Life is sweet once you step into Torte, everybody's favorite small-town bakeshop. But what happens when it becomes the scene of a crime?
The heat is on for pastry chef, family business operator, and unlikely sleuth Jules Capshaw. Just when she thought she could enjoy some time away from the kitchen, Jules manages to discover a skull during a picnic by the lake. As if unearthing remains that may be connected to a missing-persons case from the 1960s isn't enough on her plate, Jules must contend with the unsolved matter of her own marriage while her estranged husband Carlos sails the open seas, awaiting a verdict. Then there's Jules's bitter landlord Edgar, who is intent on making a sweet deal on a vacant lot down the block from Torte―until he turns up dead. If only Jules could find a recipe that would let her bake her cake and eat it, too…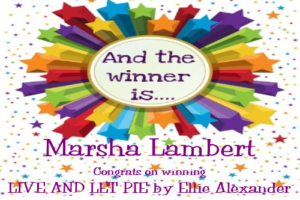 A special thanks to Ellie Alexander for providing a winner with a print copy of LIVE AND LET PIE plus some Torte swag. Contest ends Tuesday, January 8, 2019 at 11:59 pm PST and is limited to U.S. residents. Please use the Rafflecopter box located below to enter. The winner will be announced on this page and on Cinnamon & Sugar's Facebook page, as well as notified by email (so check your spam folder!)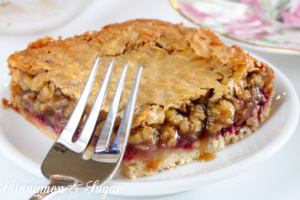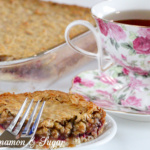 Raspberry Bars
Ingredients
1/2

teaspoon

salt

1-1/4

cups

flour

1-1/2

teaspoons

baking powder

1/4

cup

butter, room temperature

1-1/2

cups

brown sugar

1

tablespoon

lemon juice

2

eggs, beaten

1/4

cup

flour

1

teaspoon

vanilla

1-1/3

cup

coconut

1

cup

chopped nuts

1

package

frozen raspberries (thawed and drained). If fresh raspberries are in season, Jules highly recommends using them!
Instructions
Preheat oven to 350 degrees (F).

Sift 1-1/4 cups flour, baking powder, and salt.

Cream butter and 1/2 cup of brown sugar. Stir in lemon juice.

Add to flour and mix until it resembles coarse cornmeal. Press into a greased 7" x 11" baking pan.

Bake for 15 minutes. Allow to cool.

In a new mixing bowl, combine eggs, 1 cup brown sugar, 1/4 cup flour, and vanilla. Stir in nuts and coconut.

Spread raspberries over cooled crust and then pour the egg mixture over the raspberries.

Bake for 30 minutes. Cool and cut into bars.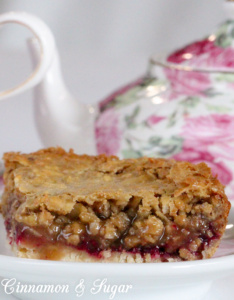 Pin to Pinterest: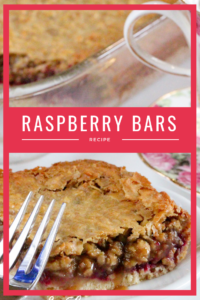 If you receive my blog post via email you will need to visit my website to view the video.
I was provided an advance copy with the hopes I would review. All thoughts and opinions are my own.