HOT FUDGE MURDER, the second book in the Lickety Splits Ice Cream Shoppe Mystery series by Cynthia Baxter is a sweet mystery with lots of yummy, cold treats to whet the reader's appetite! I greatly enjoyed the way the author starts each chapter with a historical blurb on ice cream. Not only was it entertaining but it was educational. I was also intrigued "watching" how the protagonist, Kate McKay, puzzles over flavor combinations to create new ice cream flavors for her shop, Lickety Splits. So many unique flavors and most of them sound divine! While the ice cream and charming shop provide a relaxing, inviting setting, it's not long before murder intrudes, disrupting a party Kate has been hired to cater. Worried what it might mean for both her fledgling business and her town's tourist trade, she knows she must step in and find the killer before financial ruin becomes a reality. Kate isn't a sophisticated investigator, but her determination to ask questions despite her reluctance is sweet. While I figured out the killer early on, there was a twist to the story that I didn't expect. This provided great satisfaction to a light-hearted read.
I enjoyed Ms. Baxter's descriptive voice which helped me visualize the settings and the characters so I felt like I was right there experiencing what Kate was experiencing. I also loved Kate's relationship with her 'Grams' and her niece, Emma. They have an adorable closeness that is heart-warming. She also has a great sidekick in her best friend, Willow. Opposites, they complement each other and provide opportunities for good dialog. The author also sets up potential romances for Kate in future books. Personally I hope she steers clear of the over-done love triangle and allows Kate a realistic relationship. However, one of her potential suitors is from her past and I thought it was a clever way to learn some of Kate's backstory. While I haven't had a chance to read the first book in the series, HOT FUDGE MURDER is easily read as a standalone. Ms. Baxter provides just enough information to help the reader connect with the characters without detracting from the main plotline. I look forward to seeing what happens next to Kate and seeing what delectable ice cream flavors she comes up with in future releases!
I'll admit, I adore ice cream! Anything with chocolate, nuts, or caramel, and I'm in heaven. Fortunately for the reader, there are a couple recipes at the back of the book. One is a sorbet, and it sounds remarkable. While I greatly enjoy that type of frozen dessert, I couldn't pass up the chance to try Heavenly Hot Fudge Sauce because, well, chocolate! And any kind of ice cream is oh so yummy when drenched in hot fudge. I liked the ease of making this hot fudge sauce in the blender and especially loved the author's recommendation that it works well for dipping other foods into, like fruit or cake… but I'll admit I was just as happy eating a spoonful straight from the jar for dessert! I'll be keeping a jar of this heavenly yumminess in my refrigerator to reward myself with at dessert time and just might share a jar or two with some lucky friends.
One thing the author mentions in her book is Kate's involvement in food photography. I was more than intrigued when she talks about how mashed potatoes are used to mimic ice cream when photographing, so there's not the issue of melting. Plus, shaving cream is used in lieu of whipped cream. I had to try it for myself since I've struggled with melting dishes of ice cream and trying to run them back and forth from the freezer trying to snap a few photos before running the dish back to the freezer to chill before starting all over again. It worked amazingly well and now that you know my secret…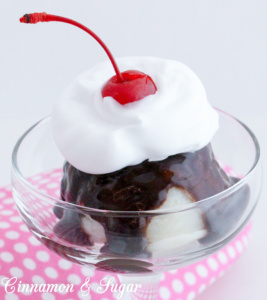 Amazon Synopsis
Just six weeks after the grand opening of Lickety Splits Ice Cream Shoppe, owner Kate McKay has been enlisted to whip up sundaes at the most decadent soiree in the Hudson Valley. If only Kate knew how deadly sticky her sweet deal will turn out . . .

Once Kate arrives at a glamorous gala hosted by world-famous fashion designer Omar DeVane, she's instantly intimidated by the mogul's luxurious mansion and the frosty personalities of his handlers. But the party completely loses its flavor when guests follow screams to a room that's eerily empty—except for Omar's freshly murdered body . . .

While the headline-grabbing crime brings a steady stream of journalists to the sleepy village of Wolfert's Roost, Kate knows things won't return to normal until Omar's killer is brought to justice. And with the scandalous case driving customers away from Lickety Splits, she has no choice but to put down the ice cream scooper and expose the culprit on her own . . .

As Kate crashes high-profile photo shoots and mingles with fashion's biggest influencers in search of clues, the puzzling truth about Omar's fame and fortune rises to the surface—and with it, the key to his killer's twisted motive. Kate will have to navigate the celebrity lifestyle to save her fledgling business, but her attempts to freeze cold-hearted criminals in their tracks could lead to a double scoop of deadly trouble . . .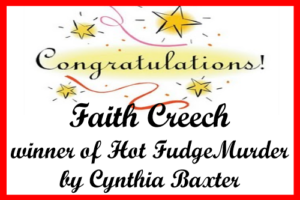 A special thanks to Cynthia Baxter and Kensington for providing a winner with a print copy of HOT FUDGE MURDER. Contest ends Wednesday, January 30, 2019 at 11:59 pm PST and is limited to U.S. residents. Please use the Rafflecopter box located below to enter. The winner will be announced on this page and on Cinnamon & Sugar's Facebook page, as well as notified by email (so check your spam folder!)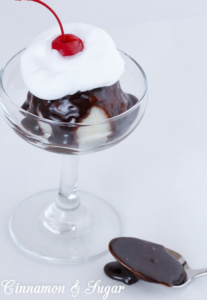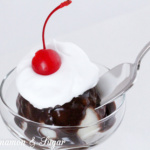 Heavenly Hot Fudge Sauce
The secret to this utterly divine topping is whipping it up in a blender. Not only does beating it improve the texture, adding air to food, anything from carbonated beverages to whipped cream, always makes it taste better.
This hot fudge sauce is fantastic not only on ice cream, but also on pound cake, strawberries, or bananas, or for a chocolate fondue... in fact, there's probably not a single food that couldn't be improved by dipping it in hot fudge sauce!
Be sure to use a better-quality cocoa powder, like Ghiradelli. It may cost a little more, but it's so worth it!
Ingredients
1

cup

(2 sticks) butter

1/3 - 1/2

cup

cocoa powder

2-1/2

cups

sugar

1

12-ounce

can evaporated milk

1

teaspoon

vanilla

Pinch of salt
Instructions
In a saucepan over medium heat, stir together the butter, cocoa, sugar, salt, and evaporated milk. Bring mixture to a boil, reduce heat and let it boil for 6 to 8 minutes, stirring frequently. Add the vanilla. Pour the mixture into a blender and blend it for about 3 minutes.

It is best served immediately, but after cooling it, it can be stored in the refrigerator and reheated right before using.
Tip
A jar of this yummy stuff makes a great gift, especially when it's tied with a cute ribbon!
Pin to Pinterest: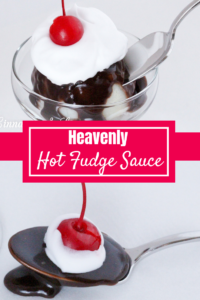 If you receive my blog post via email you will need to visit my website to view the video.
I was provided an advance copy with the hopes I would review. All thoughts and opinions are my own.