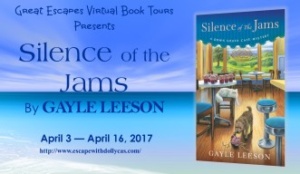 It's a pleasure to be a part of the Great Escapes Virtual Book Tour presenting SILENCE OF THE JAMS, the second book in the Down Home Café Mystery series, by Gayle Leeson!
This book has a well thought out plot but more than that, is character driven, bringing the story to life. Amy Flowers owns the Down Home Café and has been in business only a short time. Her best friend and cousin, Jackie, helps her run it. Jackie's mother abandoned her and as a result, is estranged from her mom, even though she pops into town every so often. Jackie's story was hinted at a bit in the first book, but in SILENCE OF THE JAMS, her unfortunate circumstance is fully explored. Ms. Lesson captures the essence of the emotional distress and upheaval the situation causes Jackie and her family, weaving it into the mystery plot, creating layers of tension. The social issue of substance abuse is also a part of the equation, highlighting not only illegal abuse but abuse of prescription drugs and how willing people are to share their own medication with others which can result in dire circumstances. This theme is quite apropos with what is currently happening in our society, but the author does so in a manner that isn't heavy handed and fits right into the plot. I appreciate when an entertaining book can tackle current social issues, making the reader give pause and consider the message given.
Even though there is the subplot of Jackie and her family, Amy is still the central protagonist. She is deeply involved with Jackie's dilemma, while at the same time trying to find out who murdered the Director of the Chamber of Commerce as he was eating breakfast at her café. She worries people will think it was her fresh batch of strawberry jam that killed him! The author provides plenty of suspects, each with viable reasons why they wanted him dead. One of the supporting characters, Homer Pickens is a truly likable and admirable man. I loved the scenes he showed up in with his wit and couldn't wait to find out who his daily hero was for inspiration.
Of course the Down Home Café has plenty of mouth-watering food to keep the townspeople coming back! Thankfully, Gayle Leeson has included many delicious recipes at the back of her book and was gracious to let me share her Peanut Butter Pie recipe. I've heard of this pie before, but have never tried it…. and I discovered I've been missing out! Sweetened creamy peanut butter forms the bottom layer, while a rich, fuss-free, custard forms the middle layer, and is then topped with a fluffy meringue and garnished with additional peanut butter sprinkles. I was intrigued with her method for creating the meringue with the addition of a cooked sugar and cornstarch mixture. But, after making it and then observing the leftovers over the course of a few days, I will be using this method from here on out! The meringue didn't shrink nor did it "weep" and get soupy after a few hours. The stability was amazing! The only thing I will try different next time is adding some chocolate chips to the bottom peanut butter layer…peanut butter and chocolate are one of my favorite flavor combinations 🙂
Amazon Synopsis
In the latest Southern cozy from the author of The Calamity Café, small-town chef Amy Flowers can't take her freedom for granted when she's served up as a murder suspect…
It's Independence Day in Winter Garden, Virginia, and the residents are gearing up for their annual celebration. The Down South Café is open and flourishing, and Amy Flowers is busy making pies and cakes for the holiday. The only thorn in her side is Chamber of Commerce director George Lincoln, who is trying to buy the café so he can tear it down and build a B&B on the site.

When George collapses while eating at the Down South, everybody assumes it's a heart attack—until the autopsy declares it to be poisoning. Now, it's up to Amy to prove her innocence before her liberty is lost.

A very special thank you to Gayle Leeson for providing (1) – signed paperback of SILENCE OF THE JAMS, Down South Cafe t-shirt, and Flirty Apron Oven Mitt Set! This giveaway is administered by Great Escapes Virtual Book Tours and you can use the Rafflecopter box located below the recipe to enter. Contest ends April 16, 2017 and is limited to U.S. residents only. Winners will be announced on this page and on Great Escapes Virtual Book Tours site, as well as notified by email (so check your spam folder!)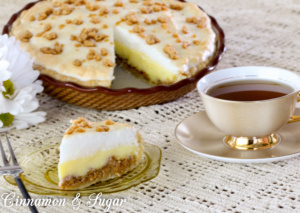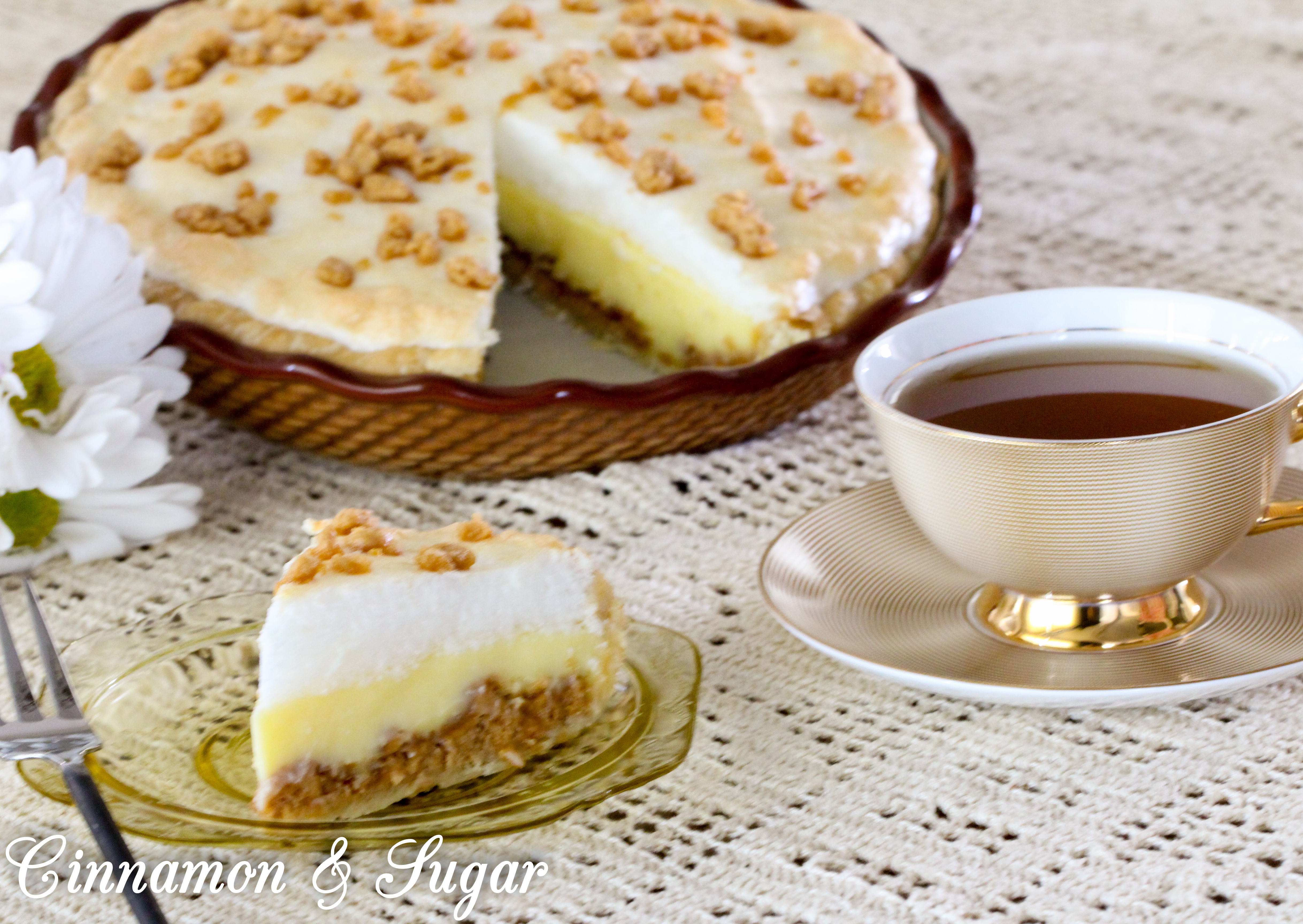 Ingredients
3/4 cup confectioners' sugar
1/2 cup creamy peanut butter
1 9-inch piecrust, baked and cooled
2/3 cup plus 3 tablespoons sugar, divided
1/3 cup plus 1 tablespoon cornstarch, divided
3 eggs, separated
2-1/2 cups milk
2 tablespoons butter or margarine
1 teaspoon vanilla extract
1/2 cup water
Instructions
Preheat oven to 350 degrees (F).
Place the confectioners' sugar in a bowl.
Cut in the peanut butter with a pastry blender until crumbly.
Set aside 2 tablespoons for garnish and sprinkle the remaining crumbs into the pie shell.
In a saucepan, combine 2/3 cup sugar, 1/3 cup cornstarch, egg yolks, and milk.
Cook over medium heat until the mixture thickens. Remove from heat.
Add the butter and vanilla, stirring until the butter melts.
Pour into the pie shell.
In a small saucepan, combine the remaining sugar and cornstarch with water. Cook over low heat until thickened. Cool slightly.
Beat the egg whites until stiff.
Fold in the cornstarch mixture.
Spread the meringue over the hot filling, sealing the edges.
Sprinkle the reserved peanut butter mixture over the top.
Bake for 12 to 15 minutes or until golden brown.
Allow pie to cool completely before serving.
Yield: 8 servings
https://cinnamonsugarandalittlebitofmurder.com/peanut-butter-pie/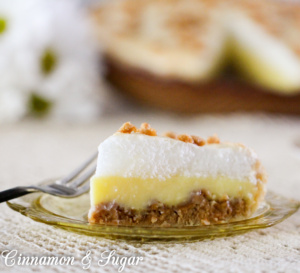 Pin to Pinterest: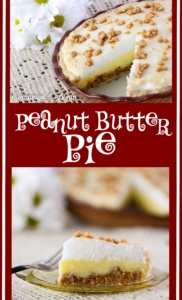 If you receive my blog post via email you will need to visit my website to view the video.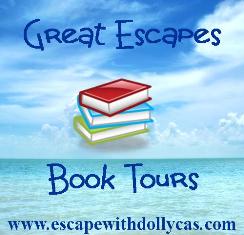 Tour Participants
April 3 – Laura's Interests
April 3 – Sapphyria's Book Reviews
April 3 – Because I said so — and other adventures in Parenting
April 4 – Book Babble
April 4 – Island Confidential
April 5 – Bookworm Mom
April 5 – Jersey Girl Book Reviews
April 6 – The Power of Words
April 6 – Texas Book-aholic
April 6 – Shelley's Book Case
April 7 – A Blue Million Books
April 7 – Books,Dreams,Life
April 8 – StoreyBook Reviews
April 8 – Author Annette Drake's blog
April 9 – Mystery Thrillers and Romantic Suspense Reviews
April 9 – Brooke Blogs
April 10 – Cinnamon, Sugar, and a Little Bit of Murder
April 10 – Community Bookstop
April 10 – 3 Partners in Shopping, Nana, Mommy, & Sissy, Too!
April 11 – Melina's Book Blog
April 11 – Cozy Up With Kathy
April 12 – Reading Is My SuperPower
April 12 – Maureen's Musings
April 13 – Books, Movies, Reviews. Oh my!
April 13 – Celticlady's Reviews
April 14 – Bibliophile Reviews
April 14 – A Holland Reads
April 15 – Queen of All She Reads
April 15 – deal sharing aunt
April 16 – Varietats
April 16 – Lisa Ks Book Reviews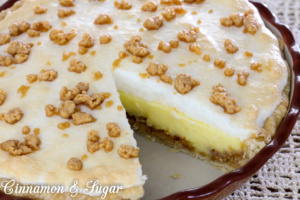 I received a copy in exchange for my honest review. All thoughts and opinions are my own.