I finally had the opportunity to meet the lovely author, Marla Cooper, in Honolulu at Left Coast Crime last month. I had a very fun time listening to her play the ukulele for a group of us and chatting over drinks one evening. Smart, talented and humorous, Marla brings all of those qualities to her newest release, DYING ON THE VINE, the second book in her Kelsey McKenna Destination Wedding Mystery series!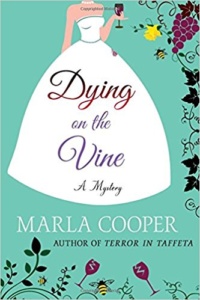 Kelsey McKenna is a destination wedding planner. Like her creator, Kelsey is also intelligent, artistic and funny, using those qualities while working with brides, wedding vendors and obnoxious wedding planners who feel like she's the competition. When she finds the murdered body of one of her competitors, Kelsey suddenly discovers herself in the unwanted center of attention of the police. Worried that she will lose business she can ill-afford, Kelsey must solve the murder and clear her name. She readily admits that she really doesn't know how to solve crimes and proves to everyone that it's definitely not as easy as they make it seem on CSI reruns! This sets the stage for several laugh out moments along with the zingy little one liners Kelsey likes to throw in.
I adored the setting of Napa Valley for this destination mystery series! Having lived in Napa for a while in my early twenties, Marla perfectly captures the sights, sounds, and flavors of the valley. She also provides a little information on wineries and wine caves, which I found fascinating. Kelsey has a wonderful friendship with Brody, a wedding photographer, and her assistant, Laurel. They complement each other and the author has set up great dialog and repartee between the characters. The plot moved at a fast pace with plenty of suspects to keep the reader guessing and concludes with an exciting, suspenseful scene which wraps the story up nicely.
While there aren't any recipes included with the book, there is plenty of yummy food mentioned. After discussing with Marla, I decided to create a recipe for White Cake with White Chocolate Ganache Frosting, based on a scene in DYING ON THE VINE. Kelsey is given a 6-inch sample cake from a bakery wanting some of her wedding business, but I made it an 8-inch cake so there is plenty to go around for family and friends. My taste testers oohed over the rich moistness of the cake and the unbelievably creamy frosting. The white chocolate adds just the right amount of flavor that compliments the vanilla cake. While my homemade White Cake recipe is deliciously yummy, the star is truly the White Chocolate Ganache Frosting! I've included a look at how to make a fondant ribbon flower at the end of the video tutorial below. It's a quick and easy way to dress up any cake for any occasion!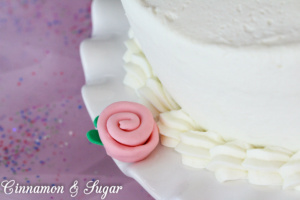 Amazon Synopsis
When wedding planner Kelsey McKenna goes to the Wine Country Wedding Faire, the last thing she expects to do is take on new clients. After all, she's just there to help out her friend Brody and maybe score some free cupcakes. But when a young couple in a pinch asks for her help, she just can't say no.
There's only one problem: they'd been working with Babs Norton, the self-proclaimed Queen of Wine Country Weddings―and things did not end well. Kelsey wants to make sure there are no hard feelings, but unfortunately she never gets the chance. When she goes to Babs' office, she finds the wedding planner dead on the floor.
Babs' high-strung assistant Stefan knows exactly who killed Babs: Kelsey. At least, that's what he very publicly accuses her of at Babs' funeral. When Kelsey decides to do a little sleuthing to clear her name, she uncovers a myriad of secrets and lies. And when a second wedding planner is attacked, Kelsey begins to wonder if she might be next.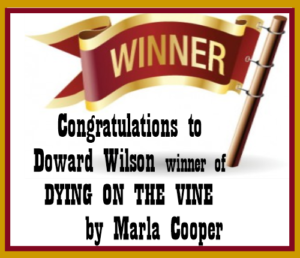 A special thank you to Marla Cooper for providing a hardcover copy of DYING ON THE VINE for one lucky winner! Please use the Rafflecopter box located below the recipe to enter. Contest ends Monday, April 10, 2017 at 11:59 pm PST. Print limited to U.S. residents only. Winners will be announced on this page and on Cinnamon & Sugar's Facebook page, as well as notified by email (so check your spam folder!)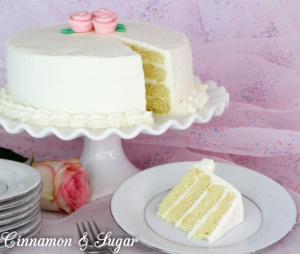 White Cake with White Chocolate Ganache Frosting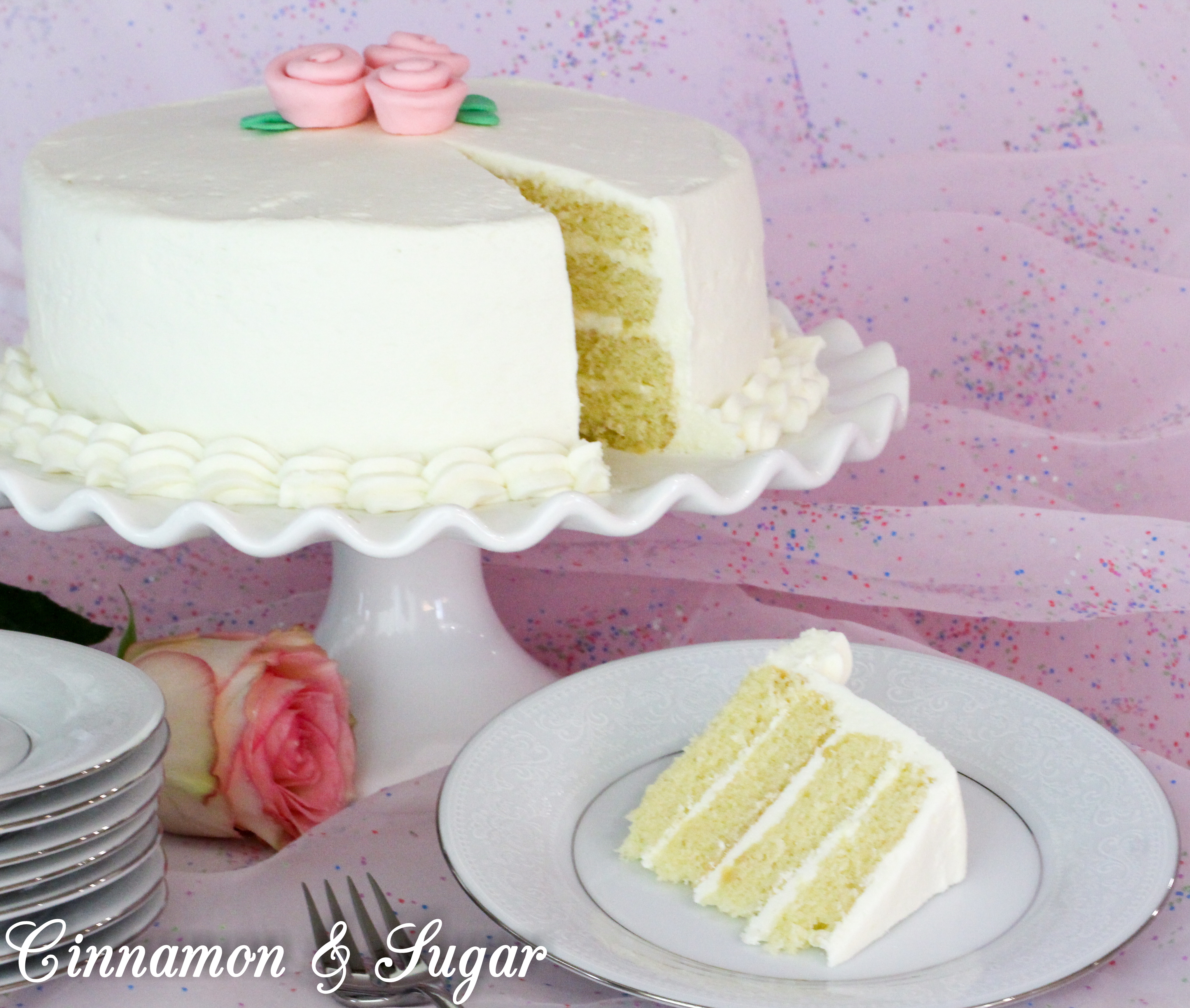 Ingredients
Cake

2 cups (9.6 ounces) all-purpose flour
2 teaspoons baking powder
1/2 teaspoon salt
1 cup whole milk
1-1/2 teaspoons pure vanilla extract
1/2 cup (4 ounces) unsalted butter, room temperature
1-1/2 cups (10.5 ounces) granulated sugar
3 eggs, room temperature

White Chocolate Ganache Frosting

1-3/4 cups heavy whipping cream
1 11-ounce package premium white chocolate chips (Ghiradelli works best)
5 cups (22.5 ounces) confectioners' sugar
Instructions
Cake

Preheat oven to 350 degrees (F).
Grease and flour two 8-inch round cake pans.
Sift together the all-purpose flour, baking powder, and salt. Set aside.
Mix the milk with the vanilla. Set aside.
In the bowl of a standing mixer, cream the butter until smooth then mix in the granulated sugar.
Beat 2 minutes on medium speed.
Add the eggs, one at a time, beating well after each addition.
Scrape down the sides of the bowl.
On low speed, slowly add half the flour mixture and mix just until combined.
Add in half the milk mixture and beat until just combined.
Repeat with the remaining flour and milk, then beat on low speed until smooth, about 30 - 60 seconds.
Divide the batter between the two pans.
Bake 32 to 35 minutes. The tops should be golden and a wooden skewer inserted into the center of the cake should come out mostly clean. A few moist crumbs are fine, but it shouldn't be sticky.
Remove pans from the oven and allow the cake to cool for 10 minutes.
Turn cakes out onto a wire rack and cool completely before frosting.

White Chocolate Ganache Frosting

In a small saucepan, heat whipping cream over medium heat just until it begins to steam and bubble around the edges, stirring frequently. Do not allow to boil.
Place white chocolate chips in a heat-proof mixing bowl and pour the hot cream over the chips.
Allow mixture to sit for 5 minutes then whisk until completely smooth.
Allow ganache to cool to room temperature. Don't refrigerate as it may cause mixture to curdle. If this happens, gently reheat mixture until slightly melted and whisk until smooth.
Once ganache reaches room temperature, use the whisk attachment on a stand mixer, beat on low and slowly add the confectioners' sugar.
Gradually increase the speed to high and whip frosting for 5 minutes until light and fluffy.

Putting it together

Slice each cake layer in half horizontally (torte), and place one layer on a cake platter.
Spread a thin layer of the white chocolate ganache frosting and top with another cake layer. Repeat until the cake layers are stacked.
Cover the top and sides of the cake with a light coat of frosting then refrigerate for 15 minutes.
Remove cake from refrigerator and cover top and sides of the cake with another thick layer of frosting and using any remaining frosting to pipe borders as desired.

Tips

If the frosting seems too soft, add additional confectioners' sugar, 1 tablespoon at a time, until desired consistency is reached, whipping well after each addition.
You can also take a shortcut and use a boxed cake mix, jazzing it up by using milk instead of water, adding extra vanilla extract and maybe a handful of white chocolate chips.
For more tips on making box mixes seem more homemade, check out my blog post: https://cinnamonsugarandalittlebitofmurder.com/2015/06/17-tricks-for-cake-mix/
Magic strips help cakes bake level. You can see more at this Amazon link: https://www.amazon.com/Wilton-415-0796-6-Piece-Bake-Strip/dp/B00C1LU8SA
https://cinnamonsugarandalittlebitofmurder.com/white-cake-with-white-chocolate-ganache-frosting/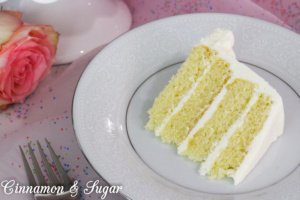 Pin to Pinterest:
If you receive my blog post via email you will need to visit my website to view the video.
I received a copy in exchange for my honest review. All thoughts and opinions are my own.