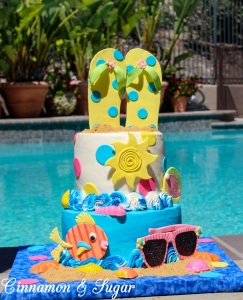 Several times a year I bake and decorate cakes for my granddaughters: birthdays, special occasions and of course to celebrate the last day of school with their annual pool party. The photos in this post is the cake I made for the girls this week. I don't mind spending countless hours working on the decorations but when it comes time to bake the actual cake I chicken out and use boxed cake mix. Boxed cake mixes are reliable and almost fool-proof…and let's not forget how quick it is to mix one up and get into the oven! Plus when I'm stacking cakes, boxed mixes have a sturdy structure to support the weight (just make sure to use dowel supports when stacking). However, mixes do have an unmistakable "fake" taste to them, so I came up with 17 tricks to make a boxed cake mix taste like homemade.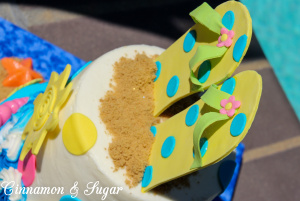 17 Tricks to Make a Boxed Cake Mix Taste Like Homemade
General
1. Use homemade frosting and fillings. I've included my favorite recipes below.
2. Brush cake layers with simple syrup, flavored with vanilla. This will keep your cake moist and provide a boost in flavor. See recipe below.
3. Use whole milk instead of water, as called for on the mix.
4. Substitute soda pop for the water: dark sodas, such as cola or root-beer, work well with chocolate or spice mixes while light sodas, such as lemon-lime or ginger-ale, works well with vanilla mixes.
5. Use extracts to boost flavor of plain cakes: peppermint, lemon, orange, almond, rum, or my favorite Fiori di Sicilia, which is a blend of vanilla and citrus flavors.
6. Use a tablespoon or two of your favorite flavor of jam to swirl into cake batter and brush onto baked layers before frosting. Seedless jam is best.
7. Substitute all or partial amounts of melted butter (cooled to lukewarm temperature before adding to batter) for the vegetable oil called for.
8. Add 2 tablespoons mayonnaise to the mix to greatly improve the texture of the cake.
9. Add-ins provide additional flavor and texture: chocolate chips, toasted nuts, shredded coconut or blueberries to name a few. Use the same add-ins as garnish once the cake is frosted.
10. Torte the cake layers: slice one layer into two pieces, horizontally, and spread the bottom cut side with filling then replace the top slice (cut side positioned down). Add filling on top of that layer then repeat with the second layer. You should end up with 4 layers of cake and 3 layers of filling.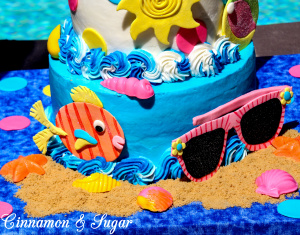 Vanilla Cake
11. Substitute 1 tablespoon vanilla extract for 1 tablespoon of the liquid called for. This is the perfect time to use milk instead of water!
Chocolate Cake
12. Add 3 tablespoons sifted unsweetened cocoa powder to the cake mix along with 1 teaspoon of instant coffee powder.
13. Bake the cake in a bundt pan, which will "dress" it up, then drizzle the easy 2-ingredient chocolate ganache over the cake. See my recipe below.
Lemon Cake
14. Use white cake mix but substitute 1/2 cup thawed lemonade concentrate for 1/2 cup of the water called for. Don't use milk for the liquid when adding citrus juices as the milk can curdle…the cake will taste fine but the texture will be much denser.
15. Add a thin layer of lemon curd between the cake layers to boost tart lemon flavors. See my EASY lemon curd recipe below.
Spice Cake
16. Add 1 teaspoon ground cinnamon and a 1/4 teaspoon each cloves and ground ginger to the mix.
17. Substitute apple juice for the water called for.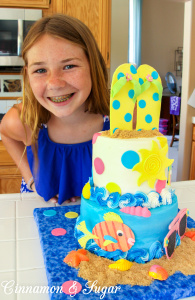 Lemon Curd
Ingredients
1/2 cup fresh lemon juice
1/2 cup sugar
1/4 cup (4 tablespoons) unsalted butter
1 egg, room temperature
2 teaspoons cornstarch
2 teaspoons cold water
Instructions
Melt the butter in a 4-cup microwave-safe bowl. I like using my 4-cup glass measuring cup for this.
Vigorously whisk the lemon juice and sugar into the butter then whip in the egg .
Microwave 1 minute, remove and whisk, then microwave 30 seconds and whisk.
If mixture is not bubbling and appearing to thicken cook an additional 30 seconds in the microwave. Mixture should reach about 185 degrees.
While the lemon mixture is heating in the microwave, dissolve the cornstarch in the water.
Remove mixture from microwave and transfer to a small saucepan.
Heat lemon mixture over medium-low heat and continuously whisking, mix in the cornstarch and water mixture.
Keep whisking the mixture over the heat for approximately 2 – 2-1/2 minutes, until it begins to thicken.
Remove from heat and strain if desired.
Pour back into the 4 cup container you started with and cover with plastic wrap or a lid.
Place in the refrigerator until thoroughly chilled then spread on to the cake layers.
Keep the curd refrigerated in an airtight container for up to 3 weeks or you may freeze for longer storage.
Simple Syrup
Ingredients
1/2 cup granulated sugar
1/2 cup water
2 teaspoons vanilla extract
Instructions
In a small sauce pan, heat the sugar and water until it begins to simmer.
Stir until the sugar has completely dissolved and the mixture is clear. If it is cloudy, heat longer, stirring until it clears.
Remove from heat and stir in the vanilla extract. Allow to cool to lukewarm.
Using a silicon basting brush, brush the cooled syrup over the cake layers then proceed with filling and frosting the cake.
Quick Frosting
Ingredients
1 cup (2 sticks) unsalted butter, room temperature
5 cups confectioners' sugar
1/4 teaspoon sea salt
3 – 4 tablespoons whole milk, half & half, or heavy cream**
2 teaspoons vanilla extract**
Instructions
In the bowl of a standing mixer, whip the butter and salt until creamy.
Add approximately half the confectioners' sugar to the butter and whip until incorporated.
Add 1-1/2 tablespoons cream or milk, and the vanilla extract, to the mixture and whip until creamy, scraping down the sides of the bowl as necessary.
Repeat with the remaining sugar and 1-1/2 tablespoons cream. Once incorporated, whip until the frosting is light and fluffy, approximately 3 – 4 minutes. If the frosting seems too thick, add more cream, 1 teaspoon at a time, until desired consistency is reached.
**If lemon frosting is desired, substitute 1-1/2 tablespoons fresh lemon juice for 1 tablespoon milk or cream. Omit the vanilla.
Chocolate Ganache
This is a nice glaze that is especially lovely drizzled over a bundt cake.
Ingredients
1/2 cup heavy whipping cream
4-5 ounces bittersweet or semi-sweet chocolate (it works best using high quality chocolate)
Instructions
Melt chocolate and heavy cream together in a saucepan over low heat, stirring constantly or heat in the microwave.
If using the microwave start out with 1 minute on high, then whisk. If chocolate is not melted, heat in 10 second intervals, whisking after each time until smooth.
Drizzle the ganache over the cake and cool before serving.
White Chocolate Buttercream & Filling
Ingredients
6 ounces premium white chocolate (don't use white chocolate chips or candy coating)
1/3 cup half & half plus up to 3 tablespoons more as needed
1 cup unsalted butter, room temperature
2 pounds confectioner's sugar
1 teaspoon salt
2 teaspoons vanilla extract
Instructions
Microwave the white chocolate in a heat proof dish (I like a glass measuring cup for this) for 30 seconds. Remove and stir, then return to microwave. Heat an additional 15 seconds, then stir again. Repeat until chocolate is melted, but use care in making sure you don't overheat.
Let chocolate cool to room temperature, about 20 minutes, while you collect the remaining ingredients.
Whisk the salt and vanilla into the 1/3 cup half & half.
In the bowl of a standing mixer fitted with either a wire whisk or this beater blade, beat the butter until creamy, about 2 minutes.
Gradually add approximately 1/3 of the sugar. When it's incorporated add 1/3 of the half & half mixture and beat.
Repeat alternating with the confectioner's sugar and the milk mixture until all is fully incorporated, scraping down the sides of the bowl as needed.
When frosting is blended and creamy, slowly add in the room temperature white chocolate and whisk in the mixer until light and fluffy.
Add additional half & half as needed, until desired consistency is reached.
Option: Add crushed Oreo cookies to a portion of this frosting for filling between the layers of your cake.