The setting of tropical Hawaii with believable and truly likable characters makes MURDER AT TURTLE COVE, the newest release in Kathi Daley's Sand and Sea Hawaiian Mystery series, a pleasure to read. Kathi starts the book off with a bang, providing an exciting scene in which the protagonist, Lani Pope, encounters sharks while surfing, and then finds a human arm right afterwards! While I would be filled with frantic terror and felt some while reading, Lani exhibits the proper way to handle the situations. It highlights her training as a Water Safety Officer at the Dolphin Bay Resort, located on the North Shore of Oahu (a spectacular location, by the way!). She feels obligated, on top of letting her curiosity guide her, to finding the killer, since she was the one to find the victim. Her search takes her to the famed food trucks on the island. I found the bits and pieces of insight the author provides about the food trucks and their culture to be quite interesting.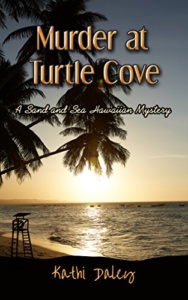 Lani has a contentious relationship with her boss and as a result, finds herself in some uncomfortable situations. Although for the reader, it lends itself to humor, especially when she finds herself assigned to the hated resort family pool. She is a strong, self-sufficient young woman but has a tender heart and is quick to help out anyone who needs assistance. Like taking in an abandoned young boy and abandoned kittens! Lani also has a sweet relationship with a group of senior citizens who jump at the chance to sleuth for her. I loved seeing their interaction together and loved that Lani's boyfriend, Luke, enjoys their company just as much as she does. It adds to the entertainment of the book.
The author provides several subplots twisting throughout the murder mystery, and we find out more about her mysterious neighbor, Shredder. He's been an enigma in previous books but has more of a presence in this one. The unexpected curve ball thrown in at the ending had me on the edge of my seat! Kathi provides an exciting twist of events that had me turning pages faster and faster, leaving me wanting more as I read the very last page!
Kathi provides several delicious recipes at the back of the book and she has graciously allowed me to share her Supereasy Hawaiian Pie… and yes, it is super easy, and boy is it super delectable and will having you dreaming of the islands! It's amazing how a few simple ingredients create an amazing dessert. My granddaughter is having a pineapple-themed party in a few months and this will definitely be on the menu!

A huge thank you to Kathi Daley for providing winner's choice of print or an e-book copy of MURDER AT TURTLE COVE to one winner. Print limited to U.S. residents only. With the Easter holiday, I'm extending the contest to end on Tuesday, April 18, 2017 at 11:59 pm PST. Please use the Rafflecopter box located below the recipe to enter. Winner will be announced on this page and on Cinnamon & Sugar's Facebook page, as well as notified by email (so check your spam folder!)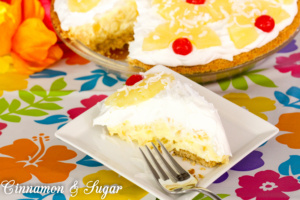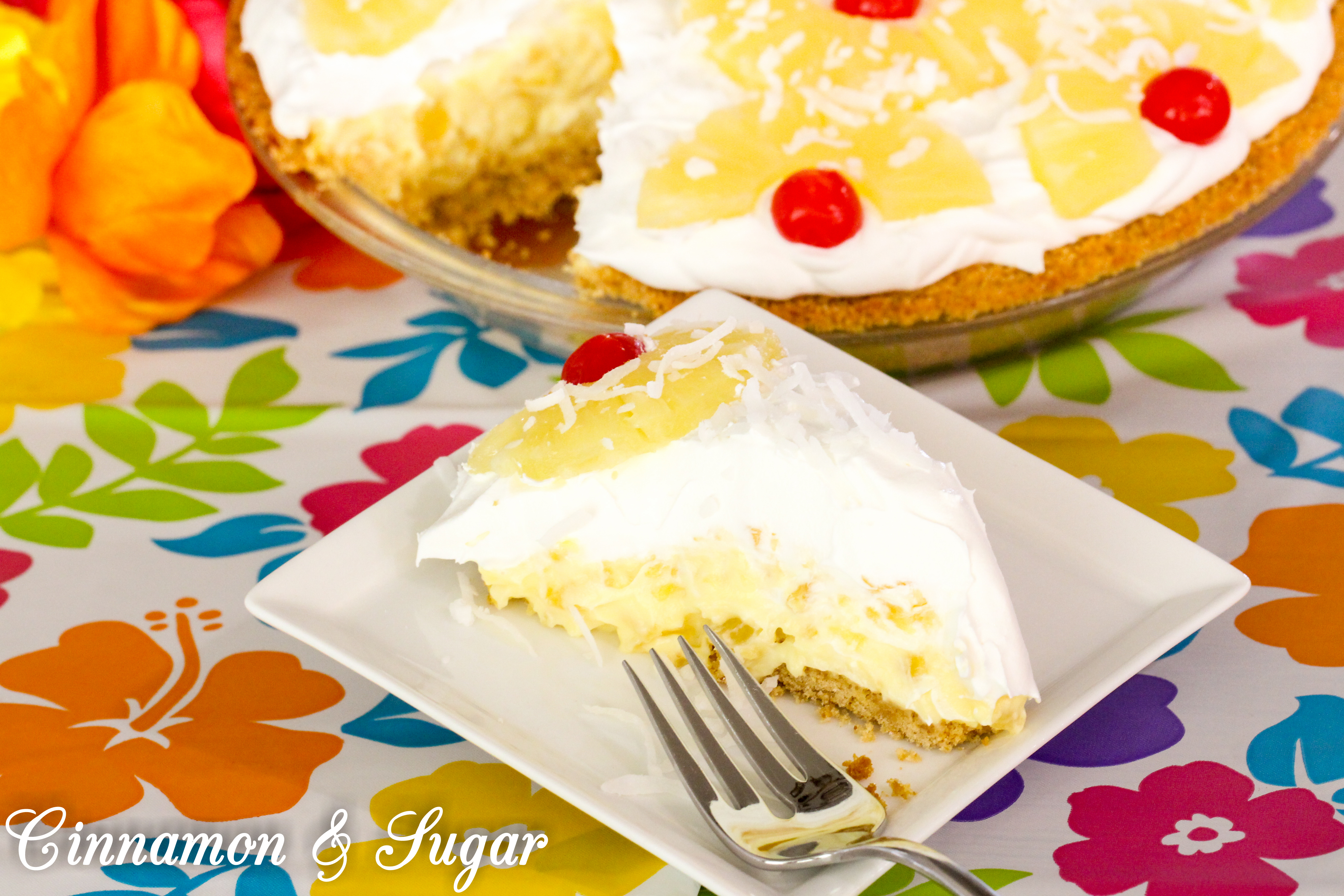 Ingredients
1 (20-ounce) can crushed pineapple, undrained
1 box instant vanilla pudding mix (6 servings)
8 ounces sour cream
1 9-inch graham cracker crust
1 small container Cool Whip
1 can sliced pineapple
8 maraschino cherries
1/2 cup flaked coconut
Instructions
In a large bowl, combine crushed pineapple with its syrup, dry pudding mix, and sour cream. Mix until well combined.
Spoon into prepared pie crust.
Frost with Cool Whip and decorate top with pineapple slices and cherries.
Sprinkle with coconut.
Cover and chill at least 2 hours before serving.

Tips

I will use a deep dish pie plate when I make this next time. There is a generous amount of filling in this recipe!
Pat sliced pineapple and maraschino cherries dry before garnishing the pie.
https://cinnamonsugarandalittlebitofmurder.com/supereasy-hawaiian-pie/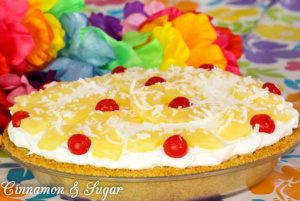 Pin to Pinterest: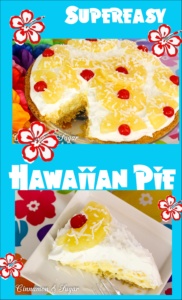 If you receive my blog post via email you will need to visit my website to view the video.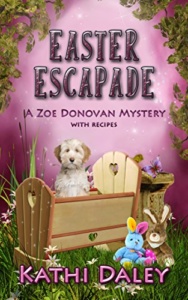 Be sure to check out Kathi Daley's brand new Zoe Donovan Cozy Mystery, EASTER ESCAPADE, coming April 21, 2017!
In the first ever crossover episode, Zak and Zoe join forces with Hawaiian visitors Luke and Lani, to find out who killed a historian visiting Ashton Falls in order to find a treasure map left by his grandfather a hundred years earlier. Meanwhile, Ellie and Levi move in with Zak and Zoe while the boathouse is being renovated and Alex helps Ellie prepare the nursery for baby Eli who is due to be born any day. Throw in some humor and Easter fun and you have a Zak and Zoe crossover mystery.